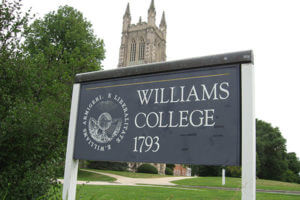 Students at Williams College in Massachusetts are angry. According to a petition (PDF) signed by hundreds of students, the faculty is urging the college to enact "reckless and dangerous policies" that will "imperil marginalized students," and amount to "discursive violence."
What awful set of policies could Williams College faculty possibly be considering?
It is a version of the policy known as the "Chicago Statement." Created in 2015 by a committee led by legal scholar Geoffrey Stone at the University of Chicago, the statement "recommit[s] the university to the principles of free, robust, and uninhibited debate." It explicitly reminds students and faculty on campus that they have a "responsibility for maintaining a climate of mutual respect," and that "concerns about civility and mutual respect can never be used as a justification for closing off discussion of ideas, however offensive or disagreeable those ideas may be." The policies that accompany these principles not only protect political expression, but also prevent university administrators from restricting public expression to tiny areas of campus. Often misleadingly called "free speech zones." This is a distressingly common practice at many universities, and it limits not just political speech but expression of all kinds.
As of today, 51 institutions — including Princeton, Purdue, and Johns Hopkins — have adopted their own versions of the Chicago Statement. Like the original, each statement protects the right of protest on campus, and clarifies that the right of protest does not include shout-downs, intimidation, or the use of violence to stop speakers — tactics that were used at Middlebury College, Claremont McKenna College, and most famously, the University of California, Berkeley in 2017.
Still, some students at highly selective liberal arts colleges like Williams are asking to be protected from offensive ideas rather than to be taught how to effectively engage them. In The Coddling of the American Mind: How Good Intentions and Bad Ideas Are Setting Up a Generation for Failure, Greg and his co-author, Jonathan Haidt, recommend adopting the Chicago Statement as a way to create wise universities. The statement protects freedom of speech, encourages viewpoint diversity, and fosters an understanding of the necessity of grappling with all kinds of ideas in order to reach better conclusions, make better arguments, and be better thinkers.
Civil libertarians have long understood that people are often more enamored with free speech in principle than in practice. "Free speech for me, but not for thee," as the writer Nat Hentoff famously put it. Young people are especially prone to using this kind of thinking. In a 2017 Knight Foundation survey, 91% of high school students said that people should be allowed to express unpopular opinions, but in the same survey, less than half of them said that people should be able to say what they want if it offends others. "I believe in free speech except when it offends somebody" is, of course, the same thing as saying "I don't really believe in free speech." Speech which everyone finds agreeable is rarely the target of censorship.
What's newer and more worrisome, however, are the signs that some students oppose free speech even in principle. "'Free Speech,' as a term," the Williams petition claims, "has been co-opted by right-wing and liberal parties as a discursive cover for racism, xenophobia, sexism, homophobia, transphobia, ableism, and classism." This assertion demonstrates startling ignorance of the crucial role of free speech in vindicating the rights of minorities throughout American history — from the civil rights movement to the gay rights movement. What young people have not learned is that the rights of the majority are protected by the vote. The First Amendment, on the other hand, exists specifically to protect the rights of those in the minority.
It is not uncommon for left-leaning professors and students to face censorship. Over the past several years, left-leaning professors have often run afoul of left-leaning students and administrators, as was the case with Bret Weinstein at Evergreen State University. And too often, right-wing outrage mobs come after left-leaning professors and students on the internet. Such was the case with Lisa Durden, who was fired from a college in New Jersey after appearing on Tucker Carlson's show on Fox to defend a Black Lives Matter event, which was not even at her college, and which she did not even attend.
But in a democracy, we should not defend free speech rights only because we fear that our own "side" might be censored. We should all defend freedom of speech and academic freedom for their own sake, even if we can't see how we would ever directly benefit from those protections. That is precisely the principled stance that the Chicago Statement takes –– in compelling and timeless language. And that stance protects the rights of students who view free speech and academic freedom with hostility to circulate petitions and make their case. Yet this principle is what hundreds of Williams students reject.
The best way to protect academic freedom and freedom of speech on campus is for every university in the country to adopt the Chicago Statement and drop remaining speech codes that restrict constitutionally protected student expression. Many speech codes employ vague language that allows for consequences based on purely subjective determinations; for example, prohibiting "offensive" speech, "intentionally divisive" speech, and even "inappropriately directed laughter." These policies are often used as a bludgeon to punish any student or faculty member whose expression someone finds objectionable.
FIRE maintains a database that rates more than 450 American colleges and universities on their policies regarding freedom of expression. It is available to the public and you can look up your school. As year-end funding drives kick into high gear, the most powerful message alumni and parents can give is to tell universities that you only donate to schools that both practice and preach freedom of speech. 
This piece is co-authored by Pamela Paresky, FIRE's Senior Scholar in Human Development and Psychology, and chief researcher and in-house editor for "The Coddling of the American Mind."