Noise is always around us. We need sounds to warn us of danger, so plugging our ears with uncomfortable earplugs is not always practical. Traditional passive techniques for noise control include isolation, such as done in recording studios, and shields around noise sources. Industrial equipment is a prime source of unwanted noise, and new designs can reduce fan noise without heavy shielding. We are always looking at ways to reduce noise, such as with jet aircraft designs and barrier walls for road noise. As discussed later, noise reduction techniques even increase auto fuel economy!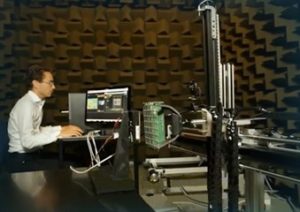 Many times unwanted sounds are generated inside machinery such as a heating system. Using trial-and-error techniques to isolate the sound source can take months to find. A new method, called a Sound Camera, analyses all sounds emanating from the device. The original method used one microphone as a fixed reference, while another microphone scanned the object using a robotic system, but the scan time was too long. Adding more microphones reduced the scan time, but a full system of microphones would cost well over one million dollars! By using an array of 1,024 low cost hearing aid microphones, the Sound Camera quickly finds noise sources when tested in an anechoic chamber.
In addition to passive sound reduction techniques such as shielding, there are active noise control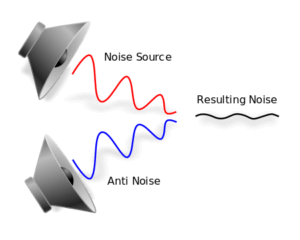 techniques to reduce noise. By feeding an opposite polarity signal to another sound generator (Anti Noise in the diagram on the right) the sound is canceled because of wave interference. In 1878, a British physicist and engineer used two Bell telephones to experiment with sound cancellation. For many years after 1878, noise cancellation was known, but practical devices were difficult to build. In 1933, Paul Lueg received a German patent for active noise cancellation. In the 1950's, this technique was successfully demonstrated in rooms, ducts, and headsets. Even today, engineering students build noise-canceling (analog) headsets, but their usefulness is limited to low audio frequencies, along with many adjustments to make it work. Luckily, Digital Signal Processing technology advanced enough for what we use today.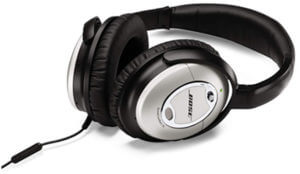 In 1978, Dr. Amar Bose, founder of Bose Corporation, was flying from the USA to Switzerland and was offered headphones to listen to music. He could barely hear the music over the airplane engine noise. He scribbled on a paper napkin equations for his first headphone design that could remove this noise. Like with many simultaneous inventions, both Bose and the German Sennheiser company developed aircraft noise-canceling headphones in the 1980's. On December 14, 1986, the Voyager aircraft flew for 9 days to become the first airplane to fly around-the-world aircraft without stopping or refueling. Being concerned about hearing damage with such a long noise exposure, the two pilots wore prototype Bose noise-canceling headphones. Today there are many noise-canceling headphones available for both aircraft and music consumers.
Automotive Noise Cancellation was introduced in the 2011 Chevrolet Equinox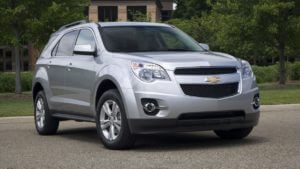 crossover, resulting in 32 highway mpg vs. 28 mpg (Honda CR-V, Toyota RAV4, and Ford Escape) in the competitors. Between 1,000 and 1,500 rpm, the engine is more fuel-efficient but it produces vibrations and a low-frequency rumble. Two cabin microphones measure the amplitude (and phase) of the engine noise, and the noise cancellation electronics send correction signals to the front door speakers and the subwoofer in the rear. The electronics also use engine speed to calculate the frequencies that need to be canceled. *
As the world develops more technology that adds noise to our life, new noise reduction designs are being developed to help ameliorate such disturbances.
*Geek talk – Unlike the 1-dimensional system of noise-cancelling headphones, cabin noise canceling is a 3-dimensional system. Each ear is directional and hears different sound levels, especially from the side. Since the engine develops periodic noise, a Fast Fourier transform makes noise cancellation easier to apply, as it can adjust to variations within the cabin.