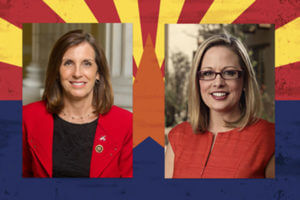 Kyrsten Sinema has taken a slim lead over Martha McSally in the razor-thin Arizona vote for a new US Senator.
Arizona, like Florida, is commonly subject to close votes and slow counting. The vast majority of Election Day votes were recorded by the wee hours of Wednesday morning. From 1.1% reporting to 99% reporting, Republican candidate McSally led Democrat Sinema by about one percent. (Much in line with my prediction earlier Tuesday.)
The counters spent Wednesday sorting and classifying the early mail-in votes, of which there were an estimated 650,000, and began counting those ballots on Thursday. At 5 pm local time (7 pm ET), the first chunk of those numbers came in.
On Wednesday morning, McSally led Sinema 49.36% to 48.39% — a 0.97% advantage with 1,740,329 votes counted.
With the early voting returns starting to trickle in Thursday afternoon, Sinema leads McSally 48.91% to 48.80% — a 0.11% advantage with 1,869,265 votes counted. This is approximately 129,000 new votes. In numbers, Sinema now leads by 2,106 votes.
Understandably, partisans on both sides worry about shenanigans from their opponents. The GOP already sued the state's county recorders for not following a uniform standard for counting mail-in ballots. The judge rejected it, but Democrats claimed this was an attempt at voter suppression. Despite losing the case, it's good to see that the Republicans are already lawyered up to make sure the vote isn't stolen.
The vast majority of mail-in ballots come from Maricopa County, which includes Phoenix. More than half of Arizona's residents live in this county, so about 345,000 more votes are expected from there. On Election Day, Sinema led slightly in Maricopa. Arizona's Secretary of State is in charge of elections and she is a Republican. The Maricopa County Recorder is a Democrat.
With perhaps as many as half a million votes yet to be counted, we'll need to wait a few days to determine the winner. And then, the recount. And the legal battles. And the court cases.
Update (8 pm ET): About 29,000 more votes have been added in the past hour from the heavily Democratic Pima County and Sinema's lead has grown. She now leads McSally by 8,859 votes, or 0.47%. Remember that there are still approximately 470,000 votes to be counted.
Things we don't know: Was this the "late earlies" from over the weekend. If so they were expected to be good for Sinema (many Ds turned out then). If so, there's a round of votes that were dropped on election day, which was heavily R. So future rounds may toggle back to McSally

— Nick Riccardi (@NickRiccardi) November 9, 2018
Update (8:30 pm ET): As more votes roll in, Sinema's lead has held. She now leads McSally 49.10% to 48.59%. This is a difference of 0.49%, or 9,610 votes. About 435,000 votes to be counted.
THIS SHOULD BE GOOD NEWS … for @MarthaMcSally on Friday. She leads @kyrstensinema 56-44 in Pinal County, rural/suburban county south of Phoenix. #AZSEN pic.twitter.com/h9sCkBPTlN

— BrahmResnik (@brahmresnik) November 9, 2018
This is part of bucket A released tonight: Early ballots returned Fri-Mon –> Sinema secured 57.4% of these 129,747 ballots. There are still 167,357 ballots like these to be announced. The next bucket is 195,296 ballots that will favor McSally — Earlies delivered day of election pic.twitter.com/WT1xFztK7P

— Vaughn Hillyard (@VaughnHillyard) November 9, 2018
.