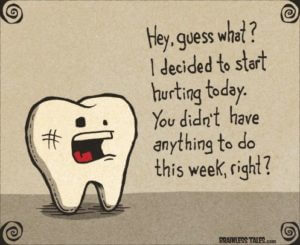 Our noble co-founder offered a positive perspective on Election Day so I decided to balance things out. For the past two days, I've had a bad toothache but decided to tough it out because I'm stoic, cheap, and not very bright. Monday evening, I realized my error when I could feel my lower back molar throbbing all the way to my toes and the right side of my face felt like it was being attacked by a drunk acupuncturist.
After a long night of ibuprofen, salt water rinses, and whiskey (so much whiskey), I crawled to my dentist for relief. Attack ads blared on the TV as the dentist announced "root canal!" with a smile and quickly filled my mouth full of bear tranquilizer. As he joyously drilled his way through my head I thought, I have never felt better in my entire life. (Bear tranquilizer: ask for it by name!)
I dropped my prescription requests at the drugstore then proceeded to my local polling place where I voted without a wait. Based on the chatter of the three other voters and the polling volunteers, I predict that Martha McSally will beat Kyrsten Sinema by 0.87 percent (0.83 percent after the state-mandated recount).
If you want to enjoy my hydrocodone-enhanced rants, stop by our Midterm Election live chat beginning at 6 PM ET / 3 PM PT. And get out there and vote!
Published in General