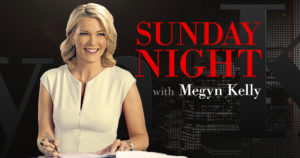 I feel sorry for Megyn Kelly. Beloved on Fox News, she drew criticism from then-candidate Trump for her debate questions (one of Trump's worst moments – he was vulgar and petty) and then left Fox amid a flurry of sexual harassment allegations that pushed out two powerful men, Bill O'Reilly and Roger Ailes, and forced Fox to pay an alleged $32 million to victims. She was at the peak of popularity on the Fox News network with her own prime-time show but left for NBC.
NBC, eager to cash in on their own Megyn Kelly franchise, underestimated their own liberal Puritanism and quickly realized that Ms. Kelly's prosecutorial style and libertarian (if not outright conservative) nature were antithetical to their own progressive pieties and the "news-lite" venues she was assigned. The NBC News brass had hoped her sunny visage and blond locks would lend themselves to a vanilla "Today"-type host with a little edge.
They judged poorly.
I'm sure that from day one, Megyn was something of a pariah at 30 Rock. But this was whispered behind closed doors, in dark corners, and privately around the water cooler just out of earshot. The brass tried to tame her; they had their original decision to lure her away from Fox to justify, and then, there was all that money! But Ms. Kelly failed to understand that it is every progressive's duty to form a wall of blind solidarity when the sword of hypocrisy comes for the neck of any fellow progressive of note. When she piled on regarding the alleged proclivities of Matt Lauer and dared speak of the rumors about Tom Brokaw, she proved herself to be un-redeemable; she was, after all, not one of them. So she really was, deep down, a deplorable conservative.
The echoes of "I told you so's" had to be deafening.
It didn't take much; an innocent reference to blackface when dressing up during Halloween in her childhood to justify taking her out behind the barn for a good whipping. Even Al Roker, whom I generally enjoy and who seems to have a generous heart, took her to task for her insensitivity. The fact that she grew up well after the minstrel-show era and likely knew nothing of stereotypical blackface caricature was never considered. No one, especially not Megyn Kelly, is exempt from the wrath of the omnipotent politically correct scolds. Poor thing, she tried in vain to apologize, but there is no excuse for being a conservative, a deplorable, an insensitive. Off with her head!
So Megyn is out at NBC. Frankly, I'm a little surprised. For a moment there, I thought that NBC could tolerate a talented, if perhaps a little right-of-center, talent like Megyn Kelly
I hope she is not too proud and goes back to Fox.
In welcome, I say, kill the fatted calf. Bring out the best wine. The prodigal daughter returns.