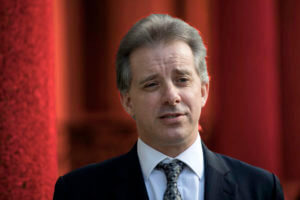 Christopher Steele deliberately constructed his Trump dossier to be unverifiable. As long as it remains invalidated, it hangs over the Trump administration, even though the Clinton campaign was identified as its funder and Steele refused to vouch for it under oath. Apparently he did not express such doubts when he was peddling the dossier to a skeptical press.
Steele purports that his "trusted sources" for the dossier are high-level Kremlin officials with intimate knowledge of Putin and his inner circle. I have expressed serious doubts about this claim by asking: Why would someone of such elevated rank disclose the Kremlin's secrets for a few bucks? In the unlikely case they are what Steele claims, Steele has positioned his sources behind an impenetrable firewall.
The Washington Post shows how this works:
It is "impossible to say that the dossier is entirely inaccurate (there are some glimmers [my italics] of accurate predictions)…. it is also impossible to say that it has been broadly validated….That unsatisfying answer…. gives either side of the political fight all the ammo that it might want."
There is no dearth of thinly-researched articles that promise the dossier has been validated, at least in part. Newsweek's blaring headline: "Key Parts (of the dossier) proved over last year" delivers only that Trump's former campaign manager stole millions years earlier from Ukraine, that Russia meddled in the 2016 election, and that Carter Page delivered a public lecture in Moscow. Slate claims that "a lot of the Steele report has since been corroborated" without providing any details while puzzling how "Steele and his team could develop so many quality sources with direct access to discussions inside the Kremlin…" A number of "proofs" rest upon leaks from anti-Trump intelligence officials, who claim without citing details that "more and more of the Steele dossier has turned out to be true."
By some odd circumstances, those "experts" who dissect every word of the Steele dossier have overlooked the fact that the dossier's key source can be identified and questioned.
He (Let us assume he is male) is identified in the dossier as Source D or E or as an "ethnic Russian close associate of Republican US Presidential candidate Donald Trump." Trump's "ethnic Russian associate" is a sole or a corroborating source for the dossier's most scandalous, incriminating, and salacious charges against Trump.
Trump's ethnic Russian associate is supposed to be present at the infamous "golden shower" and is purported to have revealed a "well-developed conspiracy of cooperation," which penetrated the DNC and conducted "offensive cyber operations within the U.S." over an eight-year period. He claims to know that the Kremlin orchestrated the release of DNC hacks through WikiLeaks through his unlikely knowledge of the inner workings of the Kremlin.
The source's testimony goes to the heart of the Mueller investigation of alleged collusion with the Kremlin. Without his corroboration of Steele's "trusted Kremlin associates" ensconced behind Steele's firewall, the dossier reduces to the tall tale of a whacky half-billion bribe offered by Putin's right-hand man to a peripheral figure (Carter Page) of the Trump campaign.
It should not be difficult for Mueller's team to find Source D/E if, and this is a big if, he is a real person. Candidate Trump would have had few "close associates" from Russian émigré circles, particularly one privy to such intimate Kremlin details.
We should ask whether Mueller has sought to identify Source D/E and has taken his testimony. If the Steele dossier was judged credible enough to support the issuance of a FISA warrant, the one accessible witness would be the top priority of Mueller's investigators.
We cannot count on the media to find Trump's mysterious ethnic Russian associate. After a brief flurry of media interest, one suspect (a Sergei Millian) has disappeared from their radar screen. The suspect denied any contacts with Steele's associates, touted his implausible "insider knowledge" of the Kremlin, and claimed to be an exclusive broker of Trump properties to Russians, although Trump businesses claim no knowledge of him.
I stick with my early assessment that the dossier is either a piece of fiction or a propaganda message courtesy of the Kremlin. (More on this in another piece). Steele could not extract the deepest secrets from Putin's inner circle by piddling payments from his $168,000 contract. If his "trusted associates" really hold the positions he describes, they would follow a Kremlin script. If so, Hillary Clinton would have paid to publish and distribute Kremlin propaganda. As to Source D/E, I doubt that he is a real person, or, if real, he has one of the wildest imaginations ever encountered.