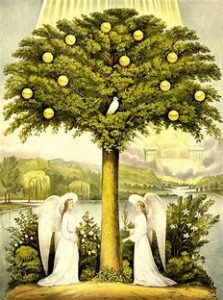 Saturday morning, an unspeakable tragedy unfolded at a Jewish Temple in the Squirrel Hill section of Pittsburgh. I stared at the TV in stunned silence, as my gut tightened into a painful knot. As I watched law enforcement running among flashing lights and chaos, the details emerged of mass casualties and injured. I turned to Fox News and saw the beautiful neighborhood where I once lived, with Fall trees aglow in bright orange, red and yellow, shadowed by mass casualty trucks and men in fatigues carrying assault weapons. A spokesman for the city said 'an attack on this community and faith is an attack on all of our communities and faiths'. I knew these were not mere words of comfort, but a deep truth that all who are from Pittsburgh understand. Later in life, Squirrel Hill's predominantly Jewish population would embrace me on a personal level.
As a child growing up in Brookline, a suburb of Pittsburgh, my classrooms and friends were composed of Italians, Jews, Greeks, Lebanese, Syrians, Irish, Poles, and Ukrainians. I was as familiar with delicious ethnic foods, holidays and traditions as though they were my own, and some were. In my early twenties, I shared several apartments near the Tree of Life Synagogue. I could walk to work on Murray Avenue, back in my retail days. As I shopped at the local markets, I noticed numbers tattooed on people's arms. At first, I didn't understand, but I soon realized these were first-generation survivors of the Holocaust, to me the worst period in recent human history. I was invited to a Jewish wedding reception in Squirrel Hill, where praise and thanks, tears and clapping abundantly poured out because this extended family "had survived." This was not normal, something that I was not familiar with — sheer survival in the midst of extreme evil.
The Jewish community in this area, as other ethnic communities in Pittsburgh, while tightly woven together, talking about tremendous suffering, grateful to be alive, to have children and grandchildren, could still laugh and joke, be successful and stuff you with more food.
As December would approach, the stores and restaurants in Squirrel Hill and other neighboring towns displayed both a small Christmas tree and Menorah side by side in their windows — it was natural. I remember a giant Menorah on the grounds of one of the Temples that I passed regularly, glowing in the darkness and I anticipated the glow "growing" during eight days, night after night. Pittsburgh embraces its diversity and ethnicity more than any place I've ever lived. There is even a large parade each year in this area celebrating The Festival of Lights, walking and spanning multiple communities, encouraging everyone to take part.
I asked my husband why — why?! Nothing like this ever happened in all the years I lived there in any town. He said "today people are not satisfied to privately hate. They want everyone to know it, spewing vileness on social media, threatening people in social settings, and some even transferring to violence, as we saw here."
I couldn't sleep last night. Did you ever try to "unthink" something, but your body takes control anyway? The tears kept spilling out, even though I tried to get back to sleep, not to think. I just had to let the tears empty out. I know evil can't be explained or reasoned except in spiritual terms – it's not about guns, money, social status or politics, nor will those things ever explain away evil. Cultural issues and the concerns of different generations ebb and flow, but pure evil remains the same. It starts with one or more of the seven deadly sins. It always prays on the innocent because it's weak and cowardly. Yet evil shudders, and runs from holiness. It cannot extinguish its Light.
Coincidentally, I received a complimentary copy of Conde Nast Traveler 2018 Reader's Choice Awards, Nov. 2018 issue. This evening, I read an article in it called "Sometimes Words Are Not Enough: How do you teach a child, asks Peggy Orenstein, about the existence of pure evil?" She did not pass along much about her Jewish family history to her 14-year-old daughter Daisy, but found herself in Poland with her Japanese husband who was filming a documentary. She, a mostly secular Jew, decided to take her daughter to the concentration camps of Poland.
She says, "I've struggled with how to tell this child I love, whom I want to protect from pain and harm, about the existence of pure evil. There's no real right moment to mention the millions systematically murdered, or had we been there, we would have been among them. It feels like willfully robbing her of her innocence."
The story has a different outcome than you think, and I encourage you to read it because her story contains an answer to this diabolical insanity that we are witnessing today. One answer is that history repeats if we do not learn from it. Count on it. Also, faith is the companion of reason, but reason alone won't sustain us. To not pass our Judeo-Christian faith, the grounding stabilizer of Western civilization to the next generations, will leave them with no knowledge of the tools to not only battle but withstand spiritual persecution.
It's no coincidence that evil attacked a place called "The Tree of Life." Look it up. It is part of the original battle between good and evil — and evil is still trying to take it out.
Lastly, the wounded were rushed to nearby Mercy Hospital, where I was born. Where do you rush the spiritually wounded? The same place — the nearest church or synagogue where Mercy abounds. Nothing will extinguish the Light.