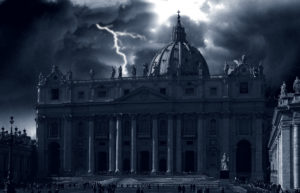 Are you paying attention? Have you been watching the Catholic Church wrestling with itself on being more relevant to the post-modernist world? In today's Internet age, you have a ringside seat to this sad and sordid spectacle because news and commentary abound beyond what the talking heads or columnists in the mainstream media, who adore the current pope, will report.
To say that the barbarians are once more at the gates of Rome might be an insult to barbarians, many of whom may have had better family values and ethics than some of the despicable members of the Catholic clergy who have seduced and raped young boys, young girls, seminarians, conducted drug-fueled gay orgies in the shadow of St. Peter's basilica, or who continue to maintain homosexual relationships with other priests or members of the laity without a worry that they will be reprimanded or defrocked; or other bishops and cardinals who have shielded and shuffled around the aforementioned pederasts, pedophiles, and rapists who then continued to prey on new victims in other parishes. No, the Roman Catholic Church is not suffering from an assault from an outside throng of barbarians running amok in Vatican City, rather it is under attack from demonic forces who wear clerical garb who are running amok within and spreading sin and heresy throughout the world in their wake.
On a flight from Brazil back to Rome in 2013, Pope Francis was confronted by reporters with questions about the active and militant, gay lobby (referred to most commonly as the Lavender Mafia) within the ranks of the Vatican hierarchy. The pope replied, "If a person is gay and seeks God and has good will, who am I to judge?" The pastoral guidance from St. Paul in Romans, Chapter One, apparently did not come to the pope's mind (emphasis mine):
…because they exchanged God's truth for a lie and have worshipped and served the creature instead of the Creator, who is blessed forever. Amen.That is why God abandoned them to degrading passions:why their women have exchanged natural intercourse for unnatural practices; and the men, in a similar fashion, too, giving up normal relations with women, are consumed with passion for each other, men doing shameful things with men and receiving in themselves due reward for their perversion. In other words, since they would not consent to acknowledge God, God abandoned them to their unacceptable thoughts and indecent behavior…
When the rest of the faithful cannot rely on the man who sits on the throne of Peter for summary judgments on matters of sin, grace, and proper behavior then where will they turn? Stand-up comedians? Politicians? News anchors? Bono? Martin Sheen? Nancy Pelosi? Michael Moore? Perhaps it might have been more to the point had the pope channeled living Saint Hillary and replied, "At this point, what difference does it make?"
To say that the pope's response was a warning shot of post-modernist moral relativism across the bow of unwavering Catholic teaching that has navigated through the pitching and heaving seas of human history for two millennia and that had been responsible for the flourishing of western civilization, raises the question of just what ship the pope was on when he fired the "…who am I to judge?" shot.
All Souls' Day will soon be upon us. In Catholic tradition, it's the day set aside to pray for those who have departed the earth and those whose souls may be in Purgatory and haven't been permitted to enter the gates of heaven. As admittedly a lapsed Catholic who has strayed from the faith since the mid-1970s; who has challenged and questioned many points of theology and doctrine but who still attempts to behave ethically, I am not happy with the dark human comedy that's been unfolding in the Church. I am also compelled to ask whether this pope and those high-ranking clerics influencing him and charged with implementing his transformative papal agenda, are more concerned with relevancy, appeasement to the homosexual community, embracing socialists and Climate Change alarmists clamoring for wealth distribution, and appeasing the communist Chinese regime than they are with the precarious state of the souls who comprise the Church … including their own.
It seems to me that one brave cleric is concerned. Former Papal Nuncio, Archbishop Carlo Maria Vigano in his third open letter on the current crisis of the Church emphasizes the peril that many souls in the Church face for eternal damnation if the Pope and his lieutenants continue to remain silent, do nothing to remove homosexuals in the clergy, and continue down the path to deconstruct the Church's long-standing liturgical and doctrinal teaching and invite heresies. (emphasis mine)
To bear witness to corruption in the hierarchy of the Catholic Church was a painful decision for me, and remains so. But I am an old man, one who knows he must soon give an accounting to the Judge for his actions and omissions, one who fears Him who can cast body and soul into hell. A Judge who, even in his infinite mercy, will render to every person salvation or damnation according to what he has deserved. Anticipating the dreadful question from that Judge – "How could you, who had knowledge of the truth, keep silent in the midst of falsehood and depravity?" — what answer could I give?

I testified fully aware that my testimony would bring alarm and dismay to many eminent persons: churchmen, fellow bishops, colleagues with whom I had worked and prayed. I knew many would feel wounded and betrayed. I expected that some would in their turn assail me and my motives. Most painful of all, I knew that many of the innocent faithful would be confused and disconcerted by the spectacle of a bishop's charging colleagues and superiors with malfeasance, sexual sin, and grave neglect of duty. Yet I believe that my continued silence would put many souls at risk, and would certainly damn my own. Having reported multiple times to my superiors, and even to the pope, the aberrant behavior of Theodore McCarrick, I could have publicly denounced the truths of which I was aware earlier. If I have some responsibility in this delay, I repent for that. This delay was due to the gravity of the decision I was going to take, and to the long travail of my conscience.

I have been accused of creating confusion and division in the Church through my testimony. To those who believe such confusion and division were negligible prior to August 2018, perhaps such a claim is plausible. Most impartial observers, however, will have been aware of a longstanding excess of both, as is inevitable when the successor of Peter is negligent in exercising his principal mission, which is to confirm the brothers in the faith and in sound moral doctrine. When he then exacerbates the crisis by contradictory or perplexing statements about these doctrines, the confusion is worsened.

Therefore, I spoke. For it is the conspiracy of silence that has wrought and continues to wreak great harm in the Church — harm to so many innocent souls, to young priestly vocations, to the faithful at large. With regard to my decision, which I have taken in conscience before God, I willingly accept every fraternal correction, advice, recommendation, and invitation to progress in my life of faith and love for Christ, the Church and the Pope.

As to the second silence, this very grave crisis cannot be properly addressed and resolved unless and until we call things by their true names. This is a crisis due to the scourge of homosexuality, in its agents, in its motives, in its resistance to reform. It is no exaggeration to say that homosexuality has become a plague in the clergy, and it can only be eradicated with spiritual weapons. It is an enormous hypocrisy to condemn the abuse, claim to weep for the victims, and yet refuse to denounce the root cause of so much sexual abuse: homosexuality. It is hypocrisy to refuse to acknowledge that this scourge is due to a serious crisis in the spiritual life of the clergy and to fail to take the steps necessary to remedy it.

…

Unquestionably there exist philandering clergy, and unquestionably they too damage their own souls, the souls of those whom they corrupt, and the Church at large. But these violations of priestly celibacy are usually confined to the individuals immediately involved. Philandering clergy usually do not recruit other philanderers, nor work to promote them, nor cover-up their misdeeds — whereas the evidence for homosexual collusion, with its deep roots that are so difficult to eradicate, is overwhelming. 

It is well established that homosexual predators exploit clerical privilege to their advantage. But to claim the crisis itself to be clericalism is pure sophistry. It is to pretend that a means, an instrument, is in fact the main motive.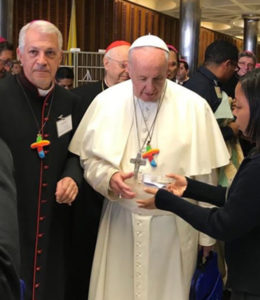 In the current Youth Synod in Rome called by Pope Francis, there is compelling evidence based on reports, that a contingent of bishops and other clerics are attempting to incorporate language in the synod's summary document signaling that the Church is accepting of LGBT lifestyles — regardless of St. Paul's warning and admonition in Romans – Chapter One. If they are successful in doing so, it will be a move that will serve to further minimize the objection to homosexuality not just within the Catholic laity but more disturbingly within the clergy itself and be another small step to openly embrace the perversions of priests and nuns, some of whom continue to engage with several sexual partners or actively seduce younger Catholics but who, at the same time, will be relied upon to give spiritual and ethical guidance to young and older Catholics alike. I don't know how this can be characterized as anything but heresy and an abomination.
A massive pillar of western civilization is leaning left and may be about to topple and break apart. The fact that this is happening in a climate where multiculturalists and post-modernist moral relativists throughout Europe hold sway in the political and media arenas; when successive waves of Muslim migrants have flooded into Europe and are bent on fundamental transformation and the elimination of remnant Christian symbols, churches, and customs; and when the blood-soaked ideology of socialism is rearing its head and capturing the imagination of ignorant, Marxist-indoctrinated young adults — is not coincidental but really speaks to the interconnectivity between these massive forces and paradigm shifts.
From John, Chapter 8:
To the Jews who believed in him, Jesus said: "If you make my word your home you will indeed be my disciples; you will come to know the truth, and the truth will set you free."
The Pope has counseled silence in the midst of this clergy pederasty/pedophilia crisis and has compared Archbishop Vigano to the Great Accuser (Satan). I'll leave it to you to determine who is the more appropriate disciple of Christ.