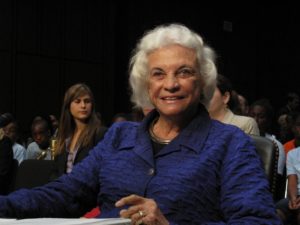 I worked with Sandra Day O'Connor; she was one of my nine bosses at the Arizona Court of Appeals where I was a Staff Attorney. I'd like to share my experience of her on a personal basis. My judicial inclination is that of Scalia and Thomas; this is not the place for me to talk about my many disagreements with Justice O'Connor; it is to share a bit of my experience of her.
Sandra Day O'Connor was born on March 26, 1930. She was third in her class at the Stanford College of Law when she graduated in 1952, at the age of 22. She was Presiding Editor-in-Chief of the Stanford Law Review. She could not get a job. She offered to work for no salary as a Deputy County Attorney in San Mateo County, without an office, where she shared space with a secretary. She was active in Young Republicans and served as an Assistant Attorney General in Arizona representing the Arizona State Hospital, our facility for mentally ill people. In 1979 she was appointed to the Arizona State Senate to fill a vacancy. She became the State Senate Majority Leader, second only to the President of the State Senate. She ran for the Superior Court and was elected.
In 1979, Arizona's sole female appellate judge, Mary Schroeder was nominated to the Ninth Circuit Court of Appeals. Arizona's Democratic governor Bruce Babbitt felt that it was critical that Arizona have at least one woman in the appellate courts and he and his wife, Hattie Babbitt, also an attorney, called on Republican Sandy O'Connor and asked her to apply to be appointed the Court of Appeals. She did and he selected her.
I had already been working as a Staff Attorney at the Court of Appeals when she arrived. She was an extremely pleasant person. We had two annual spaghetti lunches at the local "Spaghetti Factory" each year, one after all of the law clerks had arrived for the year, and one before any of the law clerks would leave after their annual tour of service. She has the first judge to bring any of her children to this luncheon. An irony is that the owner of the Spaghetti Factory had had a lawsuit in her court when she was a trial judge, and the jury had ruled against him. He did not blame her, however, and loved her as his trial judge.
Most appellate decisions are memorandum decisions and not published opinions. As a rule, a memorandum decision would be briefer than a published opinion and would not have the same level of polish. However, even her memorandum decisions read like they were eligible to be submitted to a law review.
Jimmy Carter was a rare President who did not nominate any Supreme Court Justices. When The Greatest President of the Twentieth Century ran in 1980, he pledged to name a woman to the Supreme Court. Reagan had four criteria for his supreme court nominee, she had to be a woman, a lady, a Republican and a conservative. He got the first three right. The last, not so much.
I was no longer at the Court of Appeals when she was nominated. I had always known her as "Sandy O'Connor" or by her initials of "SDO." Only after she was nominated, did I discover that her maiden name was "Day." I went back to the Court after her nomination was announced and had the experience of standing in her chambers as numerous trial and appellate judges and attorneys visited her and congratulated her. She was gracious to a fault.
The Arizona Court of Appeals had long been overshadowed by the Arizona Supreme Court. We were so proud when the State Bar of Arizona's next monthly "Arizona Attorney" had a picture of "The Judges of Division One of the Arizona Court of Appeals" on its cover, with then Judge O'Connor sitting in the middle.
My attorney wife and I visited the Supreme Court a couple of times while Justice O'Connor served and met with her once. She happily posed for a picture with me, with the proviso that I not display the picture in public. We were given the "super-duper" tour of the Supreme Court for "personal friends of the justices." My wife and I were shown to the "highest court in the land" a basketball court on the top floor, where she had organized jazzercise sessions for the female members of the court. We were allowed behind the bench and were shown the spittoons that the justices had at their feet, and it was noted that she was the first justice to have her spittoon removed.
As the biographers have noted, Justice O'Connor had three sons. What they have not noted is that after she had a granddaughter, she told friends that she did not know what she had been missing by only having sons, and she did all sorts of "girly" things with her granddaughter.
As I said earlier, I have differed with Justice O'Connor on her judicial philosophy, however, she was a classy and generous woman who I will never forget.