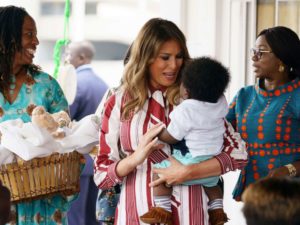 She was an immigrant to the United States, an independent woman who began her modeling career at five years old, and was a successful model who spoke five languages: Slovene, English, French, Serbian and German. She moved to the US in 1996, and became a permanent resident in 2001 and a US citizen in 2006.
Her name is Melania Trump. And the mainstream media has tried to make her life hell.
It's hard enough to be the First Lady of the United States: that woman has to assume that she will often be in the spotlight. But when you are married to a president who is despised and criticized, you are a target for everything you say and do. It doesn't matter if you are a woman, an immigrant, and independent—all qualities that the Left supposedly admires.
You must be destroyed.
Most recently, Melania Trump made a four-day trip to Africa. Most organizations skimmed over the countries she visited, the children she interacted with, the organizations she spoke with, and the goodwill she was spreading.
Instead of highlighting the positive potential outcomes of this trip, the media became obsessed with her clothing, particularly a pith helmet she wore. They labeled this hat a symbol of "colonialism" because it suited their agenda. When I checked on the origin of the pith helmet, however, this is what I found:
The pith helmet, also known as the safari helmet . . . is a lightweight cloth-covered helmet made of sholapith. Pith helmets were often worn by European travelers and explorers, in the varying climates found in Africa, Southeast Asia, and the tropics, but have also been used in many other contexts. They were routinely issued to European military personnel serving overseas in hot climates from the mid-nineteenth to the mid-twentieth century.
After reading several paragraphs, I saw nothing relating to colonialism. The helmet, however, was placed distinctly in the foreground when there was a pull-away shot in her interview with ABC News.
From her interview with ABC, I saw a beautiful, independent and intelligent woman, who speaks of being true to herself. When asked the hardest part of her role as FLOTUS, she spoke of the lack of privacy and the media's obsession with her clothes. In spite of the media's efforts to characterize her as unhappy, she says she is happy and loves her role as First Lady.
Melania Trump is a charming and effective ambassador to the world. The Left is only hurting itself when it tries to annihilate her and garner hatred of her from the people. I wonder if people are envious of her poise, candor and beauty? I am proud to have her represent this country, and hope to see her in other parts of the world.
She is a fine example of an American citizen who loves this country, and a woman who has found her way in the world.