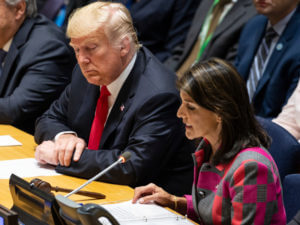 President Trump and Ambassador Haley had a joint press availability in the White House, which triggered rampant, fact-free speculation in conservative media space. We were even treated to self-appointed guardians of TruMAGA recycling the old innuendos about President Trump being subverted by falsely converted NeverTrumpers, his daughter, and his son-in-law. The truth is so much simpler, but relies on experience unfamiliar to most of the nattering class. It's about the Benjamins and real leadership; in the end, the sun will come out tomorrow.
The Haleys have no family fortune, except in the blessings of family. It appears she has always been the primary breadwinner. Michael Haley met Nikki in college in 1989. Today, 29 years later, he is a captain in the South Carolina Army National Guard. Michael Haley only joined the National Guard in 2006.
He was actually getting a civilian job as part of his military status. He joined the military technician program, which provides full-time administrative and technical support to Guard and Reserve units. You must be a military member in good standing in a drilling unit, else you lose your civilian job. Miltechs start at GS-7 and top out at GS-14. He most certainly did not reach or surpass GS-11, so he was earning, pre-tax, between $36,000 and $57,000 per year. Most of his years would be at the lower end of that range.
Between twelve weekends ($811.12*12) and about one month of active duty training ($6083.40), he likely had pre-tax National Guard earnings of around $15,000. It is unlikely, however busy and well-funded his assignment, that he is getting more than 3 months of active duty pay. So, cap him out around $28,000.
Likely the best year the Haley family have had financially was when Captain Haley deployed to Afghanistan, getting full time O-3 pay (tax free because of the danger), plus non-taxed housing and DoD paid healthcare. Think on that. This is fairly representative of our Guard and Reserve forces.
Reportedly, Michael Haley left the military technician program in 2015. He is still a drilling Guardsman, with a significant staff position for his rank. So, the Haleys are not a wealthy power couple. They are truly middle class, have one child in college, and are looking at their second child entering college soon. They need to put some money in the bank.
Burn out is a real thing, and likely to occur after 8 years straight in high pressure leadership positions. I know a bit about this, having commanded in high pressure military situations from battery (company) to group (brigade) level, from captain to colonel. As a battalion and brigade level commander in the Army Reserve, I had to hold some good people in subordinate commands past their tenure, for lack of suitable, willing replacements. I, myself, had one command for an extraordinarily long time. Good people become crispy critters after too long in the barrel. If you have not done it yourself, maybe ease off on the "quitter should have stayed four years."
AMBASSADOR HALEY: […] Now, I don't have anything set on where I'm going to go. I think that the main thing was — I was Governor for six years, and we dealt with the Hurricane, a thousand-year flood, a church shooting, a school shooting. There was a lot. And then, to come in and do two years of Russia and Iran and North Korea — it's been eight years of intense time, and I'm a believer in term limits.

I think you have to be selfless enough to know when you step aside and allow someone else to do the job. So, thank you, Mr. President —

[…]

AMBASSADOR HALEY: My family is very supportive. So, no, there's no personal reasons. I think that it's just very important for government officials to understand when it's time to step aside. And I have given everything I've got these last eight years. And I do think that sometimes it's good to rotate in other people who can put that same energy and power into it.

So there really is — a lot of people are going to want to say there's a lot of reasons why I'm leaving. The truth is I want to make sure that this administration, the President, has the strongest person to fight. It was a blessing to go into the U.N. with body armor every day and defend America. And I'll always do that; I'll never truly step aside from fighting for our country. But I will tell you that I think it's time.
To quote a great (fictional) American: "A man's got to know his limitations." I am encouraged that this woman knows her limitations and how to put the public interest ahead of ambition and ego.
Take a deep breath. Get the beverage of your choice. Maybe fire up a good cigar. Now, watch, really watch, the President and his Ambassador together. Then read the official transcript.
The President says she is welcome back and can have any job she wants in his administration. He declares that this formal setting is the appropriate way to send off a senior official who has "done a great job." The setting is that accorded honored guests, with whom the President will be photographed. No other official has received this kind of honor.
THE PRESIDENT: […]I can speak for Secretary of State Mike Pompeo — he thinks the world of Nikki. And so we're all — we're all happy for you, in one way, but we hate to — you'll — hopefully, you'll be coming back at some point.

AMBASSADOR HALEY: (Laughs.)

THE PRESIDENT: But you want to just — in maybe a different capacity. You can have your pick.

[…]

So, I just want to thank Nikki. And I thought this would be an appropriate way of doing it. Because when you write it out on a piece of paper that, you know, "Ambassador Haley will be leaving," and you say nice things, people say, "Well, what's going on?" This is the right way to do it. And when you really think somebody's done a terrific job, I felt this was an appropriate way of doing it, and we both liked it.

[…]

So, I just want to finish because this is really — the pure reason for this is — Nikki, you've been fantastic. You're my friend. And I just — on behalf of the country, I want to thank you for a great job. Thank you, Nikki.
Ambassador Haley is Team Trump.
AMBASSADOR HALEY: — it's been an honor of a lifetime. And I will say this: For all of you that are going to ask about 2020; no, I'm not running for 2020. I can promise you what I'll be doing is campaigning for this one. So, I look forward to supporting the President in the next election.
Look for Nikki Haley to return as Secretary of State in President Trump's second term. Running for the Senate makes little sense, as she has already been a successful governor, and will not want to tie herself down for six years. Governor/Ambassador/Secretary Haley will have much less problem with white women voters than Hillary, at least as Her Pantsuitness tells it:
"[…] White women have been voting against Democratic presidential candidates for decades now. The White vote has only then won twice in the last 60 years. My husband being one of the two. Lyndon Johnson being the other. So, it's not a surprise. It's a disappointment but it's not a surprise."
Haley 2024 — #ImWithHer.