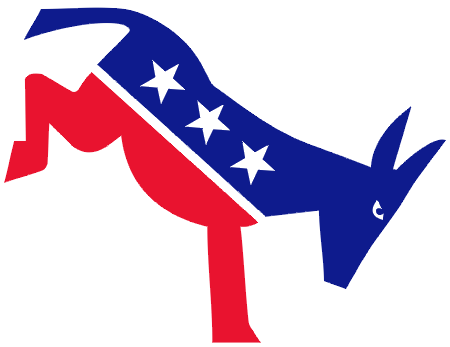 I've seen expressed recently among some Republicans a fear of Democratic victory in the upcoming midterm elections. Indeed, I was chastised for my nonchalance about what is so clear a threat to the very existence of America. And I was told "If the Democrats get in control again, I don't think we'll have a country anymore for much longer."
I'm sorry, but that simply isn't the case. This existential terror about the future of the country if Democrats win the midterms is misplaced.
First, before I am accused of it (although I'm sure I will be anyway), I'm not a Democrat and the Democratic Party is not my first choice. I would prefer that everyone vote for LP candidates where possible. The Democrats, for me, are a far distant second. However, in many places, the laws are written to preserve the duopoly and prevent third-party candidates from being on the ballot, so voting for the LP is not an option.
With regards to the existential threat, call me cynical, but I hear this every election. And it cannot possibly be true that every election is "the most important election of our lifetimes." I realize it's what politicians and partisans say, but it's just nonsense. If every election is a Flight 93 election, then none of them are.
The truth is that there'll be another one in two years, and still another two years after that. If things are so precarious that electing one team of hacks to Congress this year instead of the other will destroy the country, then things are already too far gone, and the best choice would be to pack up your belongings, pets, and loved ones, and move to Hudson Bay.
I just don't share the sense of urgency because it just doesn't match reality. In 2009, when the Democrats had control of both houses of Congress and the presidency, it didn't destroy the country. The fact of the matter is that when Democrats are in power, they can't seem to find their ass with both hands.
The case of 2009-2010 is actually a good one. When the Democrats had control of the presidency and both houses of Congress in 2009, did they enact a workers' paradise? Did we get single payer? Did Barack Obama, the Kenyan socialist, remake America?
No. They couldn't have passed single payer because even on the best of days. At the apex of their power, the only thing they could pass was a scheme cooked up by Republicans in the 1990s. And that was when they controlled everything!
This is why the talk of socialism is overwrought. When the blue team was in charge, they didn't institute single payer. Instead they passed a nation-wide version of RomneyCare, and it cost them their congressional majority in the process.
Now, I've seen it pointed out that it ain't 2009 anymore. That the Democratic Party has tilted left. That there used to be Blue Dog Democrats way back then and they're all extinct now. That the Democratic Party in 2018 is dominated by socialists like Alexandria Ocasio-Cortez, who is the new face of the party.
Sorry, but that's a bunch of hogwash. First, I was told in 2009, back when they were passing nation-wide RomneyCare, that Democratic moderates were an extinct breed. That talking point is a nice way to scare people into voting, but it doesn't match reality. The number of Democrats who have a favorable view of socialism is up only about four points from where it was eight years ago.
I'll concede that Democrats in Congress probably tilt further left than they did in 2009, but that's because most of their moderates have been boiled away. There is about to be a massive influx of moderate members, elected from purple and red districts, who will be jealous and their new status and want to be reelected.
The case of Alexandria Ocasio-Cortez is highly specific. She's not the harbinger of some new embrace of socialism. She won her primary because her opponent got lazy and took his seat for granted. America has always generally resisted socialism, so it would need to be sold to the public. Ocasio-Cortez ain't the one to do it. Every time she's given an opportunity to explain any details, she promptly makes an ass of herself. But she gets pointed to by Republicans to scare people go voting.
The fact of the matter is that a Democratic majority probably wouldn't be able to pass much if anything. They might be able to get bills through the House, but there's a limit to the amount of damage they could do. And when they overreach, and they will because they always do, they'll be punished for it.
What a Democratic majority will do, the thing that I actually want them to do, is provide a check to the President. That's something they can do with just a House majority, and it desperately needs to be done, because it is something the Republican majority refuses to do.
But no, it certainly won't be the end of the country. Indeed, divided government tends to be a good thing. The greater danger is when presidential actions go unchecked.