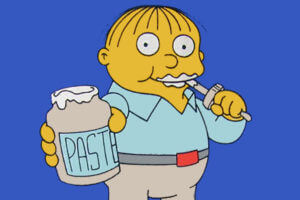 Last week, the left attacked Brett Kavanaugh for an uncorroborated attempted sexual assault when he was a high schooler. No time, no date, no place, no evidence, no witnesses … but, hey, he drank beer which is almost as bad. Many of us wondered, are they really going all the way back to high school to attack conservatives? Apparently, this was just the warm-up act.
The Hollywood Reporter ran a piece Wednesday by the third-grade teacher of Trump adviser Stephen Miller. (As opposed to my podcast co-host Stephen Miller.) Apparently, the eight-year-old Miller was a "strange dude" and is, therefore, unfit for any role in polite society. From the article:
Do you remember that character in Peanuts, the one called Pig Pen, with the dust cloud and crumbs flying all around him? That was Stephen Miller at 8. I was always trying to get him to clean up his desk — he always had stuff mashed up in there. He was a strange dude. I remember he would take a bottle of glue — we didn't have glue sticks in those days — and he would pour the glue on his arm, let it dry, peel it off and then eat it.
Yeah, I did this. So did all my friends at Indian Bend Elementary School. (I only had guy friends; girls had cooties.)
Our teacher, Mr. Mulvahill, just assumed we were morons but the next time I'm nominated to the Supreme Court, I expect it to come up. That, and spending recess with two inverted Pringles in my lips and quacking like a duck.
I remember being concerned about him — not academically. He was OK with that, though I could never read his handwriting. But he had such strange personal habits. He was a loner and isolated and off by himself all the time.
I'm glad California's third-grade teachers are shaming kids who have a tough time making friends; they've had it too easy for too long. I'd usually welcome the loners into my group so they could experience the joy of eating paste and not eating Pringles.
Mr. Mulvahill yelled at me a lot and I bet he drank a lot of beer.
At the end of the year, I wrote all my concerns — and I had a lot of them — in his school record. When the school principal had a conference with Stephen's parents, the parents were horrified. So the principal took some white-out and blanked out all my comments. I wish I could remember what I wrote, but this was 25 years ago. I've taught a lot of third-graders since then. Of course, Stephen wasn't political then — it wasn't until later that he started to make waves.
Wait, an eight-year-old wasn't political? I spent my third-grade weekends banging on the Supreme Court doors demanding the resignation of William Rehnquist. After all, both he and Sen. Goldwater refused to censure Mr. Mulvahill for yelling and drinking beer.
Dear media: Stop beclowning yourselves with these idiotic stories. Otherwise, an enterprising Ricochet editor will investigate your elementary school records to reveal you were as big of a moron as I was.