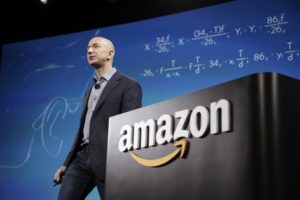 When one looks at the size, scale, and influence of America's tech titans (companies that jealous Europe would love to have), it's not surprising to think of them as monopolies. But as competition scholar Nicholas Petit explains in a recent conversation with me, "When you look at what those companies do it seems very different from what the old school textbook monopolist would do."
They don't act like fat and happy forever companies with not a competitive care in the world. Such as being in cutthroat competition with other dominant tech titans. As Andreessen Horowitz tech analyst Benedict Evans recently tweeted:
Regardless of your personal preferences around smart screens/speakers for the home, it's striking that we have 3-4 huge consumer tech companies aggressively competing here. In previous cycles it would've been just Microsoft or just a couple of cash-strapped start ups . . . That is people talk a lot about tech monopolies, but we have four huge and dynamic companies that overlap a lot, and when they do they compete with each other on a level that Microsoft or indeed IBM never really had to face.
Here's another example. Google is the dominant digital advertising platform in the US with an estimated 37 percent share of digital ad budgets in 2018. Facebook has just shy of 20 percent. Together they have been a strong duopoly. Oh, but here comes Amazon. This from CNBC:
Amazon's ad business is booming. Some advertisers are moving more than half of the budget they normally spend with Google search to Amazon ads instead, amounting to hundreds of millions of dollars, according to execs at multiple media agencies. . . . Amazon's growing success could pose a rare threat to Google parent company Alphabet, which generated $95.4 billion in ad revenues last year, 86 percent of its total revenue . . . Nonetheless, Amazon appears to be emerging as the most credible threat to Google's cash cow advertising business since Facebook conquered mobile advertising beginning shortly after its 2012 IPO. . . . Executives at six media agencies confirmed Amazon is making huge inroads in advertising, supporting the recent eMarketer report that the tech giant has become the third-largest U.S. digital advertising platform behind Google and Facebook. One exec from a large agency said some brands find Google search ads "quaint" and want their budgets moved to Amazon because it directly correlates to sales. About 49 percent of product searches begin on Amazon, according to Survata.