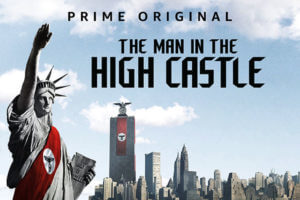 The new season of "The Man in the High Castle" dropped on Friday and I finished it Tuesday night. I'd like to share my thoughts to hopefully encourage others to watch this season and the whole show if they haven't seen it. I will stay vague to avoid spoilers but I'll discuss themes and plot points that are shown in the trailer.
Quick primer on the series: it's 1963 in an alternate universe where the Axis powers won WWII. America is has been divided basically along time-zone lines, where the Eastern and Central regions are controlled by the Nazis, the Pacific region is controlled by the Japanese, and the Rockies are a lawless Neutral Zone where both empires agree to not conduct operations. Our main characters are:
Ubergruppenfuhrer John Smith, an all-American family man and a powerful member of the American Nazi government;
Joe Blake, a young man of Nazi heritage;
Trade Minister Tagomi, one of the highest-ranking Japanese officials in San Francisco;
Inspector Kido, a Kempeitai agent (the Kempeitai being the Japanese equivalent of the SS);
Juliana Crane, a young woman living in San Francisco galvanized into joining the Resistance;
Frank Frink, Juliana's fiance and a secret Jew.
At the end of season 2, John had performed a great service to the Reich, but at the same moment he was being honored, his son made a decision both in accordance with the Nazi ideology he had been taught and emotionally devastating to his parents. Trade Minister Tagomi broke some rules but averted a war. Frank set off a bomb that killed one of Inspector Kido's loyal subordinates, and Juliana Crane had quite an emotional surprise. So with that basic scene set, here are my thoughts on the new season.
The Good
So many characters have absolutely amazing actors and go through incredible emotional arcs as they face the consequences of what happened in the two prior seasons. John and Helen Smith, Kido, Tagomi, and Joe all do an amazing job making you believe in the dilemmas of these characters. Each is trapped in some way by their choices, their principles, and their roles in their world, and the tensions are writ on all their faces at different points.
Part of John's emotional state is shown through dream sequences, and I have to give major props to the show for making the sequences incredibly disturbing without relying on gore. The evil of the Nazi regime of which John has been a willing participant is shown by being casual, not bloodily graphic.
The world has become more filled in, with more locations and more new but real characters. Edgar Hoover is one of Smith's subordinates, and George Lincoln Rockwell is a powerful member of the Reich's government in America. (This was hinted at in a previous season showing that JFK airport was named after him instead.) Moreover, we now have characters from Okinawa, Hawaii, and Ireland; Manchuria is mentioned as a punishment station for Japanese officials who have fallen out of favor. We even get to see Denver, Poconos, PA, and Cuba as settings.
The end of episode 6 has an amazing montage of two thematically opposite ceremonies being juxtaposed. Anything more would spoil it, but you'll know it when you see it.
There has to be a closeted conservative or two on the writing staff. Previous seasons revolved around Mutually Assured Destruction via atomic weapons as a way of keeping the peace; this one doubles down by adding to that theme the ability of free trade to prevent war. Previous seasons had left-wing talking points about America's genocide of the Indians and the Founding Fathers being nothing but hypocritical slave-owners in Nazi mouths; this season, the big Nazi push is the destruction of America's historical monuments to make way for "Jahr Null" — Year Zero. And the Nazi youth raised on uncontested propaganda are to be looked to as the moral guides for this new age after the end of history — any of this sound familiar?
The Bad
Despite the best efforts of the writing staff, Juliana Crane remains the least interesting character. This is primarily because every male character except for John Smith seems to fall in love — romantic or platonic — with her at first sight and despite how much pain and misery she brings into the lives of everyone around her. It's not good when I'm watching her ask another character "Why are you helping me?" and I want to scream at the TV "Because the plot demands it!" Moreover, they try to push a "chosen one" aspect, that fate has given her a special role to play, combined with abilities no other character has.
The stakes are upped rather gratuitously. One would think that overthrowing the fascist empires that murder people by the job lot would be a serious enough goal, but no, the Nazis have a secret plan that must be stopped at all costs! One that's been done before, in fact. (Warning: the linked video will spoil the secret plan.)
At the end of episode 4, there's a bombshell bit of information. However, the person saying it has been severely tortured and can barely wheeze out the words, so you will completely miss it if you don't have the subtitles on.
The Meh
The homosexuality factor has been upped quite a bit, and it wasn't really necessary. One male character is given a boyfriend who has the same function in the story as a girlfriend would in any other story; two female characters are made lovers for no apparent purpose other than to make a "Nazis hate gays" point. It could easily have been a "Nazis hate infidelity" subplot instead. That being said, while it's unnecessary, it's not graphic or particularly obnoxious — the same-sex couples exchange kisses, but it's not like "Game of Thrones" which shows sex acts. In fact, the closest we get to gay sex is implied in a scene of the women covered by sheets and smoking in bed, and judging by the pure white sheets and flawless makeup on both of them, they couldn't have been doing anything beforehand anyway.
That being said, we do get a male/female pair of very hands-on dancers in nothing but g-strings in a rather gratuitous dance club scene, so don't confuse "not graphically homosexual" with "appropriate for all ages." And of course, there are lots of shootings, stabbings, bombs, torture, and foul language. We are dealing with two of the evilest political entities that ever existed, after all.
The show isn't perfect, but if you find the premise intriguing and like solid drama, it's a good place to spend some TV time.