We Chauvinists recently spent two weeks (and an extra day – long story) touring Britain.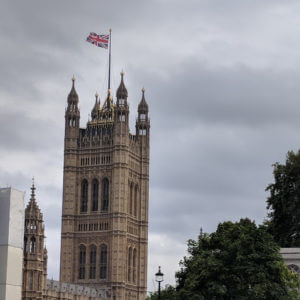 We said a "long goodbye" to Grandpa Chauvinist, which ended gracefully and mercifully this last spring, and that clever old Okie Airborne Ranger double dipper left a nice enough sum to Mr. C to sponsor the four of us on a most enjoyable holiday. Thank you Grandpa Chauvinist! We love you! Mwah!
What follows are my impressions from a tour which began and ended in London and looped through the country with stops in Oxford, Bath, the Pembrokeshire Coastal National Park and Cardiff in Wales, Fort William in the Scottish Highlands, Portree on the Isle of Skye, and York. Highlights included:
Churchill's Bunker
The Harry Potter Studio Tour
Phantom of the Opera at Her Majesty's Theatre
J.R.R. Tolkien exhibit at the Weston Library
Jane Austen Festival, Bath
Tintern Abbey
The Jacobite (Harry Potter) Train from Fort William to Mallaig for Chauvinist the Elder
The castles of Skye (Eilean Donan and Dunvegan Gardens)
Highland cows and scenery, including the Fairy Pools (we did a Clark Griswold Grand Canyon tour during a gale)
York for the Viking Museum (joking) and Delrio's Italian restaurant (serious)
Westminster and the Tower of London for the history
The top of The Shard at sunset
Pleasant Surprises
The Brits like Americans. They really, really like us! You might even call ours a "special relationship," since we have an affinity for them, too. We met people, both British and American, who've lived and worked side by side in various capacities — everyone from an English cruise ship worker, to a young Scottish cyber security software engineer who'd lived in South Carolina in his teens, to an American cyber security engineering manager working and vacationing in-country with his wife (notice a theme?), to a Scottish Calamity Jane groupie working the counter of the Nevis Bakery in Fort William (if you go, you must have the scones!). We even had a tour guide at Buckingham Palace claim to love our American accents! Our friendly and satisfying interactions might have been due exclusively to Mr. C's genial nature, but I don't think so. I think Brits are sincere in their affection for and admiration of us. Feeling's mutual.
The multi-ethnic, multi-national mix in London works. Now, I can't speak to the Muslim presence in the city. We avoided East London because of the acid attacks (what works if you're intent on violence and can't get guns or knives? Acid.). But, the Italians, the French, the South Americans, the Indians, even the Germans seemed to intermix seamlessly and even enjoy each other. They commented as much.
Speaking of commenting, we were fascinated by a television show where "ordinary" Brits were empaneled with a few politicians and a moderator to discuss Brexit. The conversation was passionate, but civil, and highly informative. Other than on Ricochet, I'm not sure there's any such discussion to be had in the US these days.
We also watched a show about dog rescues (the Brits love their dogs) in which we learned Britain has banned Pitbull Terriers. I know some Ricochetti love their Pitbulls, but I have to say, I approve of Britain's ban. These dogs were bred to attack, just like my Corgi was bred to herd and my Border Terrier was bred to flush a fox out of its den. It's like leaving a loaded gun lying around. /expecting blowback in 3..2..1..
Brits are having kids. Little ones are everywhere — on the trains and the Tube, in the museums, and being pushed in carriages along the streets of Notting Hill. Maybe our perception was skewed because we were using so much public transportation (unlike in the States), but it was encouraging – and adorable – to see.
Brits go out of their way to be helpful. I can't tell you how many times we looked like lost tourists (can't imagine why) and people offered help. Once, we were lugging our bags through the Tube looking for a "lift" (no elevators at this particular stop) when a young woman offered to help us carry our bags down the stairs! Amazing. I'm pretty sure nothing like that would happen in NYC. I hope I'm wrong.
The Tube, the trains, and the streets are spotless. I mean completely litter-free. We saw a little graffiti outside Glasgow, but that was about it. And the scarcity of trash bins makes me wonder how the heck they keep things so tidy. It's a mystery.
Pret a Manger is the British version of Panera Bread, but better. Much better. When in doubt about what to eat for lunch on the go, choose Pret.
The Italian food is to die for. This wasn't a complete surprise to Mr. C. and me because of our experience in 1994. But, it certainly was pleasant!
Signs of the Nanny State
There are no electrical outlets in bathrooms anywhere. Not even GFI outlets. Why would that be? Was there an outbreak of electrocutions from people dropping their hair dryers into sinks filled with water? Odd.
Most sodas are sweetened with Aspartame, except for Coke and Ginger Ale. They're not even labeled as "diet," I guess because they contain sugar, too. I can only figure it's because the NHS is trying to lower people's sugar consumption. 
File Under Fashion
Facial hair is not a thing like it is here. Few men were sporting it, and no one is wearing the Duck Dynasty look. We saw one guy with a full beard, but I'm pretty sure he was an American tourist.
Brits have caught up (sunk to our level?) to us in footwear. Everyone was wearing some kind of athletic shoes, whereas in 1994, you could always tell Americans by our sneakers. It's certainly more practical, if not as aesthetically appealing.
Notable Contrasts
Finally, America is fat. You simply don't see the obesity in Britain you do here. In fairness to us, we're stupid rich, we drive cars instead of walk between subway stations, and we don't smoke. My theory is Brits are skinnier because their food isn't as yummy (no Ranch with their nuggets), they walk everywhere, and they still smoke cigarettes (appetite suppressant sticks).
Their politicians and their media are more honest than ours. I can't provide evidence, it's just a sense I get from reading their newspapers while riding the Tube and watching Skye News.
Notable Similarities
The Left is the same everywhere. It's an ideology in service to the pursuit of power by any means necessary. It doesn't value truth or facts or freedom (except the freedom for women to kill their offspring) and it is relentless. The Left in Britain is proposing another referendum on Brexit because it simply can't accept the people's verdict the last time around. It's reminiscent of the Left in America losing its collective (hive) mind over losing the 2016 election and trying to destroy Judge Kavanaugh and mobbing the Senate. They never give up, no matter how destructive of national sovereignty and personal freedom their ideas are. We will always have the Left with us.
But, visit Britain anyway. It's a great country.