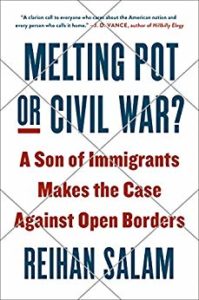 Executive Editor of National Review Reihan Salam's new book Melting Pot or Civil War?: A Son of Immigrants Makes the Case Against Open Borders may be the most important political book you can read in this or any electoral cycle.
The title itself may be surprising to some, given that Reihan is, after all, the son of first-generation Bengali immigrants. But Reihan's clear-eyed and first-hand view of the subject matter couldn't be more timely or trenchant. This is especially true in an era when a cultural rift over the questions of immigration and trade threaten to split the Conservative coalition asunder. The policy prescriptions contained herein offer the opportunity to unite the center-right coalition and secure the nation's future for a generation.
What then are Reihan's objections and what are his proposals? In brief, Salam makes note of the statistical reality that not all immigrants are created equal. Much like everybody else in our nation and indeed, on our planet, there is a distribution of talent, aptitude, and drive among immigrants as well, and that we as a nation have both the right and responsibility to select those whom we would invite to come here. He notes that we would be better off selecting those immigrants whose impact upon our society is nearly guaranteed to have a net positive impact, rather than the ad hoc approach we've allowed to persist for years.
The negative influences which excessive levels of immigration have upon the political economy range from cultural balkanization to increased reliance upon cheap labor, which has the paradoxical effect of limiting technological innovation in labor-intensive industries. The results of these influences are downward pressure on wages for native populations, the rise of populist movements and parallel increases in resentment from immigrants and their children, who find it hard to assimilate when their economic and political fortunes remain inextricably tied to cultural forces which now freely emanate from beyond the confines of our nation by free and instantaneous communication with their native countries.
Reihan's proposals in order to remedy this are manyfold. For starters, he proposes a complete modernization and implementation of the E-verify system, which will have the effect of preventing illegal immigrants from getting employment. This will effectively deactivate the employment "magnet" which keeps the conveyor belt of unskilled immigrants from replenishing existing enclaves of new immigrants, and encourage existing illegal immigrants to either go home or to enter the legal immigration system.
Next, he proposes the implementation of a strict, points-based system for accepting immigrants, a la Canada, which means doing away with the cacophony of other forms of legal immigration — primarily so-called "chain migration" via family reunification, which serves no positive economic purpose.
Reihan is also opposed to the notion of birthright citizenship, pointing out that most Anglosphere nations have done away with that notion as a means of disincentivizing birth tourism.
The hardest part of Salam's proposals is a large legalization (an amnesty) primarily for those who were brought to this nation through no fault of their own as children — this he offers as a tradeoff in order to achieve these other, laudable policy goals in order to attract pro-immigration advocates.
Melting Pot is also a book that is jammed with indispensable facts for immigration reformers, one of which I will boil down here:
NAS (the National Academy of Sciences) found vastly different net present value flows for immigrant groups depending on educational attainment. The average immigrant with less than a high school degree can be expected to cost $115,000 over a seventy-five-year period. That immigrant's descendants, if they also have less than a high school diploma will cost $70,000. Meanwhile, the net contribution of an immigrant with a bachelor's degree is $210,000, with descendants making net contributions of $42,000, assuming they also have bachelor's degrees. (pp 55)
There is no "free lunch" when it comes to immigration — especially when you consider how much more likely it is that a poor and ill-educated immigrant will pass on their cultural memes to their children:
The NAS Study projects that of the children of foreign-born parents with less than a high school education, only 6.2% will graduate from college. Low incomes in one generation risk extending to the next.
This fact is pointed out not out of malice or in order to hold poor Americans up as being especially virtuous by comparison, but to point out that there is no sense in doubling down on policies which are guaranteed to be net financial losers for the nation's future.
Herein lies the threat inherent to the ominous second half of Salam's title: Civil War? The reality of the situation we find ourselves in is this: America has a rapidly aging population and a severe imbalance between future promised outlays through entitlement programs and potential revenue sources. Immigration is a legitimate means of both boosting our flagging fertility rate and adding to the net productivity of the nation.
Of course, smart people understand that won't be enough — particularly if we try to "lose money on the unit price and make it up in volume" — which is precisely the method that open-borders, unfettered-immigration advocates are currently proposing. A combination of sensible entitlement reforms and restrictions upon low-skilled immigration could at least forestall the day of reckoning, but as we here at Ricochet are all painfully aware, Americans are unlikely to do the "right thing" until a crisis presents itself … by which time it could be too late.
If current trends towards cultural balkanization, fiscal profligacy, and increasingly bitter partisanship continue apace, an actual civil war is not a completely unthinkable outcome. Much damage has been done to the fabric of our nation in the past 12 years — our very sense of what it means to be an American has been challenged and it seems as if the things which separate us are deeper than those which unite us. But implementing the proposals which Reihan has so skillfully laid out would at least have the potential to relieve the growing pressure upon the fault lines in our national discourse by returning us to a semblance of that cultural melting pot which has been the hallmark of American society for well over a century.
Melting Pot or Civil War? is also a brief and engaging read, clocking in at a tidy 183 pages of Kindle Text.