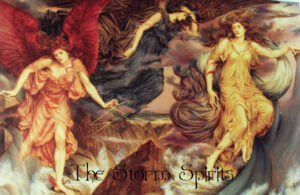 Earlier this week, the Washington Post ran an opinion piece titled "Another hurricane is about to batter our coast. Trump is complicit." The gist of the article is that Trump has shown a bad attitude about Obama's climate regulations and that is why the weather gods are sending a hurricane to punish America.
What kind of people believe that the mindset of a leader affects weather? It is certainly not any person of science. I did some research and it seems the idea of vengeful weather gods is the beliefs of Pagans. Checking with Witchipedia.com, the Leftists' deity is Adad (Master of the Earth who is a Mesopotamian Storm God responsible for the destructive and regenerative powers of nature).
For those that are science-oriented, you probably already know that a warmer atmosphere can hold more moisture (about 3 percent per degree C). Which means a storm that might have dropped 33″ of rain a century ago, could drop 34″ today. Not much difference. You also know that weather is too complex to determine any relationship between ocean/atmosphere and storm formation/strength. If you looked at the limited data from the last century, you might say cooling periods of the ocean temperatures bring bigger storms, but you would be just speculating.
Good luck to our friends in the Carolinas. May you be safe and sound and let this be an experience where a sense of unity brings out the best in neighbors. May the rest of us be generous as we remember that the poorest among us have the weakest housing and are most vulnerable to flooding.