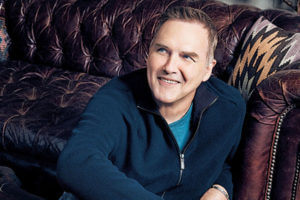 Twitter is a cesspool. As if we needed more evidence, legendary comedian and acclaimed author Norm MacDonald was targeted for saying words to a reporter that a microscopic minority of humorless scolds didn't care for. That's all the pretext needed to subject a person, famous or not, to Twitter's two-hour hate.
The Hollywood Reporter interviewed MacDonald on Tuesday to preview his upcoming Netflix show. The affable Canadian politely spoke his mind. For better or worse, his mind works differently than the rest of ours, which is one of the reasons he's so funny.
Here are the meager examples of MacDonald's wrongthink:
I'm happy the #MeToo movement has slowed down a little bit. It used to be, "One hundred women can't be lying." And then it became, "One woman can't lie." And that became, "I believe all women." And then you're like, "What?" Like, that Chris Hardwick guy I really thought got the blunt end of the stick there.
Obviously men and women can lie to ruin the lives of those around them; we're all flawed humans after all. But in a trial by media, due process isn't provided. Hardwick might be the most famous example of a possibly innocent celeb caught in the anti-harassment dragnet, accused of being too controlling by an ex-girlfriend. Hardwick might be guilty, he might be innocent, he might be a mix of both. No proof was offered by either side, but his career was tossed overboard regardless. Better one innocent man go to the gallows than a guilty man go free.
MacDonald then talks about Roseanne Barr, who gave him his first job in comedy, and Louis C.K., who wrote the foreword to his brilliant book.
Louis [C.K.] and Roseanne [Barr] are the two people I know. And Roseanne was so broken up [after her show's reboot was canceled] that I got Louis to call her, even though Roseanne was very hard on Louis before that. But she was just so broken and just crying constantly. There are very few people that have gone through what they have, losing everything in a day. Of course, people will go, "What about the victims?" But you know what? The victims didn't have to go through that.
Nothing offensive there either, though the detractors claimed offense. Roseanne got in trouble for a racist tweet, which is essentially victimless. (If idiotic tweets are victimizing, everyone on that ridiculous site is victimized every time they open the app.)
Louis C.K. was the more egregious offender, since he, er, sought testicular release in the presence of unwilling women. Such acts are illegal and appalling, however, his very real victims most likely didn't have their careers destroyed by it. Louis should have been prosecuted for these actual crimes, but his very public shaming at least gave him some, er, comeuppance.
In both cases, MacDonald was sticking up for long-time friends who have fallen on hard times. The smart play for the self-interested celebrity is to turn on people when they get bad press. MacDonald values loyalty; quite an old-fashioned notion.
Hours after the interview was released, Norm's long-time friend Jimmy Fallon quickly chose self-interest. MacDonald was scheduled to appear on "The Tonight Show," but Fallon ran to his dressing room to call it off. Here's what Norm said happened:
Jimmy came back in. "Can I talk to you buddy?" And he said, he was very, very broken up about it, he didn't want this, he said, "I don't know what to do." I said, "You think I shouldn't do the show." "People are crying." I said, "People are crying." "Yeah," he said, "senior producers are crying." I said, "Good Lord, bring them in and let me talk to them. I didn't even know I had the capacity to make people cry. So I felt so bad from that comment. Jimmy said, "Come back whatever you want but I think it will hurt the show tonight." I said, "Jimmy, I don't want to hurt your show. That's the last thing I want to do is hurt your show."
"People are crying." Yeah, ok.
Norm quickly apologized on Twitter, which only encouraged the professionally offended. The online mob, however, ignored the most interesting part of the interview, which helped prove MacDonald's main point.
The interviewer asked how we should treat people when they admit to screwing up. Here's MacDonald's answer:
The model used to be: admit wrongdoing, show complete contrition and then we give you a second chance. Now it's admit wrongdoing and you're finished. And so the only way to survive is to deny, deny, deny. That's not healthy — that there is no forgiveness. I do think that at some point it will end with a completely innocent person of prominence sticking a gun in his head and ending it. That's my guess.
By mentioning forgiveness, MacDonald reveals the biggest flaw in our new woke morality. The Church of Social Justice has more rules than a monastery during Lent and the list grows daily. But unlike traditional morality, there is no path to redemption.
The ancient Hebrews confessed the community's sin, placed it onto a scapegoat, and restored the flawed people. Early Christians confessed to their priest or bishop, perhaps did some acts of penance, and were redeemed in the eyes of the church. For especially egregious and public sins, the process could be quite involved. But the model held across time and faith: confess to wrongdoing, repent, and be forgiven.
The new secular church enforces the first and second steps with a vengeance but offers no mechanism for the third and most important step. Louis and Roseanne both confessed and repented. And then … nothing. Perhaps both could have done more. Donating millions to a well-regarded charity. Crawl on their knees to the Hollywood sign and sacrifice an Emmy.
Even if they did, forgiveness, redemption, and restoration were not possible. Instead, they were cast out into weeping and gnashing of teeth with no way to make things right.
This latest faux outrage will be soon forgotten as the Twitter mob lurches after another celebrity's career tomorrow. As for me, I'll watch "Norm MacDonald Has a Show" on Netflix and continue to chill. Life's too short for outrage.
.