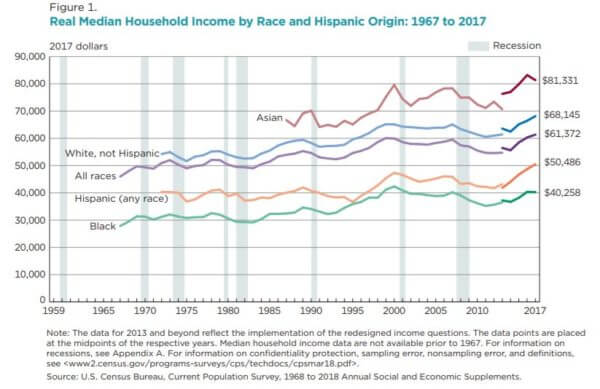 So let's look at the numbers: US median household income rose for the third straight year in 2017, according to new Census Bureau figures. And that's where the good news seems to stop, at least according to the top line numbers. The 1.8 percent growth rate in 2017 lagged behind the previous two years, when median household income rose 3.2 percent in 2016 and 5.2 percent in 2015. And while a scan of the numbers shows household income level to be the highest on record, that's only due to changes in how the Census Bureau calculates the numbers. Essentially incomes are about the same as where they were at previous peaks in 1999 and 2007.
So that sort of seems like stagnation. But less so if you look at the income numbers calculated by the Congressional Budget Office. As economist Jason Furman notes in a tweet today, CBO data show median income surpassed its 2007 peak back in 2014. He also wrote that Census has some data issues, including "no household size adjustment, a biased inflation measure, no benefits, inconsistent treatment of govt programs, etc." All stuff CBO handles better, according to Furman, although its numbers come out less frequently.
(And by the way, CBO numbers also show incomes up 42 percent from 1979 through 2014 for the broad middle class — measured as the 21st to 80th percentiles. And median household income is up 16 percent since 1999 through 2014. Is that stagnation? I report, you decide. The data show increasing incomes even though growth during that 15-year period was slower than the previous 15-year span. But to my mind, at least, the numbers undermine the "no better off than decades ago" argument of the populist left and right.)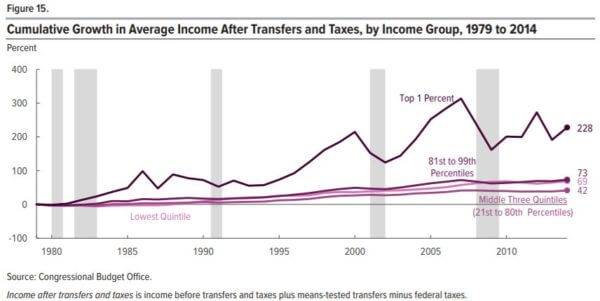 One more thing from the Census report: No change in income inequality. Good news for those who find that gap worrying. Indeed, there is reason to think inequality has been stable for a decade.