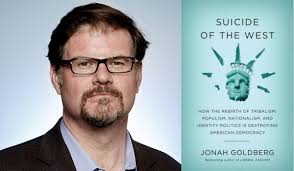 Jonah Goldberg doesn't need me to defend him, but since we had two posts on this subject already (found here and here), I thought it was worth my time to read the entire R.R. Reno review.
The review was terrible. Frankly, I expected Mr. Reno to hold himself to a higher standard than he achieved in his review of Jonah Goldberg's book. Goldberg responded to the review on Twitter by laughing at it. I thought I might give a longer response. Let's start right at the top.
Mr. Reno writes:
Goldberg believes that the Miracle exists beyond rational justification—and therefore beyond critique. "There is no dialectic, inevitability, teleology, or hidden algorithm that made human success a foregone conclusion." We can't explain it as divine Providence, nor can we justify the Miracle on the basis of human nature. Goldberg thus jettisons the foundations of classical political philosophy: God, human nature, reason, and history. Critics may imagine that there could be a better way. But Goldberg assures us they are mistaken. We are "standing at the end of history," and there is no alternative other than reactionary regression.
Mr. Goldberg does no such thing. He merely adopts the Hayekian position that we should not pretend to have too much knowledge about how this great thing happened. Sure, many arguments about why this happened and where this happened have merit and serve as partial explanations. These answers remain partial. As Goldberg explains at length, no one knows completely why and how the mix of Enlightenment thinking, Christianity, English and Dutch culture, and geopolitical situation led to these last three centuries of jaw-dropping economic growth, the protection of individual rights, and the peaceful advancement of political and religious freedom. Since we have no certain formula for making this kind of society happen, Goldberg encourages us to not be cavalier in throwing away the achievements.
The wealth the "Miracle" creates allows for discontent. Hard work and thrift become despised, resentment of the standing order begins to eat away at the foundations of our success. Goldberg's book is about wanting to fight the discontent, the resentment, the erosion of the moral foundations that make the Miracle happens. Goldberg says it's a fight worth having because no known alternative to the Miracle is an improvement. Consequently, he spends a long time in his book addressing critiques of the Miracle.
Goldberg and Reno agree that "Critics can imagine a better way." Where they disagree is that Goldberg points out no alternative has proven better than what we have now, while Reno seems to think such "better" alternatives exist, though Reno fails to identify any of them.
***
Reno writes,
Since there is no reasonable basis for criticizing what Goldberg calls the liberal order, the only explanation for dissent is psychological—a psychosis, a regression, an irrational fear. He dismisses various populist movements as irrational even though they have asked us to answer some very reasonable questions: Should there be limits to globalization? What is the future of the Pax Americana? What is the role of the nation-state in the twenty-first century? How should we respond to mass migration? Can we sustain global prosperity while ­reorienting its benefits toward middle-class voters in the West?
Actually, this is not Goldberg's understanding at all. Goldberg doesn't claim the Miracle defies all explanation and is therefore immune from criticism. Rather, he thinks the Miracle is better than any alternative actually offered. It is not psychosis but human nature which resists benefiting more than our own group or narrow interests. The fallen nature of men tends to bend more towards exploitation instead of beneficial co-operation with strangers.
Let's take apart Reno's series of very reasonable questions: "Should there be limits to globalization?" A question very much asked and answered in various ways by people within the classical liberal order of the Miracle. "What is the future of the Pax Americana?" A question that is not even part of Goldberg's book and is not essential to the Miracle. "What is the role of the nation-state in the twenty-first century?" A question well asked by the defenders of the Miracle and detractors alike. "How should we respond to mass migration?" The legal, cultural, economic system that is Goldberg's "Miracle" has no one answer to that. Mass migration is not a foundational question but a contingent one.
The first half of the last question in the series takes the existence of the Miracle for granted and means that Reno supports Goldberg's thesis more than he knows. Reno asks, "Can we sustain global prosperity…?" Before the Miracle, the entire world would have found that premise to be insane. Who would care about "global prosperity"? Why would we care about that, rather than be concerned with just our own prosperity?
Reno claims the series of questions he poses to Goldberg are gifted to us by "populism," but they were part of the conversation before populism's recent rise. The real questions are, will we answer these questions in a healthy and useful way or in a way that's harmful and counterproductive?
***
Reno writes,
For example, after 1945, a consensus developed that promoting free trade forestalls nationalist competition that leads to war. Free trade also unites America's allies in common cause against communist aggression. It was a wise policy for a time, but it was not itself the liberal order. After all, in the decades before 1945, proponents of the liberal order in America pursued vigorous protectionist policies. Today, however, criticisms of economic globalization are denounced as anti-liberal, as if the post-1945 world order uniquely and finally realized the essence of liberalism—which is ­exactly what Goldberg implies.
A false reading of history. Classical liberalism always valued free trade but the focus was first on eliminating tariffs and other barriers within a nation or group. This was a major way for regimes to tax their own people, and liberals wanted to end this harmful practice. Now the very thought of such a practice is so insane that Reno just skips over it. The principle of free trade was in fact part of the liberal order always but the why and the how of our implementation of the principle have changed over time as our knowledge, experience, and technology have changed.
This would be no different than saying free speech was not really part of our values at the founding of the United States because the founders allowed more censorship than we do today. The principle of free speech has been with America from the beginning but its implementation and its impact on our culture changes over time.
***
Reno writes,
This confusion of the present political consensus with the end of history is a constant temptation in the modern era. Modernity is whiggish. It seduces us into thinking that everything that comes before leads to the present, which finally realizes the true potential of earlier trends.
But as Goldberg writes on page 99 of his book,
None of this is to say that Hannan—a friend of mine—is wrong. It is to say that he was right when he said the English "stumbled" into modernity. The tradition of English liberty was a flame that could have been extinguished if the winds of history had shifted slightly at any one of a thousand different moments. We are fortunate that circumstances worked out the way they did. But at the most fundamental level, if you take providence or some other teleological theory of the purpose of history out of the equation, modernity happened in England by accident.
Hard for me see Goldberg the Whig here.
***
In the following passage, Reno basically agrees with Goldberg and joins with him in sounding the alarm for saving the miracle:
Peasants with pitchforks are dangerous, yes, but less so than our complacent political class. These people fail to recognize that while benefiting many, globalization has hollowed out the middle class in the developed West, thus imperiling liberal democracy. Our job is to rethink, readjust, and remediate so that the best of what has been achieved in recent decades can be preserved.
That Reno spends most of the review trashing Goldberg's view, then pretty much joins in with Goldberg's premise at the end, seems dishonest, lazy, or at the least sloppy. More charitably, perhaps Reno did not fully grasp the book I assume he read.
***
Reno takes a very strange turn when he writes,
In Goldberg, the habit of denunciation reaches absurd heights. He rehearses the tiresome conservative trope that Democrats are not true liberals but illiberal progressives. According to Goldberg, Trump voters are ingrates, moral hypocrites, and tribalistic "reactionaries." So are Clinton and Sanders voters. He believes that ever since Woodrow ­Wilson, what goes by the name "liberal" in America has in fact been an anti-liberal form of reactionary regression from the Miracle. Anyone who defines ­Woodrow Wilson and Franklin Roosevelt as enemies of the liberal order is a political propagandist, not a thinker concerned with understanding our populist-­driven challenges.
The fact that Wilson and FDR were hostile to the classical liberal order and sent the Democrat party into an illiberal direction is simply true: they were open about it and it is obvious. How this becomes a "tiresome conservative trope" for Reno is beyond me. I can hazard a guess that it may be rooted in a Conservative Catholic tradition that goes something like this:
First came Protestantism, which led directly to Liberalism, which descends naturally into Communism and only a return to a society ordered by the Catholic Church defends us from such horrors. I have heard of this view and read of it, but it never made much sense to me.
Catholic, Orthodox, and Pagan countries have all gone Communist or Fascist. Which Protestant countries have done that? (Germany of course did but it was a country with an enormous Catholic population). Protestants did become classically liberal first but not all Protestant countries did so or even remained classically liberal. I will just leave it with the thought that anyone claiming that Wilson and Roosevelt were not enemies of the classical liberal order as written down in our founding documents is not a serious thinker.
***
I will end with this: Although most of Reno's essay was off-topic or misinformed, he finished with an insightful question:
One place to start is with Augustine, who defined a commonwealth as a body of people united by a common love. In a liberal society that prizes individual freedom and religious pluralism, can we identify our common love? ­Populism cannot answer that question, but it has shown that our public intellectuals and political leaders can't either. [emphasis added]
For the last 300 years, we all answered this question with a resounding and surprising successful "Yes!" Before that the whole world would have said "No!" Goldberg thinks preserving the "Yes" is vitally important and it seems to me Reno is comfortably answering "No."