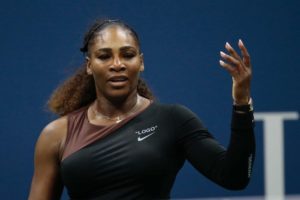 Outrage is on parade again. Billie Jean King opened her piehole on the Serena Williams US Open tantrum. And guess what? It's all about being oppressed as a woman, no wait — a black person. No, wait, wait … a black woman. Or whatever gets the most victim status today or tomorrow. Or gets her on ESPN, MSNBC, CBS. You got it — The attention-seeking culture is the new #MeToo .. or whatever.
King's proof, and I quote, "But that's not what many will remember. For fans, Osaka's stellar play was overshadowed by an archaic tennis rule that eventually led to an abuse of power."
Now, I about blew a pretzel stick out my nose when I read that. I mean, please excuse my rant style of prose, that is just stupid. Hey BJK! Its was Serena's behavior that overshadowed Osaka's first major win. Got it!?
The time and place to dispute an archaic rule is not during your 20th time to the rodeo. At the rodeo. While getting your butt kicked by the rodeo. The time for rule changes is during the offseason, during a USTA rules pretournament meetings, during an annual rules review, or pick up pen and paper or an Apple Power book and write to the USTA. Even call them. Does Billie sit on any USTA committee? Certainly she must be involved in tennis in some way where she can influence tennis in some positive way that doesn't involve writing op-eds to the Washington Post. What a waste of Woman Power!
Oh yeah, the president of the USTA? Wait for it … is a Black Woman, Katrina Adams. Shazam, shazam, shazam! (quoting Gomer Pyle) By the way, Google shows no interviews of Katrina Adams about Serena's tantrum on the court, only her grace at the trophy presentation — Oh, boy! Wouldn't the media want to know Ms. Adams's thoughts?
But then again, Billie may have been shamed back to her hole-in-the-ground a year or so ago when the whole Bobby Riggs thing blew up in Billie's face. That's when it came out that Riggs threw the Battle-of-the-Sexes match against her, way back in the '70s. She went into complete denial mode — looking stupid. No wonder some women are micro-oppressed by dog whistles when they have leaders like Ms. King.
And yes, there is a difference between how men and women are treated on the playing field. Thankfully. You see, women and men who run sports don't want to see their competitions degrade into spitting, scratching, and punching contests like so many on the men's side of the ledger. I think that's good, and women who don't scratch every itch in public or swear like sailors agree. Again, you see, more men watch women sports than women — sorry Billy, that's how it is. So we men don't want to see women acting nor looking like men (WNBA take note). It's a different market. And we're not really equal — physically speaking. Serena did loose to the 202nd seated male tennis player in the world.
And Billie, feminism isn't women acting like men. That's just lazy and boring. Want to set a standard? Encourage women to act better than men.