Before virtue signaling went quantum you had to purchase a vehicle and participate in destroying the environment by using fossil fuels to make sure your message was seen. You also had to appear in public. Now individuals can send thousands of invective-filled electrons with a few simple keystrokes that not only hit their target, but they are also sent out into the expanding universe.
Scientists that are searching for other life forms in the universe send out radio waves looking for a response. It doesn't come as a surprise to me that there's been no response. They are competing with Twitter feeds, and reruns of "Two and a Half Men" for attention, which is more than enough reason to avoid contact with our planet.
Just like Twitter, the vehicle in the photo has carved out some space, not on the internet, on a public roadway. Their vehicle is a fortress of virtue.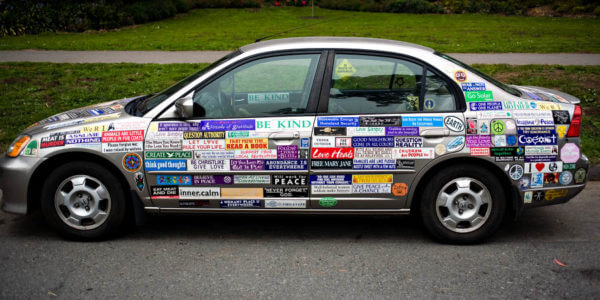 On a traffic stop, I knew I would get a lecture on human rights, constitutional rights, and I don't have to show you my drivers license, registration, or my proof of insurance. I don't have to roll down my window, and I don't have to hand you my paperwork. I would inform them that you have to do all those things.
I always got the paperwork, I always got the lecture. I always wrote the cite, because I always got the lecture. What I didn't get from the driver was "Be Kind," "Inner Calm," "Peace," or "Coexist." Displaying and practicing the message are apparently two different things.
Officer Friendly says; Give peace a chance, and coexist with stop signs.