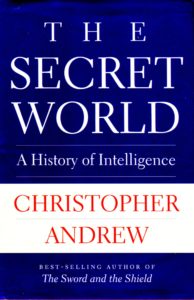 It is sometimes said spying is the second oldest profession. "The Secret World: A History of Intelligence," by Christopher Andrew underscores the claim. It is a history of spying from the earliest days to the present.
Andrew starts with the first recorded accounts of spying, related in the Bible. He finished with the role of intelligence in the War on Terror. He attempts to cover all significant intelligence operations between those boundaries.
His goal was to create the first comprehensive history of espionage and intelligence gathering. He contends intelligence suffers from long-term historical amnesia because it fails to understand its own history. He shows how secrecy and compartmentalization forces intelligence gatherers to relearn the same historic lessons over and over again.
He shows repeated instances where disdain for intelligence lost wars and effective intelligence won wars that should have been lost. The examples he gives span history. He shows how the careful intelligence of the Israelites helped them gain their Promised Land. Roman reliance on augury and contempt for gathering information about German tribes cost Rome three legions — and Germania.
In more modern times, Queen Elizabeth I's intelligence service allowed England to survive against Spain's superior power. George Washington skilled use of intelligence helped the Continental Army avoid defeat and ultimately win over England. Intelligence failures cost Napoleon victory against Russia in 1812, leading to his ultimate defeat.
The technology of intelligence is also examined. Andrew reveals tools and techniques used by spies throughout history. He shows how codes and codebreaking emerged in ancient and medieval times, and evolved today. He shows how SIGINT (signal intelligence), HUMIT (human intelligence — eyes on the ground) and intelligence interpretation work together.
At nearly 1,000 pages, the book can serve as a doorstop. Despite its length, it is very readable. Those not ready to sit down with a book this length should treat it as three or four linked books: Ancient and Medieval World, Renaissance and Reformation, 18th and 19th centuries, and 20th century to Present. Reading it that way makes it digestible. "The Secret World" is far too good a book to miss.
"The Secret World: A History of Intelligence," by Christopher Andrew, Yale University Press, 2018, 960 pages, $40
I write a weekly book review for the Daily News of Galveston County. (It is not the biggest daily newspaper in Texas, but it is the oldest.) My review normally appears Wednesdays. When it appears, I post the review here on the following Sunday.