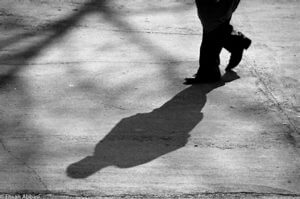 An Open Letter to Anonymous, the Author of, "I Am Part of the Resistance inside the Trump Administration." printed in the New York Times:
Mr. or Ms. Anonymous,
I just finished reading your opinion piece in the New York Times. I first take issue with the title. You are part of a resistance – where? Inside the Executive Branch, Congress, all over? You are not specific, but let me be specific. The people went to the polls in November 2016 and did not elect you President.
As far as I can see, unless you come forward and identify yourself, you are part of the problem that began the day after the election. You became part of that problem by admitting the following: "I work for the president, but like-minded colleagues and I have vowed to thwart parts of his agenda and his worst inclinations."  If you are so worried that President Trump is a menace to our country, what is more important, keeping your job and working for someone you are not happy with, or stepping out of the shadows and telling what you know?
You continue: "Although he was elected as a Republican, the president shows little affinity for ideals long espoused by conservatives: free minds, free markets and free people. At best, he has invoked these ideals in scripted settings. At worst, he has attacked them outright." How has he attacked them outright? Are you sure you aren't talking about the cast of characters who have emerged as trying to bring down the president from the outset?
Anyone can see that your statement is full of errors. For example, isn't making the markets work more effectively by removing some of the mountains of legal regulations imposed by Obama, revising the tax code to make it more business-friendly so American companies will return operations to the United States, while creating more jobs and wealth for our citizens, working towards eventually removing tariffs on goods if our allies will do the same, exporting energy and calling out bad deals, such as Germany's pipeline deal with Russia part of freeing the markets? Inviting the tech sectors to the White House promoting innovation, new product, promoting NASA and the advances in the space program currently underway? There are too many examples to list here, but these are just a few of the free minds, free markets thinking that we needed.
He attacks free people? How? He rescued hostages held in North Korea and brought them home, as well as negotiated for the remains of US soldiers. He champions law enforcement, the military, those that do the hard work of keeping us safe while plugging up the "open borders – no borders" policies of the Obama administration, which is now the group-think of the new Democratic Socialists. His attempts to denuclearize the NK peninsula has resulted in no more rants by the Kim regime or testing at least. It's only been two years, but he has stood up to Iran, China, Syria and others who don't know the meaning of freedom. He champions people who enter our country legally, but realizes that open borders have contributed to a major drug epidemic (drugs from China and Mexico) stealing our youth, promoting crime, deadly gang activity and has to stop.
I take issue with this statement of yours as well: "In addition to his mass-marketing of the notion that the press is the "enemy of the people," President Trump's impulses are generally anti-trade and anti-democratic." He didn't mass market the notion that the press is the enemy of the people. They became that during the presidential debates. My family was shocked at the biased coverage across the media world and it has become a tragedy for one of our greatest gifts as a free people, called "Freedom of the Press." This bias became apparent by the giants of social media as well – Google, Facebook, Twitter, YouTube — by the admitted bias and censoring, even removal of conservative voices, and blamed it on "algorithms." When a pastor whose church functions are censored on Facebook or a conservative business's advertising is removed then, to me, these are the enemies of the people. Trump was right in that label and they have yet to change course.
Let's continue with your other op-ed remarks: "Don't get me wrong. There are bright spots that the near-ceaseless negative coverage of the administration fails to capture: effective deregulation, historic tax reform, a more robust military and more." You contradict yourself because you said above that President Trump has attacked free markets, free people, free minds, and that Trump promoted the idea that the media is the enemy of the people, yet you now confirm that there has been near-ceaseless negative coverage of his administration – so which is it, and who is doing it? The American people have to search hard to find it any positive coverage. For example, next to no coverage on bringing the cost of prescription drugs down and rolling out new drugs quicker. That was a big deal and it received ten minutes.
You end your piece with this: "But in private, they have gone to great lengths to keep bad decisions contained to the West Wing, though they are clearly not always successful. It may be cold comfort in this chaotic era, but Americans should know that there are adults in the room. We fully recognize what is happening. And we are trying to do what's right even when Donald Trump won't." Adults in the room? Who decides that, you? Or the American people who elected President Trump?
So far, the shadows have revealed a silent but dangerous coup attempt in the form of a fake dossier produced by Hillary's people to railroad the new president, aided and abetted by certain people in the FBI and other branches of government and the private sector. After two years, the people are still being kept in the dark, but now know how things have been operating in secret, behind closed doors, with "adults in the room" like Lisa Page, Peter Strzok, and many others. That is the resistance that you are now a part of by hiding in the shadows.
We didn't elect a politician. We elected someone to restore the Republic. I repeat, we elected. Trump's Supreme Court picks reveal where his values are. His ceaseless work on behalf of the American people, not just conservatives, but all Americans, while in the midst of a "Russia collision" investigation, the endless negative media coverage, people taping him like his attorney, and you talk about amoral?
Your timing is interesting, Mr. or Ms. Anonymous. It coincides with another new hit book by Bob Woodward, and Omorosa, as well as the midterm elections, and right in the middle of another Supreme Court nomination process. The American people are very tired of shadows, lies, hit pieces, and the stench of political correctness and rampant corruption that is poisoning our country, its values, its children, its freedoms at their very core. You gained nothing in my eyes by hiding in the shadows. If you are the adult you claim to be, step out and speak freely.