No, this isn't a story that's still in progress, this is a process step. 'Developing' in this context means you're chemically removing half your photoresist (either the stuff that was exposed in a positive photoresist or the stuff that wasn't in a negative photoresist.) And no, it's not about guys making software either. Look, if you're going to stop us every single time the chance for a bad joke comes up… actually that's pretty much the game plan. Carry on.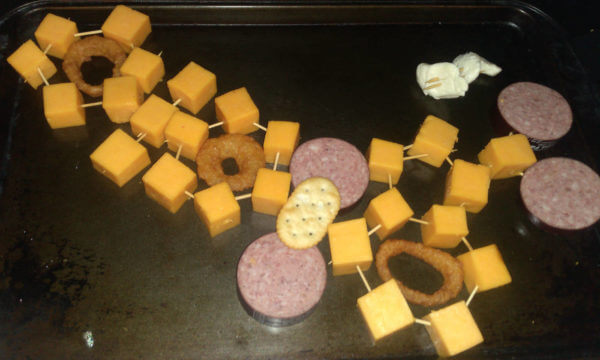 Recall the cheese and sausage photoresist molecule from earlier: That group on the right, that's a carboxylic acid group. Keyword there being 'acid'. Add a base to it and you'll fizz away the resist like Sean Connery's chest wound in The Last Crusade. Exactly like it. I think they passed off a science-fair baking soda volcano like it was Hollywood magic. But no matter. Developing.
Actually that's most of the story. Your standard developer uses sodium (Na2CO3) or potassium carbonate (K2CO3). Almost, but not quite baking soda. Once you've sent your material through the developer this is what it looks like: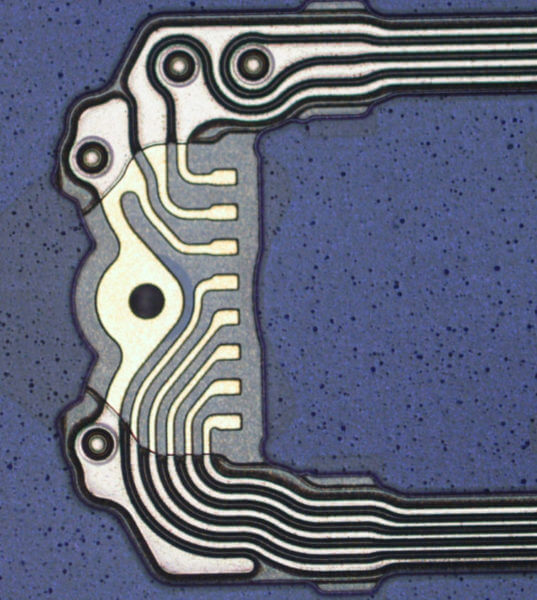 That's the head of a flexure magnified 50x. Then I shrunk the image some more. A flexure, as you'll recall, is a bit of wire on a flexible circuit that connects your hard disk drive to the outside world. See those blockish things in the middle of the picture? Those are bond pads. They'll connect to the read/write head, which read/writes things off the spinning discs. This particular flexure is still in process. It has a ways to go before it's done. Or at least it would if I hadn't hacked it to pieces for samples.
The gold bits are the traces. And yes, that's literal gleeful-prospector gold plated on those traces. The traces themselves are sitting on a layer of clear brown plastic. The hollow black circles are vias. They're not really black; the way that the material slopes it reflects light not up into the microscope lens but somewhere off to the side. Looks black. And importantly, all that purple-blue stuff? That's photoresist. Maybe you can't see it all that well from that angle. Let's try another.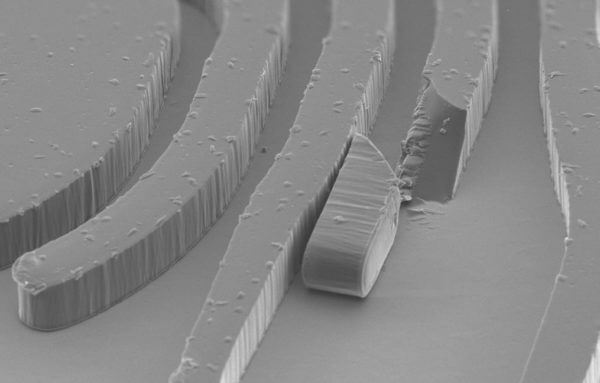 Neat, huh? That's a scanning electron microscope image of photoresist after develop. It's magnified about six hundred and fifty times (which is actually pretty weak tea considering what an electron microscope can do, but it's all I needed at the time.) Those canyons are about fifteen microns deep. That broken bit in the middle is exactly what it looks like; I wanted a closer look at the broken bit which is why I took this picture to begin with. It's laying on its side.
Now picture this in your mind's eye. You send this thing through a copper plater. All those canyons start to fill up with copper. You get maybe ten microns of copper in the canyons and you stop plating. Now you take the rest of the photoresist off. Suddenly your cliffs and valleys are reversed; you've got walls and canyons of copper. That's how you print traces on.
What Can Possibly Go Wrong?
The fact that I've already shown you one defect should give you an idea. First category: adhesion defects. That's the sort of thing you get where the resist doesn't stick to the substrate. You're all dying for another SEM picture, right? Here's some more of that black-and-white goodness: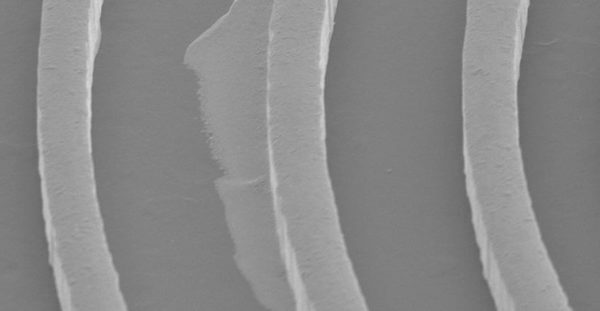 That's three traces right next to each other. On the middle one, the photoresist didn't sit all the way down. It left an overhang with space underneath. The copper plater doesn't care about overhangs, it put as much copper under there as it could. Result: you've got a large and deformed trace. Not quite deformed enough to connect to the next one and give you a short circuit, but getting there.
Note also the vertical striping on those canyon walls on the first SEM image. Don't rightly know what causes that (off the top of my head I can think of a couple potential candidates). Those stripes are going to get transferred to the copper traces. The angle is bad but you can sort of see it on the traces in the second picture. That level of variation isn't enough to cause a defect, but there are others: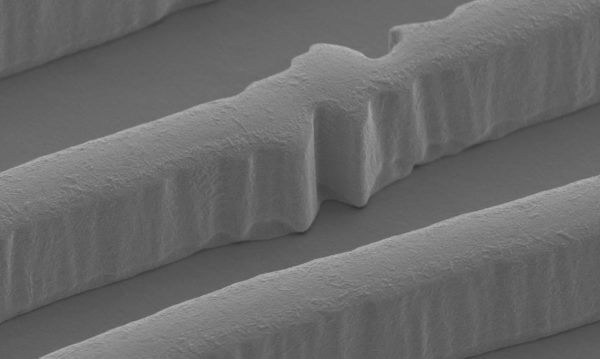 Looks like there might have been some contamination in the photoresist there, or perhaps it suffered mechanical damage of some sort. Either way, you've got one Quasimodo looking trace there. At the dimensions we're talking about, that's probably enough resistance change to cause it to fail the electrical test. At least the sidewalls are vertical. That can change based on your developer conditions, such as how long you're letting the developer solution pool on your photoresist.
They're not entirely vertical either. See that darker line along the bottom there? That's an overhang. (You can sort of tell from the tipped over picture up above too.) Our photoresist has what's called a negative foot, which means our copper traces will have a small positive foot. That's good; we want the copper to stick to the surface and the more contact area for that the better.
Overdeveloped, Underdeveloped, or Just Right?
That, my friend, is another good question. Despite your best efforts not all your photons will have gone to the right spot Some will have scattered into the surrounding area. And even if they didn't the chemists who mixed up your photoresist haven't perfected their formula. If you leave your photoresist in your developer solution then your holes get larger, your spaces get wider. Leave it in too little (or if your carbonate concentration isn't up to snuff, or if one or more of your spray nozzles are broken and not spraying properly) you don't clear out all the photoresist and you don't plate in the right places.
You gotta make sure you're Goldilocksing that sucker. To that end, you want to keep a constant eye on just how your developing process is going. That's what this thingamajigger is for: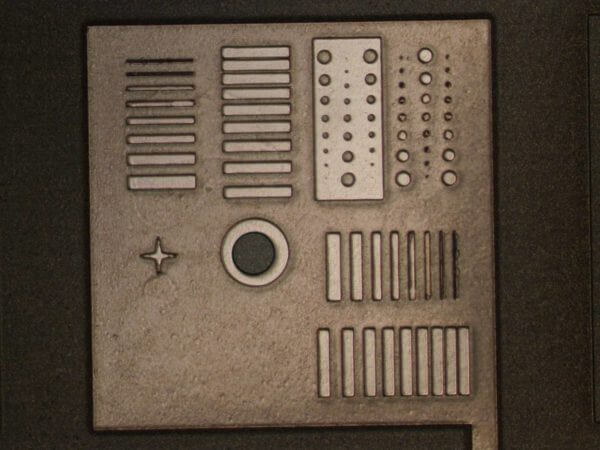 Each of those features on that coupon (that's what it's called) is there to help you determine how your developing is, well, developing. Except for the circle; that's for your exposing. The dark brown circle is one layer, the copper circle is another, and it's encircled by a hole in a third. Makes it easy to tell by eye if your layers are shifted pretty far from each other. (You can see that this one is offset, but also by eye I can tell you it's within tolerances.)
This coupon, in particular, is in the polyimide; I've got a better picture of it than anything in photoresist. Same principles apply. The lighter colored areas is where your polyimide got developed away. Essentially you're seeing clear plastic on copper. The dark brown circle is the dielectric layer the copper is resting upon.
Okay, let's look at the bars in the upper left. The top left has spaces that get narrower and narrower until they merge into black lines. Why? To develop out photoresist your chemistry has to react with the stuff, which means it has to get in there. This is relatively easy when you have a wide open space like the bottom space. It's much harder with the narrow ones, the molecules get stuck like the Three Stooges in a doorway.
Next stack over. All the spaces are big and easy to develop out, but now the lines in between them are getting narrower and narrower the higher up it goes. This coupon is, if anything, underdeveloped. If it were overdeveloped you would see a break in that top line. If adhesion was poor you'd see those top lines get all wavy; the contact area with the underlying surface is small enough that it'd lift off and twist.
The dots and the holes operate on a similar principle; if you're overdeveloped you'll see a lot of dots have floated away. If you're underdeveloped you'll see a lot of black holes (meaning there's stuff still in the bottom.) That just leaves the star feature; in theory, it gets narrower and narrower on each point so you can see exactly where your developing gives out. In practice that doesn't work as well as advertised. It's hard getting your stars consistent enough that they're an accurate indicator panel to panel.
Now that you know every little thing about the developing process you'd expect the next step in sequence to have something to do with plating, right? Or etching, or depositing something on there, or something useful. You'd be wrong. I'm going to skip ahead a step and talk about stripping. Er … removing the remaining photoresist from your material. Not the kind you were thinking of. Once you've got the photoresist off we're through the dry film cycle. That means we can say "apply this pattern to the wafer" and conveniently ignore all the details how that actually works out. So join us next time for "Swelling with Pride: a Photoresist Story," or "Whooo! Strippers!"
This is part fifteen of my ongoing series on How to Build a Computer, the Vegas Wedding way. You may find previous parts under the tag How to Build a Computer. This week's post has been brought to you by Ricochet's own Quote of the Day series. Start quoting; get… daying. Quote of the Day!