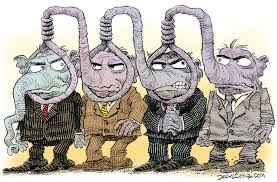 "Here richly, with ridiculous display,
The politician's corpse was laid away.
While all of his acquaintance sneered and slanged,
I wept; for I had longed to see him hanged."
— Hilaire Belloc
Perhaps, I thought, the man described as, "One of the true lords of the English language," and one of the preeminent minds of the mid-19th and 20th centuries was forecasting the attitude of a great many 21st-century voters with respect to those politicians and thinkers they once held in high esteem.
I've been close to despair of late as it appears, to me at least, that the divide on the right has widened considerably, nearly reaching the point of irreconcilable differences where both parties no longer talk to each other but instead face each other while talking mainly to themselves. For those who respect certain minds on both sides of the divide, the feeling is one of dismay at what is fast becoming the political equivalent of being caught between divorced parents who each insist that we take one side over the other notwithstanding the fact that they both screwed up.
Into the fray comes National Review's Jay Cost, and the result is a refreshingly calm voice arising from the tumult of reductionist stereotyping which shatters reason and pierces good intent. His article, "Mend The GOP, Don't Burn It Down," coming as it does from a person who admits, "During the 2016 presidential campaign, I was right there with many of the Never-Trumpers," and adds that he, "…remain[s] chagrined by the low tone Trump has brought to office, which needlessly alienates would-be political allies and coarsens our civic discourse," is candid, well reasoned, and needed.
"I confess that I know who is a conservative less surely than I know who is a liberal," Bill Buckley wrote in 1963, adding:
Blindfold me, spin me about like a top and I will walk up to the single liberal in the room without zig or zag and find him even if he is hiding behind the flowerpot. I am tempted to try and develop an equally sure nose for the conservative, but I am deterred by the knowledge that conservatives, under the stress of our times, have had to invite all kinds of people into their ranks to help with the job at hand, and the natural courtesy of the conservative causes him to treat such people not as janissaries, but as equals; and so, empirically, it becomes difficult to see behind the khaki, to know surely whether that is a conservative over there doing what needs to be done, or a radical, or merely a noisemaker, or pyrotechnician since our ragtag army sometimes moves together in surprising uniformity, and there are exhilarating moments when everyone's eye is right.
So it is that 55 years later, with an administration arguably as conservative in its governance as any in a generation, various factions on the right simultaneously lament the rise of tribalism while exercising their apparent tribal prerogative to read other factions out of the conservative movement. The ragtag army now moves in every direction with fratricide being the order of the day. One is tempted to review how it all began, but then one is confronted both with the reality that each side has its own version of the schism's genesis, and with the possibility that it no longer matters all that much who started it.
I posted Jay Cost's article on Facebook a few days ago and then had to speed off to work. What then unfolded was a very instructive 60-plus comment exchange between people I value as colleagues and friends. A gentleman whose perspectives I value despite the fact that we disagree at times writes to say that he agrees with Cost and asks, "…what can be done to bridge what I see as a widening divide?" His own diagnosis: "[T]he problem as I see it is that the current victors, the populist wing, refuses to be gracious in victory. They want their former NeverTrump opponents to grovel and have a come to Trump moment. I read yahoos like Kurt Schlichter and I want to scream. This is of course my own biased viewpoint but it's how things look from my end."
It took a moment to get over my initial impulse to redirect the gentleman's point toward others on the right who refuse to be gracious in defeat, preferring instead to disparage President Trump's voter base, and the President himself at every conceivable opportunity. From William Kristol to George Will, Rick Wilson, Jennifer Ruben to our own Mona Charen and others, one gets the impression that they would be physically incapable of even ordering cream and sugar with their coffee without offering a fresh dollop of invective toward the President and/or his voters.
As I say, that was my first impulse and I stifled it in part because I was at work and couldn't really engage, and in part because that's precisely the sort of response that usually dispatches people to their rhetorical bunkers from which they launch heavy artillery against their own side. That's when another friend for whom I have enormous respect weighed in and defended Schlicter in wholesale fashion. Which, as predictable as the setting sun and the inanities escaping from between Maxine Waters' ears, resulted in a passionate barrage from the first gentleman complete with provocative citations from Schlichter and descriptions of him that are not suitable for framing in a Sunday School room.
After an interesting exchange on the topic of trade, someone brought up Jonah Goldberg's recent G-File piece, "When The Tide Comes In," in which he laments, with some justification in my mind, the level to which some right-leaning provocateurs have descended, while recalling National Review and Bill Buckley's efforts to distance themselves from the distasteful elements of the right many years ago. Which, again, ignited a burst of rhetorical fireworks and comments in the Facebook conversation in which — and I don't mean to oversimplify here but there isn't space enough to reproduce every remark these fine folks made — people seemed compelled to defend this or that writer to the ends of the earth while denigrating the writer cited by the opposing party in the conversation.
Am I alone in seeing a growth in this "all or nothing" approach to political thought? Look, I have enormous respect for Jonah Goldberg and have admired his articles and books — even going so far as mailing a copy of Liberal Fascism to a progressive friend of mine who promptly deemed the book "over-sourced." I think his early misgivings about Donald Trump were entirely understandable and I was dismayed and angered by the level of ad hominem idiocy that then-candidate Trump unleashed on him in response. For this reason alone, I can understand Jonah's distaste for the man though I believe he has honestly tried to overcome personal animus and instead provide balanced analysis on matters of ideology, policy, and character.
One of the obvious advantages of such an approach is that it frees the observer to both criticize that which needs criticizing and praise that which is praiseworthy. If there is a compelling reason why such a liberating approach can be applied to presidents but not to pundits, I haven't heard it. Because while there is much that I like and applaud in Jonah Goldberg's analysis, there are one or two areas of difference. Similarly, I think parts of Kurt Schlichter's critique are spot-on and need to be heard from every rooftop, but I can't sign on to every single idea to which he gives voice.
At which point I look over at The Weekly Standard and read a piece called, "The Moral Ledger," by Andy Smarick — and ponder the comparative enchantments of a monastery. From reading Mr. Smarick, it appears that anyone whose relationship with virtue is at least platonic must refrain from praising that which is praiseworthy in the Trump presidency and instead denounce the thing in toto:
Almost every leader in history has had some redeeming characteristic or some defensible initiative. Even profoundly objectionable figures and the profoundly objectionable systems they created were often able to persist because they provided some good to some number of people—the making-the-trains-run-on-time argument. But time judges unkindly those who cheered the timely trains. Some of history's most ghastly arrangements have been defended by relentlessly pointing to some number of their benefits and turning a blind eye to their costs. This does more than debase debate, it does long-term harm: It serves as a conscience-protecting strategy exactly when our consciences shouldn't be protected.
"If Hitler invaded hell I would make at least a favorable reference to the devil in the House of Commons," observed Winston Churchill as he formalized the Anglo-Soviet Agreement of 1941 which saw the Allies make common cause with Joseph Stalin in the war against Adolph Hitler. "Ah, but you've invoked Godwin's Law," you say, "which holds that anytime you resuscitate the specter of Hitler you've lost the debate." I neither know Mr. Godwin nor care for his law. "Well then," you might counter, "are you trying to equate the election of 2016 with the mortal danger which faced the free world in World War II?" Not quite, I reply, though I'll get around to that point in a moment — after you explain where, in Andy Smarick's calculus, there is room for Churchill to do anything other than abstain from an alliance with Stalin regardless of the existential threat from Hitler's Germany.
Because if history looks with disfavor, as Mr. Smarick contends in his allusion to Italy's Mussolini, upon, "…those who cheered the timely trains," why should it judge less harshly those who made common cause with a mass murderer? The answer is that thankfully, time, if not Andy Smarick's Moral Ledger, tends to adjudicate fairly those imperfect mortals who, while operating within the fixed parameters of an imperfect world riddled with still more imperfect mortals and few if any perfect choices, still manage to advance the cause of human freedom. I should think it better to risk the rebuke of Messrs Smarick, Kristol, Will and others, in the cause of such advancement than to consign my grandchildren to a future pinned beneath the heavy boot of the progressive, omnipotent state from which they will ask, "how did this happen?" only to be told reassuringly, "because our consciences shouldn't be protected."
Ah well, perhaps we've finally stumbled upon the reason former President Obama removed that bust of Churchill from the Oval Office. And while we're taking swings at those who either founded or helped save the nation, someone should retroactively demote Generals Patton, Eisenhower, and MacArthur, while posthumously impeaching Presidents Jefferson, FDR, JFK, and others who are reputed to have had adulterous affairs. And that's just the executive branch. Exact the same standards of character on the judicial branch, Congress, and members of the press and the Washington DC real estate market would collapse faster than George H. W. Bush's lips when he promised, "No. New Taxes."
Does this mean that character is irrelevant when selecting and/or deciding whether or not to support a chief executive or public official? Of course not. But the context within which those decisions are made — including the options available at the time of the decision — is imminently relevant as well.
So here, without wholesale deferment to any particular writer, personality, politician or intellectual on the right, is my assessment:
First, repudiations of those who either reluctantly (like me) or enthusiastically voted for Donald Trump in the 2016 general election carry absolutely no weight with me absent a discussion of the electoral alternative. Maintaining that the choice was not binary is interesting but ultimately meaningless in light of the fact that the outcome was in fact going to be either the Republican or Democratic nominee. You may debate all you wish about how many jackasses can dance on the head of a political pin, but on election day in 2016, we were left with only two jackasses that had a prayer of becoming President, requiring us to choose what my boss likes to call, "the best bad option."
Second, it is evidently now fashionable to disparage those who voted for Donald Trump on the ground that we are only concerned with "winning," — with care taken to put the word in quotes as if this were some sort of sporting event in which people are driven solely by some idiotic devotion to a particular colored jersey.
When a gentleman of solid moral character who was faithful to his wife and devoted to his Christian faith set about "winning" in 1976, the result was 52 Americans held hostage in Iran as a country formerly on good terms with America sunk into the radical Islamic abyss; the Soviet Union was so emboldened by Carter's weak and vacillating foreign policy that it sent the Red Army itself into Afghanistan; double-digit inflation and interest rates at home and a 7.5 percent unemployment rate helped introduce the term "malaise" into the American political lexicon; and something called the Misery Index grabbed the attention of a nation that was indeed miserable. But hey if you overlook Carter's record of human misery at home and the enabling of evil abroad, you at least have a solid Moral Ledger … which is what happens when "winning," for the right, gives way to "losing."
It's not merely "winning" to deny Iran the weapons it seeks to fulfill it's professed maniacal goal of destroying both Israel and the US. It's not merely "winning" to seriously address a nuclear-armed North Korea that was armed under a Democratic administration and then subject to bipartisan procrastination. It's not merely "winning" to rein in an IRS that had been weaponized to target and abuse American citizens on the basis of their conservative political beliefs. It's not merely "winning" to scale back (to the extent the GOP's legislative spine permits) an attempt to turn the healthcare of a free people over to the tender mercies of faceless, unaccountable government bureaucrats. It's not merely "winning" to return more of a worker's wages to him or her on the assumption that the money belongs to them in the first place and not the government. It's not merely "winning" when unemployment in the African American community drops to the lowest level in history. And it's not merely "winning" when 26 circuit court judges are appointed and we stand an actual chance of breaking a judicial oligarchy in favor of jurists who view the Constitution as the law of the land rather than an obstacle to progressive social designs in which sovereign citizens become little more than lab rats at the hands of masterminds in black robes. Of course, not all of the above-listed items can be logged in the "success" category yet, but we know which way they would trend had we not started "winning."
On the other hand, we certainly know what "losing" looks like. It looks like the exact opposite of the above-listed initiatives which many of us have been proposing for decades, along with the accompanying increase in — you guessed it — human misery. "Losing" would also look like the return of the political equivalent of the Gambino family to American politics, with a level of corruption not seen since — well, since the last time the Clintons resided in the White House. And make no mistake, "losing" would mean the American people "losing" more of their constitutional rights, more of their property, and more of their safety as the defense of citizens from both domestic and foreign mischief would take a back seat to emasculated police departments at home and an eviscerated military deterrent elsewhere, as Ambassador Chris Stevens might himself observe had he not died in 2012 when the American Left was busy "winning."
Third, I remember hearing from various quarters that the 2016 election was not an existential event in America's history. "One single election will not doom America," said those who dismissed the concerns of many Americans that the nation had reached a tipping point. And it may very well be true that "one election" can't undo the nation. But a series of elections and a series of capitulations can have a cumulative effect that turns a single election into a pivotal event, no? Otherwise, there is no such thing as a "point of no return," and things can keep degenerating indefinitely with no serious repercussion. But that can't be true either, because we keep hearing approving citations of Ronald Reagan's warning that, "Freedom is a fragile thing and is never more than one generation away from extinction." Well, which is it, then?
Finally, I submit that from the standpoint of conservative governance, the victory of Donald Trump over Hillary Clinton was a net positive and, frankly, I'm dismayed such a point should even be considered contentious on the right side of the political equation. Is the man a moral paragon? Nope. Was Hillary? Nope. When neither candidate meets the Moral Ledger test, what do you do? Go for the "best bad option," or sit it out and throw spitballs at those who have the courage to at least try for the best possible outcome, given the circumstances, for future generations? Evidently, that last alternative has become a way of life for far too many people.
"What can be done to bridge what I see as a widening divide?" my friend asks. Perhaps accepting as a given that there are "pyrotechnicians" to use WFB's term, on both sides of the divide who will use incendiary rhetoric for the fun of it, and then resisting the urge to give them the satisfaction they seek. Then, accepting that some of these differences are simply and honestly irreconcilable, perhaps we can move beyond the "all or nothing" advocacy of politicians and pundits to find common ground where it exists, offer encouragement where needed, alternative ideas where necessary, and praise when earned. Simple prescription, difficult to practice, but it doesn't hurt to try. There's no need for conservatism to be masochistic.