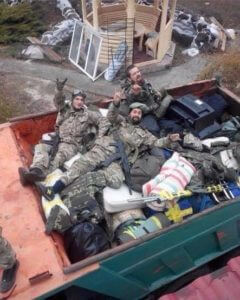 It was August and it was hot. I had just got a short-term missions team sent home and so I finally returned to my village in Eastern Georgia. We were getting ready to celebrate my son's birthday on August 8th. The Olympics were about to be on and we were anxious to watch them. We heard some disturbing rumors even back on August 5th when one of the Georgians with us had his leave canceled and was recalled to his unit. The rumors were about serious threats on the border of South Ossetia and a breakaway region of Georgia, but that happened every summer. We were sorry for our soldier friend but weren't really worried. The tensions had been growing for days and several members of the Georgian government were gone on vacation and many military personal were on leave and 2,000 of Georgia's best soldiers were away fighting in Iraq for the United States. I didn't seem like war was about to break out.
Background to the War
This had happened nearly every summer since 2004 when Mikael Saakashvili had taken power from a corrupt government headed by the former Foreign Secretary of the Soviet Union Eduard Shevardnadze. Back then there had been three breakaway "Republics" from Georgia. They were Batumi, Abkhazia and South Ossetia. The criminal clan of Botono Aslan Abashsidze collapsed from internal pressure and outside attack by Georgian authorities and he and his family had fled Batumi, in 2005, leaving only Abkhazia and South Ossetia. Georgia had gotten a piece of Abkhazia back during a "police action" that took down a Warlord that led a militia called the Huntsmen, who had been highly feared since they formed in 1992. They had all become highly content and rich criminals over the years however so when the Georgian military moved in they mostly just surrendered or ran away to Russia.
In 2006 there was a serious sniper war along the Ossetia and Georgian border. Ossetian militia moved in with Russian sniper rifles and began shooting Georgian border guards. They killed two but then the Georgian snipers in place began to fire back. The Georgians had Israeli made sniper rifles and had been trained by American Special Operators. The Georgians killed the Ossetians quickly. In frustration the Russian Special Operators moved in and engaged in a sniper battle for an entire night with the Georgian snipers and the Russians lost. The Ossetian militia panicked when the surviving Russian snipers fled and began shelling the Georgians with mortars. An American trained Georgian mechanized unit moved in and wiped the Ossetian position out sizing some hills above Tskhinvali the capital of South Ossetia. Ossetia militia ran from their positions all along the border and Russia had to make Georgia back down with the threat of invasion.
After 2006 many people thought that it was only a matter of time before South Ossetia rejoined Georgia proper. Ossetia leadership in the breakaway Republic was little more than a collection of Mafia clans and the Ossetian did not want to die for them. Nearly 70% of the people living in the region had left the breakaway Republic because of the brutality of the authorities and the epic corruption.
Five Days of War
Back to 2008 the Georgian Government intercepted cell phone traffic indicated that a huge contingent of North Ossetian militia (a Russian Republic) was moving through the Roki tunnel into South Ossetia in violation of all agreements between the breakaway Republic, Georgia and Russia. Saakashvili had long worried that to save the situation in South Ossetia that Russia would fully occupy the region. He now believed this was happening Russia was sending in Ossetian militia and mercenaries to take the region over and lock Georgia out forever. This was the big Russia move but what Saakashvili did not know was that it was just a lure.
For weeks the Russians had prepared the Ossetians for a Georgian attack, they armed the militia with better weapons and increased their training and pay, they gave thousands of Ossetian children free summer camps in North Ossetia and transported them there for free and stiffened the Ossetia will to fight with Russian "civilian" advisors through out their military. According to many Ossetian militia men the Russians had told them they had to hold out for only 24 hours and they would be saved. Then came August 7th and the intercepted cell phone calls. Saakashvili simply miscalculated and thought that if he did not fight for Ossetia and lost it forever his government would not survive. He ordered the Georgian Army to take South Ossetia.
The Ossetian militia had been armed for this attack, trained for this attack and prepared for weeks to hold against this attack. When the attack came they promptly ran and ran fast and ran far. The only resistance the Georgians met were from Russian "peacekeepers" who the Georgians were ordered to not fire on. The Peacekeepers fired first but they were out gunned and out maneuvered by the Georgian Army. In Tskhinvali the Russian "civilians" could shoot deserting Ossetians and so kept some of them close and forced them to fight from a few fortified buildings. The Georgians surrounded them and offered everyone safe passage to Russia. By the end of the day on August 7th there was no fighting and South Ossetia had fallen to the Georgian army. The Georgian lost a few men when some Russian peacekeepers fired on their negotiating team sent to offer the Russians safe passage out of the area. A few of the slower runners in the Ossetian militia had died; a dozen or so at most. It was a fairly bloodless affair and order had been restored and Saakashvili thought he may have scored a major coup in taking Ossetia.
On August 8th while we celebrated my son's birthday we got the news that some Russian Generals were going to hold a news conference. We tuned in and the Russians began explaining the situation in South Ossetia. First, we learned that this was a long planned offensive by they Georgian government to invade Russia and take Krasnodar the biggest Russian city in region and one hundreds of miles from the Georgian border. Then we were told that the fighting was fierce in Ossetia as the brave Ossetian freedom fighters were holding on against impossible odds and right now on August 8th the Russians believed that Georgians had killed at least 2,000 civilians and were "hunting Ossetians like animals and shooting them." Orwellian stuff.
Saakashvili didn't know what to do and his government was in a panic. Russia was not taken off guard by Saakashvili's move but seemed quite calm about it and their lies about the situation made it clear they were going to attack. The Georgian military wanted to take the Roki tunnel and blow it up and mine it to at least slow down any Russian land invasion but Saakashvili thought that was to provocative. He could not decide if he should flee the region or defend it and gave contradictory orders to his military. When the Russian air strikes started he knew things were going to be bad and finally decided to fight. He ordered the Georgian air force to flee and hide their planes all over Southern and Eastern Georgia to keep them safe from Russian airstrikes. One of his few good moves during the fighting. With Russia tanks rolling in the Georgian military took over and fought bravely for 24 hours.
The Georgian artillery took some of the Russian vehicles coming out of the Roki tunnel with an amazing accurate barrage destroying 40 vehicles in one hour. They also managed to take their artillery down and flee before airstrikes destroyed them showing the Russian air force to be less than competent. The Russians began jamming all cell phone communications, the internet went down and every website in Georgia was under cyber-attack. By the end of the 8th and the beginning of the 9th the biggest battle of the war began for Tskhinvali. The Georgians left a light screening force in the city and the Russians took the bait viciously shelling the city and destroying most of it. It will never be known but it is very likely that in shelling Tskhinvali the Russians killed more Ossetians than the Georgians did during the war. That shelling allowed the Georgian artillery to inflict more damage on the Russian military and when the Russians moved in to take the rest of the city they lost several planes and helicopters to shoulder fired anti-aircraft missiles and the Georgian bombardment of the Russians moving through the city was deadly and accurate.
The Russia air force finally got its act together and pounded the Georgian positions hard and the Georgian army broke and ran. The only other fighting in the war took place than Georgian units fought to free themselves from the Russian army and some Georgian special forces carried out guerrilla attacks to try and slow the Russian advance.
My Experience During the War:
As you might imagine this was my first experience of invasion and my missionary training did not have course on what you do during an invasion. The first thing that happened for me were some pretty intense prayer meetings and then I had to decided what I would do to the offer from the American embassy to evacuate. I decided not to go and stick it out in country. I am proud of many other Americans that worked in the medical professions who stayed for the war too knowing their skills would be needed to treat the wounded. All the mission agencies ordered their missionaries out and so I was the only one that stayed. My agency did not order me out which was good because I would not have left anyway, but I was glad I did not have to disobey their order.
Then I got a call. One of the members of the short term team that left a couple days before the war was member of the American Airforce and worked for Military Intelligence in Washington DC. On the seventh I got this call right before the jamming became intense,
Caller: Hello sir are you Brian Wolf in the Republic of Georgia?
Me: Yes, who is this?
Caller: Sir, I am calling about Rebecca ( Not her real name) do you know her whereabouts sir?
Me: Who is this? I am not telling you anything.
Caller: Sir, I am just a common citizen but I am concerned about Rebecca do you know where she is?
Me: Common Citizen? Really? (Me laughing) All I know is that she flew out of Georgia safely two days ago and she is safe. I don't know where she is now.
Common Citizen: Thank Sir! Stay safe sir the Russians may not take kindly to any Americans they find in Georgia right now. (Click)
Later that day a missionary I knew had a team in Georgia and they had been near the South Ossetian border and saw the first Russian airstrikes. The Missionary was in a real panic for his team but the men and women from his team were supernaturally calm and volunteered to stay and help with refugees or wounded or any other way they could serve us but their missionary over ruled them. I and the Georgian believers helped to ferry them that night to the embassy convoy and they safely left Georgia.
On the 8th I was afraid the invasion was going to be an out right conquest of Georgia and I decided I better get a mass of American dollars while I could, so I drove to Telavi, the biggest town in my region, to get money. On the way to Telavi two Russian jets suddenly flew low over the road I was driving on with four other cars near me. We all panicked as the jets banked around for another pass and I could clearly see they still had ordinance mounted on their wings. We all drove off road between trees trying to flee their "attack" and one car hit a tree. That pass too was harmless and I imagined those pilots had a good laugh as they flew away. After helping the man that hit the tree I made it to town and got my dollars. All that night the Russian air force bombed bridges and military targets all over Georgia.
On the 9th the skies were strangely clear and jamming lightened up and even the internet worked off and on. George Bush had warned the Russians that due to legal obligations to Georgia, America would be flying in 2,000 Georgian troops and any attack on our planes or the American men would be responded to with force. At that threat Russian jamming and air attacks ceased and the American transports flew in the Georgian troops fully equipped and fully armed to defend Tbilisi. As soon as the American planes left the bombing resumed.
Nearly all the Georgians I knew rejoiced at such a display of American power and hoped that meant that America would clean the Georgian skies of the Russians for good, but it was not to be.
Aftermath:
Eventually, Europe and America made Russia back down from an attack Tbilisi and a cease fire was signed and eventually, after much looting and destruction, the Russian troops withdrew from Georgia. The main Russian goal, toppling the Saakashvili government, did not happen but Russia recognized Ossetia and Abkhazia as independent countries hoping to sever them from Georgia forever. They also took more land from Georgia putting a lot more Georgians inside South Ossetia and over the last ten years they continue to alter the border in South Ossetia favor by a few hundred yards at a time.
In the aftermath of the war I learned how hard it is to minister to refugees and victims of war as we dealt with thousands of refugees in Eastern Georgia. We all learned the ruthless nature of Russian regime and the bald face lies they tell, all the time, about everything.
We also learned that American training and Georgian courage is quite impressive in combination and all the people in the region noticed that the Russian trained Ossetians ran away and the American trained Georgians fought bravely.
The Russian learned their military was a crap organization and began massive reform efforts to professionalize it and make it at least competent. Before the Georgian War the Russian military probably could not have successfully attacked Ukraine after, the reforms the Russian army became quite a bit more effective.
In the reconstruction phase again, the West proved its utter superiority to Russia. A year after the war Georgia had rebuilt everything that the Russians had sacked and destroyed and in fact Georgian infrastructure improved after the war. In South Ossetia a year later 98% of aid money had be embezzled and only three damaged buildings had been repaired. The biggest lesson though was that Russia was weak when it invaded Georgia and it embarrassed Russia. We did not have the will to punish Russia for the aggression, nor reverse Russia's territorial gains. Russia grew stronger and bolder and successfully attacked Ukraine and now threatens NATO as a whole. None of that had to happen, when Georgia was attacked we we were asked "Is Georgia worth threatening our relations with Russia? Our answer was; No. Even though they were weak and easily intimidated then. When Russia attacked Ukraine we were asked, "Is Ukraine worth threatening our relations with Russia?" Again, the answer was; No. And again Russia did not pay and grew stronger and bolder. So now we may be faced with an even bigger question " Is NATO worth saving?" Sadly, many have reason to doubt that we would answer; yes.