I'm self-employed and work from home with no set schedule. I prefer to keep one, but it doesn't always happen. I don't always sleep well, and sometimes, I really, really want a nap. I carefully choose my times for when Morgana is sleeping. 
It never works, though. Somehow, she has a super-kitty sense of when one is trying to sleep. I get settled into bed, and there is the thump of her arrival up onto the bed. Wasn't she just asleep in another room? Doesn't matter. Now, she is on the bed with me and wants attention. If she is on the ground, and I reach down, she doesn't want attention. If she's on one of the cat trees by my chair or on one of the cushions on the other side, she doesn't want attention.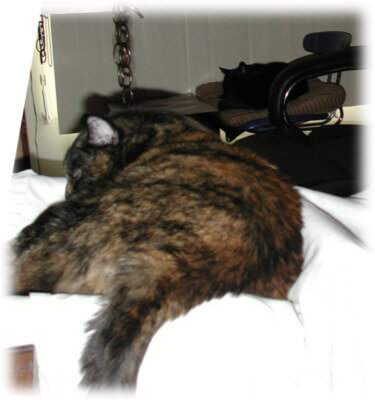 But, go to bed during the day? Rubbing and bunting and purrs like thunder, she will have attention.
So, what happens if I turn on my side, facing away from her and the bulk of the bed? Just a minute ago, she jumped up on me, started walking along me towards my head, decided to claim me by rubbing her head against my shoulder, lost her balance, and fell off behind me onto the bed.
How can I possibly sleep when I'm laughing so hard?