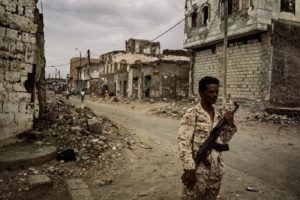 It's easy to forget the ongoing war in Yemen. But a pair of news stories this week serves not only of a reminder of American involvement there but the foolishness in involving ourselves in yet another civil war.
The first story is the bombing of a school bus by Saudi warplanes that killed 29 children under the age of 15 in Saada Province. For what it's worth (which isn't much), the Saudis claim they didn't intentionally target a bus full of children and that this was a "legitimate military operation." Civil wars are usually full of atrocities, but this particular horror and the 29 dead children (and many others in this war) was made possible by generous assistance from the United States government and American taxpayers.
Yes, these were Saudi pilots flying Saudi planes (probably — this particular atrocity is credited to the "Saudi-led coalition"), but those planes and the bombs they dropped were sold to them by the United States. Now, you can argue that a seller has no moral responsibility for the atrocities committed when they provide weapons to a bestial regime. So be it, but American involvement doesn't end when the check is cashed.
Not only does America provide the warplanes, but we provide the Saudi government targeting information and aerial refueling. The Saudis would not be able to fight their air war in Yemen without the support of the American government. And it's long been communicated to the Saudis that they can bomb civilians and still receive that absolutely essential logistical support. Why? The Saudis are aligned with the "government" of Yemen against the Houthi rebels, which are nominally supported by Iran. The Yemen Civil War is a proxy war of sorts between Saudi Arabia and Iran.
By backing the Saudis to blow up school buses full of children, the US is able to poke a finger in the eye of Iran … or something. (It's worth noting that the amount of support by the Iranians to the Houthis is a subject of much debate. It appears to me to be wildly overblown.) And we have to fight Iran, don't ya know, because they support international terrorist groups … or something.
The second story was less widely reported: The Associated Press found that for the last two years the "Saudi-led coalition" has been winning battles on the ground in Yemen by making common cause with Al Qaeda, specifically the local branch, AQAP. They've made secret deals, letting them go free if they leave certain cities and towns. It's a good deal for the AQAP fighters because they usually get to walk away with their guns, their gear, and the cash they looted.
How could our dear allies, the Saudis, betray America like this? Oh, Uncle Sam knows what's going on and we've canceled airstrikes on certain AQAP forces after they've cut deals with the Saudis. The US not droning AQAP forces when they retreat with their weapons is a central requirement for these agreements to happen.
Look, I can make a case for negotiating with horrific groups. There's academic research on how civil wars conclude and it often involves bringing parties (even horrifically violent ones) into the political process. The above is also obviously an oversimplification of the situation. For example, I haven't even mentioned ISIS or Al-Islah. By my count, there are at least five different warring factions in Yemen (not counting the Saudi-led coalition, Iran, the Emiratis, or the US).
Lines in civil wars are both blurry and constantly shifting, and we're talking about a part of the world where they were playing power politics 2,000 years before Christ was born. A country as young as America cannot hope to compete with the internal dynamics of a five-way civil war in a country most Americans probably still can't find on a map.
The real folly, of course, was getting involved in someone else's civil war in the first place. Whatever case was to be made is weaker than it ever was. But you have to wonder what we're doing if we're cutting deals with Al Qaeda while our "allies" bomb school buses full of children.