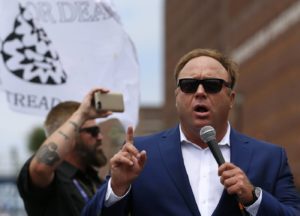 The internet is undoubtedly the most important invention of the last several decades. And no country has been better at commercializing the internet than America. Apple is unlikely to be the last trillion-dollar US tech company.
It sure would be a shame to mess all that up over a loopy provocateur like Alex Jones.
But here we are. The social-media banning of the conspiracy-mongering, hate-spewing performance artist could push Republicans to ruin the internet.
Even before Apple, YouTube, Facebook, and Spotify purged the noxious content produced by Jones and his Infowars website, Republican lawmakers and pundits were attacking social media and internet companies for bias against conservatives. Among the supposedly persuasive bits of evidence: unfounded claims that Facebook was censoring pro-Trump video bloggers Diamond and Silk, and an errant Google search result that linked the California GOP with "Nazism." Then there's the political liberalism — or at least financial support of Democrats — of many tech CEOs.
Sen. Ted Cruz, like many of his fellow Republicans, claims to have connected the dots. As he said on a Breitbart podcast: "These tech companies are hard left. . . . They are suppressing the views of conservatives. They are blocking conservatives. . . . That is invidious. It is invisible, and it is profoundly dangerous."
Of course, it was skillful use of social media that helped Donald Trump win the presidency, and right-leaning pages apparently have a bigger presence on Facebook than left-leaning ones. But the reality that too many GOP politicians care most about is getting their voters ginned up for the November midterm elections. Perhaps nudging along the perception that conservatives are being persecuted by Silicon Valley will do the trick. As one Republican campaign strategist told Politico, "It's something Trump has talked about repeatedly, it's a base motivator, you're not going to find conservatives who don't believe there's bias."