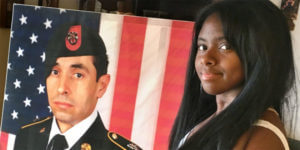 This story is one year old, but it's timeless:

Before he deployed to Afghanistan on Feb. 11, [2017] Staff Sgt. Mark De Alencar of the Army's 7th Special Forces Group had a talk with his stepdaughter, Octavia Osborne.

The Green Beret asked the 17-year-old, whom he had raised since she was 3, to look after her mother and two younger siblings. There was one more thing, too.

'He told me he'd be back in time for my graduation from Niceville High School,' Osborne said with a slight smile. 'He promised.'
Sgt. DeAlencar didn't make it back alive. He was killed in action in Nangarhar Province, at the age of 37.
This story took place in 2017. But in some ways it is present for those who still suffer from the loss of loved ones; it is a timeless military tale. In Octavia's case, though, Green Berets from the 7th Group had her back. Natasha, Octavia's mother, received a phone call:
'They asked me if I would ask the school administration if there would be enough room for some of the Green Berets from the 7th Group to attend,' Natasha recalled.
She was stunned to find out that they planned to have 80 of DeAlencar's brothers-in-arms attend in their dress uniforms, as well as members of their families.
On graduation day, the servicemen sat quietly in the audience until Octavia's name was called. At that moment, they jumped up and cheered and clapped. Octavia's grandmother, Yolanda Thornton, described their reaction as a "roar, like she'd scored the winning touchdown."
Mrs. Thornton also said a silent prayer to her son:
I thought, 'Mark, you gotta be looking down and smiling down on this one,' Thornton said, her voice choked with tears. 'You had military men who knew what their role was. They reached out on behalf on their fallen brother to let his daughter know they were going to be there for her. It made my heart feel so good, because she had been through so much to get to that day.'
We ask so much of our military. We ask so very much from their families. And the military knows how to take care of its own.
Let's remind them every chance we get that we are so very grateful to them all.