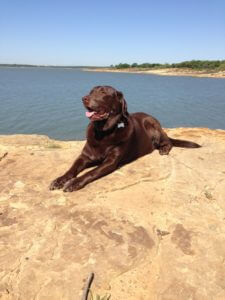 Koda was a runner, an escape artist. That's how we became the owner of this beautiful Chocolate Lab a little over 11 years ago. I'm a dog lover, but I had always wanted a Lab. They are, in my opinion, the perfect dog. Great with kids, eager to please, gentle, loyal, loving … the list goes on.
Our friends had bought a purebred Chocolate Lab as a puppy with the hopes of turning him into a hunting dog. But his schedule as the mascot of a local sports team and the unexpected arrival of child #4 didn't leave much time for training. Add to that Koda's propensity to explore, and after getting picked up by animal control a few too many times, they realized they needed to let him go to someone who had time to train him.
On a Friday afternoon in June of 2007, we adopted him. Saturday morning we had him fixed, hoping this would curb some of his running tendencies. (Hint: it didn't.) Our boys, then 5 and 8, fell head over heels in love with Koda. In fact, everyone who met him fell in love with Koda, and if they didn't, he'd work them over until they did. He had the sweetest disposition. He always wanted to be with his people, whatever we were doing.
But his exploring instinct was still strong. Oh, the memories of wandering our neighborhood after dark with flashlights trying to find a dark dog in the shadows. I'll never forget one time he took off down the driveway, pausing just long enough to sniff the light pole across the street for me to full-on flying tackle him. After I corralled him, I looked up to see our neighbor standing in her driveway dying laughing. Another time I chased him down the streets while wearing flip-flops. That's not recommended, by the way. My feet hurt for several days after that.
It took some work, but he did get to where he would obey voice commands and we could trust him off-leash. All the neighborhood kids loved to play with Koda when we let him out. Like I said, everyone who met him fell in love.
Sadly, good things come to an end. Over the past year his hips were getting bad; it was getting harder for him to get up. Over the past few months, he started having to pee more often, so it was a regular thing for my wife or me to get up in the middle of the night and let him out. He developed Laryngeal Paralysis, so he lost his bark. Then, a little over two weeks ago he stopped eating. For a dog that would eat anything, this was very concerning. Initially, we thought it was a stomach bug, so the vet prescribed some medicine. After no sign of improvement, we scheduled an ultrasound last Friday. Our biggest fear was cancer, but the vet at the ultrasound center said it looked like a foreign object in his stomach.
We wrestled over the weekend over the right decision. On the one hand, he's a 13-year-old dog in declining health so is this the time to let him go? On the other hand, his health isn't really that bad, so is it fair to him to use this as an excuse? We decided, despite the expense, we needed to give him a chance.
Monday morning he had surgery to remove what turned out to be a pair of socks. My oldest son works at a fast food restaurant, so I guess the smell of fries on those socks was just too much to resist. Our hopes were lifted that with this out of his stomach he would start eating again. Monday night we tried to give him some food, but he wasn't interested. Tuesday we took him back to the vet and they kept him on IVs and antibiotics all day. He seemed a little stronger Tuesday afternoon but still wasn't interested in eating. Tuesday night was rough. He couldn't settle, he locked his mouth closed when I tried to feed him, he was kinda whining in a way we'd never heard. Yesterday morning we took him back to the vet for more IVs but recognized this might be the end. The vet and technicians tried all day to get him to eat, but he just wouldn't take it. He was wasting away.
At 4:30 yesterday afternoon, we gathered at the vet to say goodbye to the best dog any owner could ever hope to have. He had permanently attached himself to our hearts. I never cried over losing a dog like I cried over Koda. All of us shed many tears yesterday. My youngest son lost a best friend. And now we have a Koda-shaped hole in our lives that will never be filled. He will forever be missed.