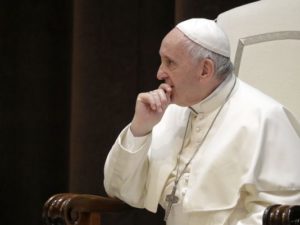 "Imagine if a state announced that murders committed Mondays, Wednesdays, and Fridays would be punishable by execution and murders committed the other days of the week would be punishable by imprisonment. Would murder rates remain the same as they are now on all the days of the week?" — Ernest van den Haag
In his recent piece, "The Bishop and the Executioner," Kevin D. Williamson made the Understatement of the Year when he observed that, "Pope Francis is a spiritual leader. He is not an intellectual leader, and in that he stands in contrast to his immediate predecessor and Pope John Paul II, a figure of world-historical consequence." Paraphrasing one of the Pope's advisors, Williamson remarked that Pope Francis, "…didn't really have any rigorously developed and systematically applied view of political economy at all." More's the pity, because it is precisely the kind of counter-intuitive and emotive prescriptions of which the Holy Father seems so fond that, A) destroy innocent lives, and B) make some people so very uncomfortable at the above question posed by Professor van den Haag.
As a relatively new convert to the Catholic Church, I understand the authority with which the Pope speaks, even when not speaking Ex Cathedra, which is to speak in a clearly stipulated manner which is binding to all Catholics. And I have to believe (or at least hope) that Pope Francis is at aware of the writings of St. Augustine and St. Thomas Aquinas, who in The City of God and in Summa Theologiae acknowledge and endorse the right of civil authorities to put to death those who, in the words of Aquinas, are, "dangerous and infectious to the community."
"Every part is directed to the whole, as imperfect to perfect, wherefore every part exists naturally for the sake of the whole. For this reason we see that if the health of the whole human body demands the excision of a member, because it became putrid or infectious to the other members, it would be both praiseworthy and healthful to have it cut away," wrote Thomas Aquinas, whose views are at variance with Pope Francis who enjoins us to oppose the death penalty because, "It is impossible to imagine that states today cannot make use of another means than capital punishment to defend peoples' lives from an unjust aggressor."
Unhappily, a great many things remain unimaginable to the Pope, including the concept of deterrence as something which can actually save lives. Of course, there are a great many people who dismiss the idea of the deterrent value of capital punishment who nevertheless acknowledge its existence in other areas. Anyone who has ever reduced their speed when driving through a town notorious as a "speed trap," acknowledges that the threat of severe penalties can and do influence behavior.
"Whether any activity-be it lawful or unlawful-takes place depends on whether the desire for it, or for whatever is to be secured by it, is stronger than the desire to avoid the costs involved," wrote Professor van den Haag. This applies whether one is contemplating an expensive dinner, a sky-diving experience, whether or not to purchase various types of insurance, or whether or not to rob a liquor store and the idea that these natural considerations would suddenly evaporate in the face of a consistent and sure application of the death penalty defies all logic which, predictably, is where Pope Francis and a great many well-meaning people land all topsy-turvy.
Correspondingly, where threatened punishments are infrequent, or light, or both, lawlessness proceeds apace, and in some instances, increases. Anyone who has been passed by a speeding police car (with no lights or sirens turned on), and has seen the general pace of traffic pick up as drivers realize they may speed with impunity, knows exactly the point I'm making. Indeed, a few weeks ago in USA Today, Brad Heath noted that:
Just before a wave of violence turned Baltimore into the nation's deadliest big city, a curious thing happened to its police force: officers suddenly seemed to stop noticing crime.

Police officers reported seeing fewer drug dealers on street corners. They encountered fewer people who had open arrest warrants.

Police questioned fewer people on the street. They stopped fewer cars.

In the space of just a few days in spring 2015 – as Baltimore faced a wave of rioting after Freddie Gray, a black man, died from injuries he suffered in the back of a police van – officers in nearly every part of the city appeared to turn a blind eye to everyday violations. They still answered calls for help. But the number of potential violations they reported seeing themselves dropped by nearly half. It has largely stayed that way ever since.

"What officers are doing is they're just driving looking forward. They've got horse blinders on," says Kevin Forrester, a retired Baltimore detective.

The surge of shootings and killings that followed has left Baltimore easily the deadliest large city in the United States. Its murder rate reached an all-time high last year; 342 people were killed. The number of shootings in some neighborhoods has more than tripled. One man was shot to death steps from a police station. Another was killed driving in a funeral procession.
In other words, lax enforcement and light or nonexistent penalties prompt increases in carnage and mayhem. Under the circumstances, the sacredness which a civilized society places on human life can be expressed precisely by its willingness to exact the ultimate price from those who violate that sacred trust. Even as an individual has a right to protect himself against mortal threats, society can and must protect itself against similar threats. This includes, by the way, nullifying the potential for certain terrorists or criminal ring leaders to instigate and orchestrate further loss of life while incarcerated.
In his speech to the United States Congress nearly three years ago, Pope Francis said at one point that, "The Golden Rule also reminds us of our responsibility to protect and defend human life at every stage of its development," which had many of us on the edge of our seats anticipating that the Holy Father would mount a vigorous defense on behalf of those who are most innocent and cannot defend themselves.
Instead, we heard him add that, "This conviction has led me, from the beginning of my ministry, to advocate at different levels for the global abolition of the death penalty. I am convinced that this way is the best, since every life is sacred, every human person is endowed with an inalienable dignity, and society can only benefit from the rehabilitation of those convicted of crimes." Counterintuition has its place, but when it is employed to emphasize the defense of those who murder over those who are murdered, we are rendered rudderless and adrift in a sea of moral relativism.
Pope Francis would do well to consider how many innocent lives might be spared if would-be murders knew that their crime against humanity would cost them their own lives. As for this Catholic who loves the Church and its teachings, I can applaud certain advances in mankind's progress over the centuries, but I cannot pretend to be ignorant of human nature knowing full well, as I do, which way the body count would trend if the death penalty applied only on three days of the week, or not at all.