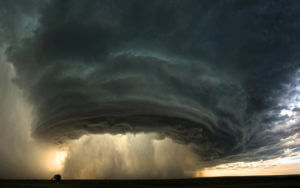 Lately grayish clouds seem to rest uncomfortably above my head. It's like living in a premature rainstorm that can't quite unify into a full, raging tornado. But the threat always seems to be there.
That's what it's like for me living in these times. Overall my life is good, and I have friends and blessings aplenty. But the clouds are so persistent that they seem to darken everything.
It isn't really the clouds that bother me so much: it's the life that they hide, that place where evil in its many forms resides. That evil used to only peek out now and then; now it shows up in countless ways, through newspapers, TV news, online blogs, to remind us that it is ever-present.
In a way, evil's presence isn't news. It's always been there. But for me, it's always been in the background. It was something people talked about as if it existed in another time or on another planet. It was a force that others struggled with, and the rest of us could compassionately encourage and support those who dealt with it in their daily lives.
But evil is trying cleverly, relentlessly, to move in. It has a seat in the classroom, in the halls of Congress, protesting the military and law enforcement. It shows up at the dinner table, in the movie theater, in the church pews and our community organizations. It never waits for an invitation. We used to call out evil and watch it crawl away out the door as we decried its presence. Now it walks through the front door uninvited, quietly smiles, and makes itself comfortable as we watch TV or talk about it.
It was once invigorating and satisfying to condemn evil where I saw it. Others would join in, and even if it tried to hang around, we could make its life pretty miserable with our stories of celebration, heroes, resilience, values, and commitment. But I feel myself getting weaker. I'm tired. It seems like there is nowhere to go where evil doesn't show its ugly face. In fact, sometimes it's in disguise and looks quite inoffensive. When I ask about its presence, others shrug their shoulders or say it's only staying for a short time. When I ask how long, they're never really certain.
I don't like evil thinking it can hang out anywhere near me. That's probably why it mostly conceals itself in ugly clouds, just out of reach, preparing to pull me into its latent, swirling vortex. I keep hoping I can simply learn to live with its dark and persistent presence, since I don't know how to banish it out of existence—or at the very least, out of my life. How does one fully appreciate one's life with evil appearing nearly everywhere, ready to suck everything into its path?
My greatest fear is that a dominant evil is here to stay, and none of us will be free again.