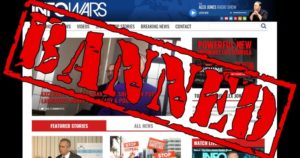 Infowars represent Conservative media in the same way McDonald's represents vegan health food. Alex Jones' brand of "journalism" is anything but. Infowars purport tinfoil-hat conspiracies that are not only discredited and insulting to our intelligence but hurtful to those impacted by their clickbait headlines, such as calling the murders of Sandy Hook Elementary school children in Newtown, CT "fake". It beggars the mind how this man and his organization can publish such drivel.
Today Infowars has been officially purged by Apple, Facebook, and Spotify. IW is still able to stream directly from its own servers, but these three major distribution channels succumbed to public pressure to have them removed. The reason: unspecified "hate speech." Most everyone won't miss something they never wanted to listen to, but this is where my disdain for Infowars yields to my greater concern over who is the arbiter of what is defined as hate speech and what is and isn't allowed.
As reported on CNBC an Apple spokesman stated, "Apple does not tolerate hate speech, and we have clear guidelines that creators and developers must follow to ensure we provide a safe environment for all of our users."
"Podcasts that violate these guidelines are removed from our directory making them no longer searchable or available for download or streaming. We believe in representing a wide range of views, so long as people are respectful to those with differing opinions."
Again, I don't watch or listen to Infowars and recommend anyone else to not waste their time. But if we are going to play this game, first we must ask Apple, Facebook, and Spotify why they allow podcasts and videos from Antifa, which is a terrorist group. Why does Black Lives Matter have a forum when their members have advocated the killing of police officers and has lead to such? How is Louis Farrakhan, a reviled anti-semite, not banned? And how does the New York Times have a presence on social media when it hires a racist like Sarah Jeong?
Apple, Facebook, and Spotify: Do you stand against "hate speech" or against speech from outlets you hate?
If Infowars can be banned, what about other conservative media? Many on the extreme Left — who use bullhorns and whistles to turn away Trump officials, Candace Owens, and Charlie Kirk from restaurants — consider Turning Point USA, The Daily Wire, and perhaps Ricochet to be "hate speech."
Are you ready for these people to control your media?
Charlie Kirk and I just got ATTACKED and protested by ANTIFA for eating breakfast. They are currently following us through Philly. ALL BLACK AND HISPANIC police force protecting us as they scream "f*ck the racist police". pic.twitter.com/x5WUNr9mM6

— Candace Owens (@RealCandaceO) August 6, 2018
When we allow a select few denizens from Silicon Valley to determine what speech is and isn't "allowed," don't be surprised when they come for you.
Update: Monday morning, YouTube, Twitter and Pinterest also banned Jones' properties.