Jonah, I enjoyed reading your column. As always, you have a style that makes the reader want to finish, no matter how much they disagree. It was well thought-out, though your logic was flawed. The biggest mistake you made was one of a closed mind.
Allow me to explain. You claim that sandwiches must meet extremely specific criteria. They are: two distinct slices of bread; proteins (meat), fats (cheese), or vegetables between the slices; eaten with parallel slices of bread on a plane perpendicular to the vector of acceleration due to gravity. This is a perfectly acceptable definition and has no doubt served you well in your life so far. But…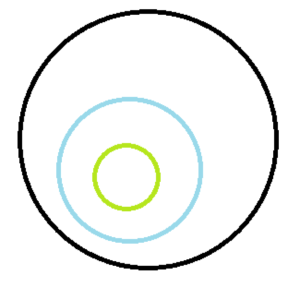 First, some set theory. The classic example we learn in middle school is this — just as all squares are rectangles not all rectangles are squares. Allow me to illustrate. The largest black circle is quadrilaterals or enclosed objects with four sides. The blue circle here represents all quadrilaterals that also have four straight sides and four right angles, or rectangles. Lastly, the green circle includes all rectangles whose sides are equal length or squares.
Your problem, Jonah, is that you're considering the green circle to be inclusive of all sandwiches when it is just a tiny subset of the universe sandwiches have to offer. The true sandwich definition is this: carbohydrates + filling. Is your mind blown yet? This sandwich expanded universe (SEA) can be scary to some. After all, considering your grandmother's blueberry pie, fried chicken, or your wedding cake sandwiches can be earthshaking. "But wedding cakes are increasingly a tray of cupcakes," you say, confident that the SEA ends there.
You poor, poor soul.
Cupcakes are open-faced sandwiches (OFS).* I've attached this handy illustration, and will now explain why hot dogs are so contentious. The red circle in the below figure is your sandwich definition. The blue circle represents the SEA, and the black, OFS. How do OFS and SEA intersect you ask? That brings us to the hot dog.
You said it yourself:
…the way we eat a hot dog, with the visible meat facing skyward, you would need a dislocating jaw, like a viper or Sidney Blumenthal.
The wonderful hot dog exists at the intersection of the OFS and the SEA while adjacent to your outmoded (though technically correct) definition of a sandwich. These two sets should be known colloquially as "sandwich."
"This is unprecedented!" you might want to say if you've managed to read this far without achieving a higher state of consciousness, or throwing your phone into a garbage disposal. "You can't have a set named sandwich and have a subset also named sandwich!"
Gorilla gorilla gorilla. Bison bison bison.
Or, more commonly, the Western lowland gorilla and the Plains bison. Both animals that share a name between their subspecies, species, and genus. This precedent, while not as old as old Earl Sandwich's allows, us to look at the entire history of man differently. Since the introduction of bread, our history is that of the sandwich. Looking at it this way, after dogs, the sandwich is man's best friend.
Best,
Conrad
* Scott Lincicome's nachos are also OFS