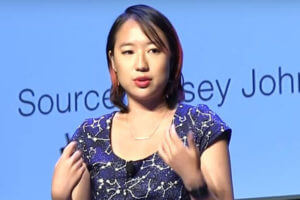 I am not angry or offended by the anti-white people nonsense spewed by new NYT editorial staff member Sarah Jeong. It must be unpleasant to see the world through such a narrow, ugly prism and it is clearly hard to discover, appreciate or generate new perspectives from within such a rigid ideological bubble. As a Baby Boomer, I feel partially responsible for what must have been her stultifying educational formation.
I will explain.
We Boomers thought we had invented narcissism. Truth be told, there was nothing we came up with that had not already done in the Roaring '20s or Weimar decadence but it certainly felt new. We rejected the notion that history, culture, tradition, country, and religion (i.e., our parents) had any standing to impose moral obligations on us. Patriotism was just a sneaky way of making us go to Vietnam, religious morality just meant that we weren't supposed to get laid in an era of expanded sexual opportunity. We sought freedom from such moral constraints. We embarked on a path to the Nirvana of Narcissism.
We rejected historical icons and reverence for American values. George Washington and Thomas Jefferson were just slaveholders. Columbus raped a continent and the entire nation was an immoral enterprise based on genocide and slavery. These kinds of statements were exciting in much the same way a child feels empowered learning cuss words but their larger purpose was to crush out any standing on the part of our heritage to impose any duties on us. Nothing that tainted has any moral standing to demand loyalty or reverence. We would be the first culturally autonomous beings.
If we did adopt any religious beliefs, it was only as a satisfying adjunct to a lifestyle, not an adherence driven by obligations to truths greater than ourselves. While we steadfastly resisted any sneaky attempt to impose traditional moral obligations on us by traditional institutions, we created new obligations to impose on others. Protection of the environment, for example, was never just another dry public policy issue but rather a set of exciting new ways to assign blame and virtue, to impose obligations on others.
From abortion to homosexual marriage to plastic straws, it is all about the heirs of the Nirvana of Narcissism imposing their/our will on the remnants of the culture that once tried to impose its morality and legacy. Only the enlightened (i.e., deeply, bathetically narcissistic) would have standing to impose moral duties.
Some of the worst of us got tenure, naturally. Even though the legacy of Marxism in practice is hundreds of millions of corpses, unimaginable oppression, injustice and horror, Marxism, in theory, remains a preferred mode of mental masturbation for the worst of us. Global growth of middle-class lifestyles and the free market's relentless assault on class barriers made the "workers of the world unite" shtick from the early 20th century so patently silly that the worst of us decided to apply Marx to race and sex where it is even more patently stupid, yet seemingly new and clever.
Like the dog that actually caught up to the fire engine, Boomer academics destroyed so much of the institutions they rebelled against that they have nothing left to do but devolve into caricature. If one's whole life was about resenting parental disapproval of one's politics and sexual mores, what does one do when they're gone — or worse they change their minds, "grow," and agree with you? The ever-shifting array of leftist tropes, causes du jour, and passions are all driven by the same non serviam based on the fear that some comprehensive traditional moral order will return and swallow up the illusory freedoms we narcissists carved out.
Back in the day when the face of the traditional moral order was that of the innocuous ordinary people who comprised family, friends, and neighbors, it was not really all that threatening. But when you succeed in divorcing your life from all that was once normal, when distance and ignorance create caricature in the place of everyday experience, the fear increases even as the threat from the forces of tradition recedes. Spectacularly stupid fiction like The Handmaid's Tale is accepted as accurate metaphor, Jim Acosta's horror at the deeply alien, non-leftist regions of America is considered sane, and Sarah Jeong's utterly sophomoric tweets about her weird caricatures of white people is mainstream.
When we Boomers embarked on the solipsistic, selfish, arrogant stylings that characterized our youth, we did lasting damage to nurturing institutions and to the following generations who needed and deserved the values, wisdom, and experience we squandered. Sorry, Sarah, we owe you an apology but you may not have been educated well enough to know why and that's our fault as well.