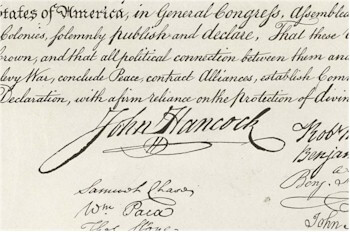 On August 2, 1776, 242 years ago today, the parchment manuscript generally thought of as the original "Declaration of Independence" was signed by most of its 56 final signatories. First in line was the President of the Second Continental Congress, one John Hancock, who signed his name larger than anyone else, and, after doing so, is reputed to have proclaimed our quote of the day, something very similar to: "There! King George and his ministry can read that without spectacles! They can double the price on my head now."
In fact, these men were not signing the original Declaration of Independence. That one, known as the "fair copy," was assembled by Thomas Jefferson from earlier drafts, and it was signed by John Hancock alone, on July 4, 1776. It was sent off so copies could be printed, and then lost, perhaps in the printing process itself. Subsequently, approximately 200 broadside copies of the Declaration were printed, with Hancock's name included in printed form only.

The "engrossed copy" of the Declaration, the one that we immediately recognize as the "real" one, was very likely handwritten by Timothy Matlack, a clerk to the Continental Congress, and incorporated a few revisions from the original, most notable being that the word "unanimous" was added to indicate that all 13 original States were on board with the Declaration. It was signed on August 2 and then traveled with the Continental Congress as it moved around the fledgling country throughout the course of the Revolutionary War.
Poor ink quality, rough handling, and inadequate preservation led to much fading of the ink on the engrossed copy, and after numerous, largely unsuccessful, attempts to preserve its state (including storage in the United States Bullion Depository at Fort Knox during World War II), it was placed in its current argon-filled titanium and aluminum case at the National Archives, where it is on permanent display. (A facsimile engraving made in 1823, and considerably touched up, is the source of most modern reproductions of the document, as its ink is much more readable than that of the engrossed copy itself.)
By the way, there's absolutely no evidence that John Hancock ever said anything about King George, his ministers, his spectacles, or a ransom. Although variations of what he's supposed to have said abound, there's no proof that any of them are words that ever passed his lips.
His name, though, has passed into the vernacular as a synonym for "signature," and that's a fact. You can put your John Hancock on it.