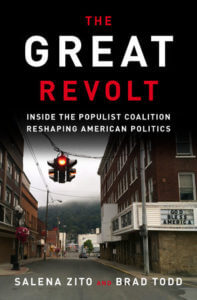 Salena Zito and Brad Todd's new book The Great Revolt is a great read, based on extensive interviews with Trump voters as well as a Great Revolt survey. It's important to note, though, that in the survey and later for the book, there are only interviews with Trump supporters from a specific geographical region: Trump supporters hailing from the five "Rust Belt" states of Michigan, Ohio, Iowa, Wisconsin, and Pennsylvania; and even more specifically, from ten electorally-significant counties within these states.
Zito and Todd's focus on Trump voters from behind the "Blue Wall" of rust-belt counties, which had been stubbornly blue before Trump, ought to be treasured for what it is: neither a description of American Trump voters in general, nor the final word on America's new populist-conservative coalition, but a testament to the power of geography in our electoral process, and to the strategic importance of not overlooking those who might otherwise go overlooked.
In The Great Revolt, Zito and Todd identify "seven clusters of voters integral to [Trump's] winning coalition." These clusters are not meant to describe all types of Trump voters, or even the bulk of Trump voters; instead, they're meant to describe crucial Trump voters: voters Zito and Todd believe were vital to Trump's storming of the "Blue Wall" to achieve electoral victory. While Zito and Todd also argue that these seven types of voters serve as bellwethers for a more general populist-conservative realignment, it would be a mistake to lose sight of the fact that the "great" in The Great Revolt refers not to our country as a whole, but to the power of people in places which have lately been overlooked to make a great difference in our politics.
***
Zito and Todd favorably cite a countrywide survey of American Trump voters, The Five Types of Trump Voters by Emily Ekins, and it's an interesting exercise (one partially, but not completely, carried out by Zito and Todd themselves throughout their book) to see how Zito and Todd's seven types of crucial Trump voter fit into the five types of Trump voter Ekins identifies countrywide.
Ekins used a statistical technique called latent class analysis to look for the existence of unique clusters of Trump voters [countrywide]. The results indicate that far from there being only one type of Trump voter, there were five unique clusters of them: The Staunch Conservatives (31 percent), Free Marketeers (25 percent), the American Preservationists (20 percent), Anti-Elites (19 percent), and the Disengaged (5 percent).
Zito and Todd use a combination of GRS (Great Revolt Survey) data and reporter intuition (garnered from more than 300 interviews) to identify their seven crucial types of Trump voters within the five swing states the GRS covered: "Red-Blooded and Blue-Collared", "Perot-istas", "Rough Rebounders", "Girl Gun Power", "Rotary Reliables", "King Cyrus Christians", and "Silent Suburban Moms".
***
Of these seven types, Rotary Reliables, King Cyrus Christians, and Girl Gun Power seem to fit fairly well into Ekins' countrywide category of "Staunch Conservatives." Rotary Reliables are well-educated, successful conservatives who live outside major metropolitan areas, King Cyrus Christians are conservative Christians who, even if they find Trump personally distasteful, transactionally support Trump because they believe Trump will defend religious liberty effectively, and the "Gun Power" girls are younger women (generally under 45) staunchly committed to the Second Amendment out of a sense of both personal empowerment and responsibility. While Gun Power girls needn't be staunch conservatives in every respect, their commitment to personal, family, and national self-defense seems to leave them pretty comfortably within the conservative coalition.
***
Perot-istas and Rough Rebounders both appear to overlap with Ekins' "Anti-Elites" and "Disengaged" types. Great Revolt survey results characterize Perot-istas as:
those older than thirty who registered for the first time in 2016, or those eligible to vote but not voting in 2008 and 2012, or those with no history of primary participation. This group comprised 6 percent of the Trump coalition in the states surveyed, according to the survey returns; and they were, as expected, significantly less conservative, less ideological, and less religious than the rest of the Trump pool. [51]*
Rough Rebounders are better characterized narratively than by a survey. They are Americans "uniquely attracted to Trump, regardless of their politics" because they "had experienced a setback in life and saw the same kind of vulnerability and recovery in Trump as they had experienced." [74] In short, they're the voters drawn to Trump's narrative because it so strongly resonates with their own.
Although it's difficult to capture a narrative in a survey, GRS results estimate that Rough Rebounders are the most secular of Trump voters (beating even Perot-istas), almost indifferent to identifying as conservative (the odds they'll do so are roughly 50-50), and are the most likely (at 85%) to say "corporations do not care if their decisions hurt working people." Rough Rebounders may be more politically engaged than the Perot-istas, though — in fact, fully 30% of Rough Rebounders voted for Obama!
Ekins' "Anti-Elites" aren't characterized by the same fierce narrative attachment Rough Rebounders have toward Trump. In fact, Anti-Elites, "along with the Free Marketeers, are the weakest supporters of Trump with only 26 percent having very favorable views." Nonetheless, Anti-Elites are similar to Rough Rebounders in other respects. They are the least religious of Ekins' types, they harbor a "staunch distrust of elites and a perception that the system is rigged against them", and they are
the least loyal Republicans of the Trump voters with nearly two-thirds (63 percent) who say they vote both for Democrats and Republicans in elections, a quarter who say they voted for Barack Obama in 2012, and nearly as many who say they identify as independent (42 percent) as Republican (47 percent).
Despite being classified as separate archetypes in The Great Revolt, Perot-istas and Rough Rebounders have enough in common it's hard to say where one archetype leaves off and the other begins. Ekins' Anti-Elites and Disengaged seem similarly close, making for a four-way overlap.
The Disengaged are the least politically opinionated of Ekins' types, with "majorities say[ing] they 'don't know' if they support increasing free trade, if strong government or the free market best solves economic problems, if they believe human activity is causing climate change, or if we should raise taxes on higher income people." Like the Anti-Elites, the Disengaged tend to "think the political and economic systems are rigged". Like the Rough Rebounders, the Disengaged also trust that "Trump is the man who can make deals to fix" them.
***
No category of voters identified in The Great Revolt fits neatly into the 20% of US Trump voters Ekins classifies as the "American Preservationists" who "constitute[d] Trump's core constituency", especially during the primaries, although Zito and Todd's "Red-Blooded and Blue-Collared" archetype might come the closest. Zito and Todd use GSR results to characterize the
Red-blooded and Blue-Collared archetype as a Trump voter who had worked a blue-collar, hourly wage, or physical-labor job after the age of 21, and had experienced a job loss in the last seven years either personally or in their immediate families [20]
American Preservationists have led similarly hardscrabble lives, being
less likely to have graduated from college—only 15 percent have done so. Instead, 61 percent have high school diplomas or less (20 percent say they did not finish high school). They are half as likely as other groups to be employed full time and are the most likely group to be underemployed (35 percent) with 19 percent reporting being unable to work due to a disability. They are also lower income and the most likely group to have incomes below $50,000 a year (56 percent).
Moreover, American Preservationists are
more likely than others to self-identify as a "born again" Christian (45 percent), and most likely to say that religion is "very important" to them (58 percent). But surprisingly, they are also the most likely group to "never" or "seldom" attend church (52 percent). Religion appears to be more a part of their identity rather than their daily life.
Heritage and a sense of identity both matter greatly to the Red-Blooded and Blue-Collar archetype as well as to American Preservationists, but the Red-Blooded and Blue-Collar voters interviewed in The Great Revolt describe an identity shaped by occupation (farming, mining, union work), location (growing up in small-town, blue-collar America), and personal optimism rather than by race, religion, and pessimism. By contrast, among American Preservationists, "Fully 67 percent say that their race is extremely or very important to their identity", angst over anti-white discrimination is common, and 73 percent report "their fate was linked with their racial group."
Zito and Todd emphasize that race simply wasn't a factor for the vast majority of the more-than-300 Trump voters they interviewed. While "naked nationalism was an admitted feature of Trump's campaign message", [231] the nationalism Zito and Todd describe as appealing to the voters they interviewed is of the pragmatic variety, not the "nativist and ethnocultural conception of American identity" favored by American Preservationists.
***
This brings us to the two types of Trump voter not described yet, Zito and Todd's "Silent Suburban Moms" and Ekins' "Free Marketeers".
Silent Suburban Moms are most noticeable for what they're not: they're the suburban moms Hillary tried to win over, but didn't. As Zito and Todd put it,
Clinton's strategy worked to a point, but not nearly well enough to secure her the presidency. While Trump's margin among college-educated white women was below the Republican norm, those defections were not enough to deny him the electoral votes of every swing state in the Great Lakes region, plus Florida and North Carolina. Because she and her campaign team bet their entire strategy on this group and failed to get the margin they needed, the Silent Suburban Mom is an important archetype in the Trump coalition. [204-205]
Likewise, Free Marketeers are noticeable for what they're not: they're not one of the seven archetypes described in The Great Revolt, despite making up 25% of Trump voters in the country as a whole.
Free Marketeers shouldn't feel slighted by this. Zito and Todd focus exclusively on voter archetypes crucial for Trump's win in five rust-belt swing states, and Free Marketeers simply aren't one of those archetypes.
While the Republican party could run into trouble if enough suburban moms and Free Marketeers defect, The Great Revolt highlights that not enough of either defected to prevent Trump's victory the first time around, suggesting that losing some votes from these demographics could be a reasonable price to pay to forge the new populist-conservative coalition Zito and Todd posit as the Republican Party's future, a coalition animated by "Trump's red-hot pragmatism" if "Trump has remade, or can remake, the Republican Party on a less-ideological but more-strident forge". [245]
***
Ekins notes that her five groupings of Trump voters
receive further support from the fact that the Pew Research Center's 2014 Political Typology found similar groups of people. The Free Marketeers resemble Pew's Business Conservatives, Staunch Conservatives resemble Pew's Steadfast Conservatives, and the American Preservationists and Anti-Elites have similarities with Pew's Hard-Pressed Skeptics.
Pew regularly updates its political typology, which means it has changed some since 2014. Even so, considerable continuity remains across the updates. (Though, if you're like me, where you fall in Pew's typology depends on how cynical you're feeling when you take Pew's quiz.)
Pew's typology is meant to apply to all Americans, no matter how they vote. Ekins' typology is meant to apply to all Trump voters, irrespective of where they live. The Great Revolt, by contrast, presents information from a narrow slice of the electorate — data gathered from Trump voters in five states, and even more specifically, interviews conducted in just ten counties.
Nonetheless, it's clear Zito and Todd believe this slice is emblematic of a realignment affecting the country as a whole. This realignment is populist in spirit, but it's not about the popular vote. Instead, it's centered, as good US presidential campaign strategy ought to be, on electoral-college math. The seven archetypes present in "The Great Revolt" are important for who and where they are, an aspect of our electoral politics not as readily addressed by either Pew's or Ekin's typology of voters.
***
The Great Revolt is not a complete account of America's Trump voters by itself, which is why dry demographic comparisons with other, countrywide studies are helpful to put The Great Revolt in context. It is, however, a useful corrective to various stereotypes surrounding many Trump voters; moreover, it adds a particularly useful kind of insight to the wider pool of information available on Trump voters: insight focused squarely on electoral-college results.
Finally — and most hearteningly, I suspect, for many fans — The Great Revolt gives these electorally-important Trump voters a chance to have their support for Trump documented in their own words. Critics of The Great Revolt note that Zito doesn't interview Trump voters critically or skeptically, but instead takes them at their word. That's not a bug of her interviews, though, but a feature: Let other reporters second-guess, if they like. The Great Revolt offers the wider world an opportunity to simply listen to what these pivotal voters have to say.
________________________________
* page numbers taken from the hardcover Crown Forum first edition