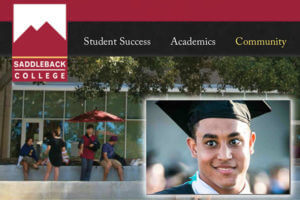 Time to put some flares down. Just a little something to infuriate you today. Saddleback College in south Orange County, CA (the same school my Autistic son attended for their Adult Transition Program) refuses to back down on its claim that Marcus Knight, an Autistic student with cerebral palsy who asked a female student for a fist bump and another for a selfie, violated the young women's Title IX rights because they were essentially "inappropriate" (read: sexually intimidating) acts. The more you read this article, the angrier you may become (emphasis mine below).
The first incident occurred in the first week of September when Marcus was in the Student Services office and asked a female student working there if he could "fist bump" her. She agreed but soon filed a Title IX complaint.

The next week Aurora (Marcus Knight's mother) and Marcus were asked to meet with the school's Disabled Students Programs and Services coordinator, who allegedly called the fist bump "inappropriate behavior." Aurora told The Fix that Marcus did not "bump" anything other than the female's knuckles. (The Fix has reached the coordinator but that person has not been available for a phone interview as of Thursday night.)

His mother told the coordinator that Marcus had been at the office seeking campus employment. The official allegedly said that would be "totally pointless" because Marcus was "obviously incapable" and should be taking adult disability classes instead of college classes.

Though the coordinator said the incident would not go on her son's record if the behavior stopped, according to Aurora, the mother became aggravated by the description of a consensual fist bump as "inappropriate."

She asked the coordinator "Did he touch her? Did he hug her? Did he follow her? Did he try to get her phone number? Did he expose himself?" When the coordinator allegedly said no to each, Aurora said she responded: "Then stop calling it inappropriate. He's just trying to make a friend."
Perhaps some smart attorney willing to take the case on a pro bono basis and sue Saddleback and the young women involved for defamation and slander. Clearly the young man's reputation is being smeared and one of the young women involved apparently kept making disparaging and possibly defaming remarks about Mr. Knight to her friends.
Because of his autism, Marcus did not understand that he could not apologize to the student in person. When he approached her in the cafeteria, "everybody was pointing at him" because the female student "had been telling everybody he was weird or dangerous," Aurora said.

Though he left the cafeteria before reaching the student, she filed another complaint against Marcus, his mother said. When Aurora complained that the student was spreading around rumors about Marcus, Aurora said an official told her in so many words that "gossiping was not against the law."
I suppose this is what happens when a Left-leaning college administration supports the "male oppressor" narrative of militant feminism and it collides with the innocent requests of a mentally-challenged male student. It's clear that the imagined Title IX violations from these allegedly "oppressed and violated" young women trump the rights and reputation of this Autistic young man.
Or as Mr. Orwell said, "All animals are equal but some animals are more equal than others." Clearly that's the case here.