We've just got off a quick overview on organic chemistry. Now we're getting back to photoresist. The point of photoresist, if you'll recall, is to take a pattern so you can print stuff on your wafer. To do that it has to be a chemical that responds to ultraviolet light. And I mean more "responds to" than get a mild sunburn; it's got to chemically change so you can transfer the pattern of light into a pattern of stuff.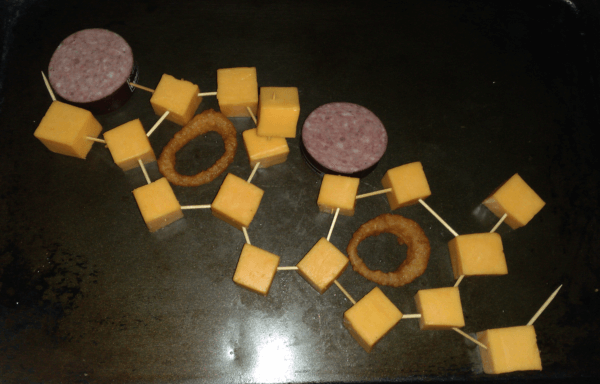 The word "Photoresist" covers a great deal of variation, but the nature of the job it has to do requires certain commonalities. For starters, rather than all one substance, it's a mix of three different things. You've got a photoactive compound, naturally. You've also got a resin, for stability. And then you've also got a solvent, for instability. The solvent keeps your resist liquid so you can apply it evenly. The resin keeps it solid once it's on, so that it doesn't move around as you're working with it. That picture up there is of a resin. A thing called meta-cresol novolac. Can't tell you why.
What's it do? What you've got there is the basis of a polymer. It's a benzene ring, connected to another benzene ring by a carbon atom on the bottom. It's got an oxygen group of the top left carbon in the benzene ring and a methyl group off the right. What you're looking at is a chain of two monomers; add another fifty to two hundred of those rings with their groups and you're in business. Your resin molecules are big enough to get tangled with each other and massive enough that they're hard to dissolve.
The solvent is there to keep your resist liquid, so you can apply an even coat. Here's how you do that; you vacuum your wafer down against a chuck. You put liquid photoresist on top of it. Then you spin it around at something like 3000 RPM (and accelerate up to that quickly for best results). The slower you spin it the thicker your final resist is going to be. Most of the resist will fly off the sides, leaving a uniform layer coating the wafer. Less than 1% of your starting resist stays on the wafer. Seems like a waste, honestly.
After you have resist on your wafer you bake it to drive most of the solvent out. (100 C for 60 seconds, perhaps.) You needed it as a liquid to get it on the wafer, now you need it as a solid so that your pattern sticks. And speaking of patterns, this is the photosensitive compound; the thing that reacts to light: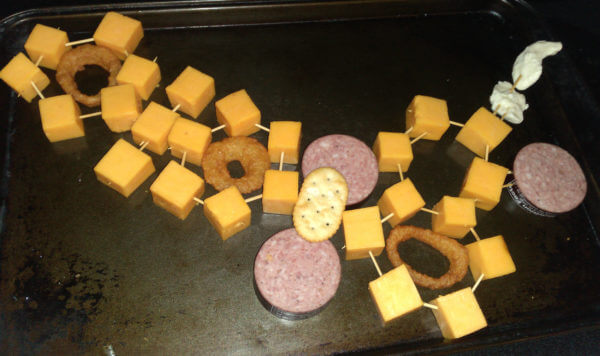 This is Diazoquinone, or DQN for short. It's an older form of resist; not sensitive enough for the really small feature sized modern applications. The principles apply though. Alright, I'm gonna be straight with you; it's the only one pictured in my textbook. And hey, the molecule is complex enough, isn't it? Let's unpack this thing.
Looking at it like a checkmark. Starting from the top left you've got a benzene ring, then there are a couple carbon atoms in between (one atom with methyl groups off on either side). Then another benzene ring. Following? After the benzene ring, there's a Silicon cracker with an oxygen on either side. That silicon atom is double-bonded to both oxygen slices, and has one more bond on either side to continue the molecule. That's six valence electrons; you've gone past the 3s and 3p orbitals and gotten into the 2p shell as well. That can work with the higher atomic numbered elements; they have more electrons and more physical volume.
We've got one more benzene ring at the bottom of the cookie sheet, and a cyclohexane ring. Cyclo meaning circle and hex meaning there's six of them. (Couldn't we call benzene cyclohexane then? You could say 1,3,5 cyclohexene, but benzene covers the thing well enough.) This ring isn't a benzene ring; the bonds are wrong. The oxygen atom requires two bonds, so you don't get the same resonance structure. There's also a pair of Nitrogen atoms, in the form of squeaky white cheese curds. Have I mentioned recently how much I love Wisconsin?
Those nitrogen atoms are the weak point on this molecule. If this was a boss fight in a video game those nitrogen atoms would be blinking red. Let's hit one with a photon and see what happens.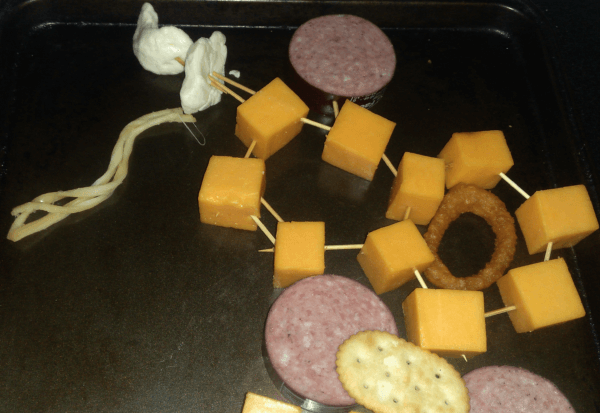 Nitrogen normally wants to form three bonds (Why three? Good question. Nitrogen has five electrons in its outer shell; it makes three bonds, gets a time share on three electrons and has one more pair floating around unbonded.) Okay, count the bonds there. One atom is fine; it's got three bonds between it, the other nitrogen atom and the rest of the molecule. And the other? Well, it's just sort of hanging out. Makes an unstable situation. Here we see the photon has broken off the nitrogen into its own separate N2 molecule. The nitrogen is happy now, but the energy levels aren't stable on the main molecule. Let's see what happens next: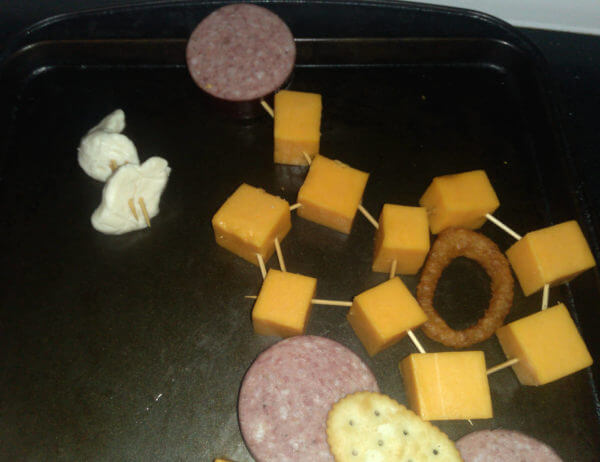 The ring has only five carbon atoms in it now; one has jutted up underneath the oxygen. Better, but not perfect. If you add water though…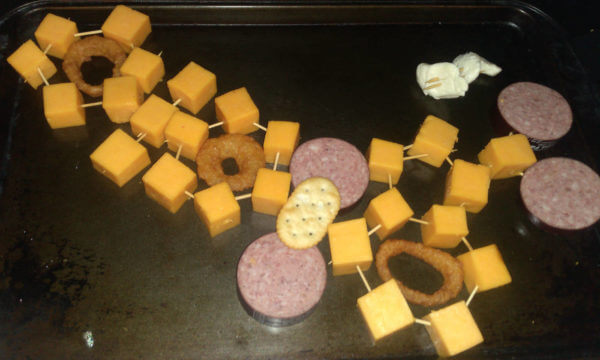 That COOH group (there's an H there; ran out of frame on my camera and had devoured too much of the molecule to reassemble it once I discovered the error). Right. That group is a common one in organic chemistry; it's a carboxylic acid group. What's that last word? Acid. What's that mean? It means this compound will now dissolve in the presence of a base.
You develop your wafers by spraying them with a solution of Sodium Hydroxide (NaOH) or Potassium Hydroxide (KOH). The water in your solution causes that last transformation, and the base rips your Diazoquinone out of the mix. You're left with just the resin in the exposed areas, and that's not strong enough on its own to avoid being washed away. Final result: neat little lines all the way through your photoresist just waiting for you to do something with them.
That's a positive photoresist. What about a negative photoresist? Instead of producing an acid for you to wash away, the ultraviolet light causes your negative photoresist to cross-link. That is, your polymers stick one to another and become even harder to wash away. The downside is that you have to use harsher chemicals to develop and strip off negative photoresists. The upside is that you don't necessarily have to strip the remaining photoresist away. Example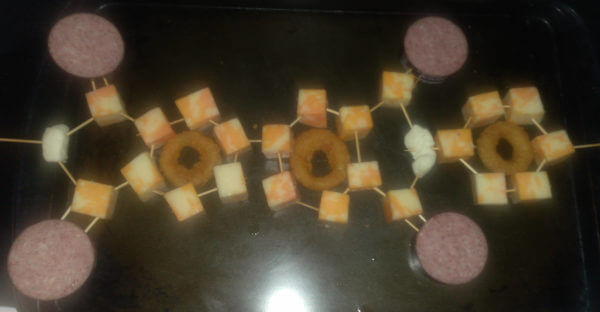 That's a big one. It's a member of a class generally called polyimide. That whole thing? That's one monomer. You get long chains of this stuff. That molecule acts as both your resin and your photoactive compound (or rather acted; it's in its final form there.)
In a polyimide process, you'd start with your polyimide in solution with NMP. That stuff will kill you. But I digress. When you expose your wafers, the ultraviolet light causes your polyimide chains to link together, tangling themselves like so many earbud cables. Makes it very difficult for those sections to dissolve. You develop it with more NMP; the stuff that wasn't exposed falls back into solution and leaves clear areas on your parts. Run that stuff through a cure cycle to drive off any remaining solvent and to finish the cross-linking, and you're done. You end up with a durable and flexible plastic layer on your parts. I'll have more to say about polyimide processing anon.
While there's more that can and ought to be said about the resist coating process, I'm going to move on to exposing. Join us next week for "The Mercury Light Quick-Tan" or "Check Out My Sweet UV Laser!"
This is part nine of my ongoing series on How to Build a Computer, the "It'll make a man out of you" way. You may find previous parts under the tag How to Build a Computer. This week's post has been brought to you by The Altoona Butcher Shop! If you want your photons hot and hickory-smoked, Altoona Meats! We also sell meats that aren't tuna.