No president is perfect, else we would allow unlimited terms. I support President Trump's actions towards Russia, am not discomforted by the Helsinki summit, and believe the upcoming DC summit to be a good thing. I also recognize that the relentlessly hostile network and cable news media make the islands of apparently friendly forums attractive. With all those qualifications, I was jarred by the President's response to Tucker Carlson on "Montenegro." I am concerned because of history and because it is clear "Montenegro," in Tucker's agenda, is not Montenegro. A quick look at the map shows what I mean.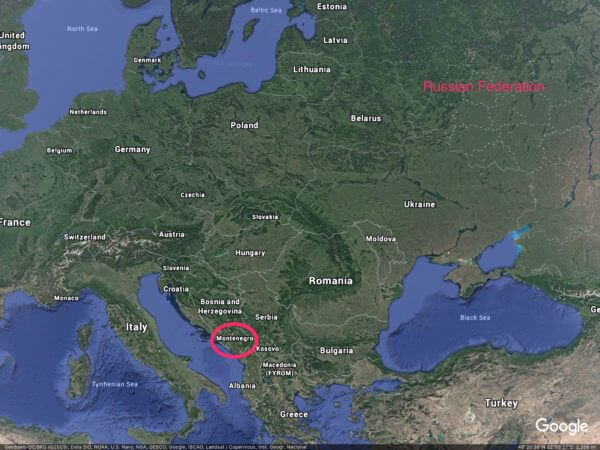 Of course President Trump should have gone on Tucker Carlson's show the other night. But Tucker Carlson is in the business of Tucker's brand, and is not a member of the Administration whose interests may be assumed to fully align with the President's. Indeed, he seems to be vying to fill the ideological space once dominated by Pat Buchanan. That, or he is providing confirmation on the right of Ben Rhodes' notorious assessment of reporters:
Most of the outlets are reporting on world events from Washington. The average reporter we talk to is 27 years old, and their only reporting experience consists of being around political campaigns. That's a sea change. They literally know nothing.
Tucker Carlson either does not know history, or heavily discounts the national security seriousness of his loaded "Montenegro" question. Both the Korean War and Desert Storm were closely preceded by ambiguous U.S. signals, read by the aggressors as green lights.
In "3 Lessons From The Korean War For Handling Today's North Korean Aggression," Helen Raleigh cautioned against forgetting Russia's role. President Trump and his team acknowledge Russia is still an important player in Korea. During the Tucker Carlson interview, however, the President did not have top of mind how Stalin misread Truman.
It's Stalin who gave Kim II-Sung final permission to invade South Korea in 1950. Shen's analysis shows Stalin was initially against Kim's invasion plan out of concern that the United States might intervene. What changed Stalin's mind, according to Shen, were two U.S. events.

First, President Harry Truman announced on January 5, 1950 that the United States would not challenge the claim that Taiwan was part of China. Second, Secretary of State Dean Acheson excluded Taiwan and South Korea from America's defense perimeter in the western Pacific. Stalin probably believed these public announcements indicated the United States was retreating from East Asia.
Iraq's 1990 invasion of Kuwait was preceded by similar signals and misreads.
On 25 July 1990, the U.S. Ambassador in Iraq, April Glaspie, asked the Iraqi high command to explain the military preparations in progress, including the massing of Iraqi troops near the border.

The American ambassador declared to her Iraqi interlocutor that Washington, "inspired by the friendship and not by confrontation, does not have an opinion" on the disagreement between Kuwait and Iraq, stating "we have no opinion on the Arab-Arab conflicts."

She also let Saddam Hussein know that the U.S. did not intend "to start an economic war against Iraq". These statements may have caused Saddam to believe he had received a diplomatic green light from the United States to invade Kuwait.
The New York Times transcript of the 1990 meeting is quite depressing. With both the 1950 and 1990 scenarios in mind, consider the exchange between Tucker Carlson and President Trump:
CARLSON: So, membership in NATO obligates the members to defend any other member who is attacked. So, let's say Montenegro, which joined last year is attacked, why should my son go to Montenegro to defend it from attack?

DONALD TRUMP, PRESIDENT OF THE UNITED STATES: I understand what you're saying. I've asked the same question. Montenegro is a tiny country with very strong people.

CARLSON: I'm not against Montenegro or Albania.

TRUMP: By the way, they're very strong people. They're very aggressive people. They may get aggressive. And, congratulations, you're in World War III.

I understand that, but that's the way it was set up.
Now, set aside the never-served-a-day-in-his-live Carlson's infantilization of men and women who, graduating basic training at age 18, are more competent adult citizens than he will ever be. You see the map. You know Carlson is not raising the actual Montenegro, which is insulated from any real military threat by the territories of larger neighbors. "Montenegro" really means Estonia, Latvia, Lithuania, and every other smaller state that Russia wants to absorb by hybrid warfare and economic extortion.
The President's answer, induced by Carlson's apparently sympathetic lead, is dangerous to the men and women who have volunteered to go in harm's way. It is every bit as dangerous as the careless 1950 and 1990 words of foreign policy bureaucrats and career politicians. He needs to clean this up, fast. President Trump needs to say Montenegro is not a risk to our security and then riff on the excellent, very tough, National Security Strategy he proudly signed.
President Trump has given Ukraine real military support, with the sale of anti-tank missiles, as well as basic supplies.
In late April, the U.S. government delivered hundreds of lethal Javelin anti-tank missiles to Ukraine for the first time after four years of requests from the government in Kiev to better defend Ukrainian troops against Russian armor.

Moscow has supported a separatist movement in Eastern Ukraine since 2014 in addition to annexing Ukraine's Crimea Peninsula.
President Trump just sent tanks and paratroopers, along with the all-important logistics units, to Saber Strike 18.
A major U.S.-led military exercise with 18,000 soldiers from 19 primarily NATO countries has kicked off in the alliance's eastern flank involving Poland and the three Baltic states of Estonia, Latvia, Lithuania.
The U.S. Army Europe said Sunday the Saber Strike 18 drill is spread around the region until June 15 as "a demonstration of the commitment and solidarity of the Alliance" at the time when Russia's military maneuvers are increasingly worrying nearby NATO members.
The President's speech in Poland was magnificent, as have been his other foreign policy addresses around the world. All of this, the Tucker Carlson wing of the commentariate would undo, in the name of avoiding foreign entanglements. Carlson says the USSR no longer exists, but conveniently avoids the over-arching reality of Russian imperial ambition. World War I started with a dispute between the Austro-Hungarian and Russian empires. Czar Putin considers the end of the Soviet Union the great tragedy of the last century, and he works endlessly to make Russia Greater again.
President Trump knows this, and has directed his team to counter Russia with every tool of national power. His interview with Tucker was a negligent discharge of an information tool. Before Putin or Xi take it as a green signal flare, he needs to firmly extinguish the stray pyrotechnic.