We left off last time discussing circuits and logic and how to make your transistors do something useful. Fun stuff, but I wanted to swing back through a bit more of the manufacturing details. Let's say I'm trying to make this circuit: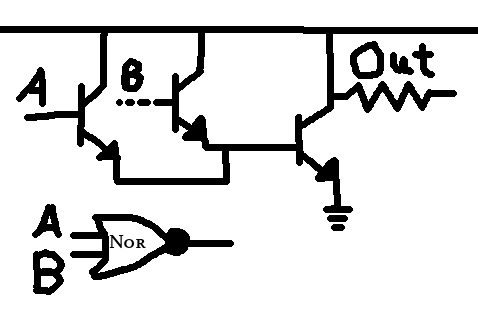 Yup, that's a bunch of lines on a piece of paper. I want to manufacture these; to sell them and make money. So I can't just make one, I need to make a lot. Okay, build the circuit. Let's say I lay that out on a wafer, this is about what it'd look like.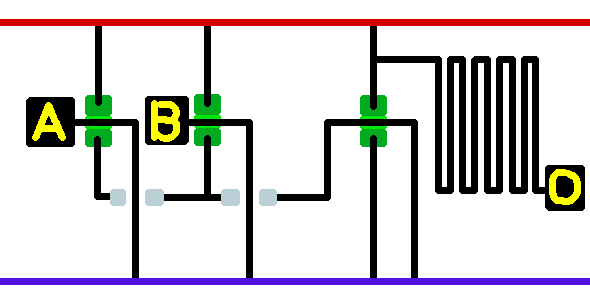 Couple things going on here that we haven't seen before. The red line at the top is positively charged, the blue line on the bottom is negatively charged. I assume those are hooked up to a power source somewhere off screen. The circuit wouldn't do much if they weren't. The black lines are our traces, metal wires deposited on the wafer. The great big accordion thing on the right isn't just there because I got bored drawing the circuit. That's a resistor. When you get down to the nano scale you don't need to make custom devices for resistors; the wires are small enough that you can get all the resistance you need just by making your wires long enough.
The green blocks are transistors; they're a new type we haven't talked about before. It's called a "Field Effect Transistor", or FET for short. These things deserve an explanation all of their own; I'll blithely skip them today. If you run a current through the wire in the middle it'll switch the transistor on and off.
The great big "A" "B" and "O" are bond pads; a field of conductor that's much larger than your traces. That's where someone would solder connections to your chip. The pads need to be big enough to let that poor schlub do his job. Those blueish-grey pads are jumps in the wire. After this layer is down you'll put a layer of insulator on, etch out holes over those pads, deposit a metal connection between layers (called a 'via' in case you're taking notes, or possibly building Roman roads), and finally you'd put a bit more metal down to connect without touching the wire in the middle. Confused? Here's what it'd look like on a completed wafer: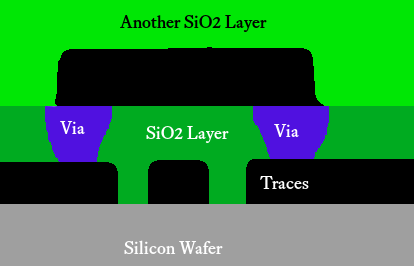 Huh, that's a lot more complex than just drawing wires on paper. And I bet it's only going to get more difficult. The boss man says "That's a nice job wiring up that NOR gate. Now make me seventeen million of them, just like it." Hope you weren't planning on cutting out early on Friday.
Before I answer that question take a moment to think about it. Wiring your circuits by hand won't cut it; Eckert and Mochley made a good living calculating ballistics tables for the army but I can't afford that. You've got to apply a supremely complicated pattern quickly and precisely. How?
The answer lies in a friendly chemical called photoresist. Photo-what now? Photoresist. You know how film works, right? Light hits it, it makes a chemical change in the film, and leaves a pattern. Only we're trying to make a computer chip, not film Sunshine, Bikinis, and Murder Most Foul. Although now that you mention it … Right, back on topic.
The word "photoresist" covers a number of chemicals with broadly similar properties. Positive photoresist reacts to the ultraviolet light by weakening its chemical bonds; the stuff that gets exposed dissolves off where the light hits. Negative photoresist strengthens it's chemical bonds when the light hits it, becoming tougher. The stuff that isn't exposed dissolves away.
To pattern the above circuit I'd use a mask that looks like this: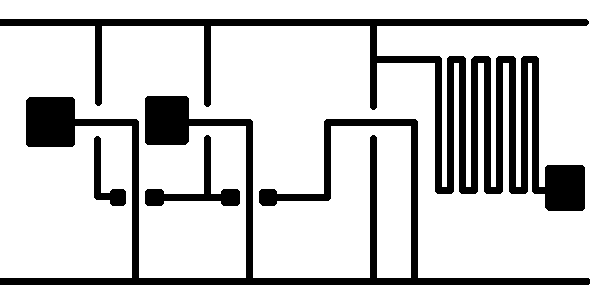 Briefly, the process goes like this:
Start with a wafer.
Coat it uniformly with photoresist.
Align it with a mask with your features blacked out.
Shine a whacking big ultraviolet light on it.
Run your wafer through a developer solution. The photoresist dissolves, leaving your pattern intact.
Etch it or plate metal on it or whatever it was you were going to do. Shoot ions at it?
Strip the remaining photoresist off.
What you have at the end is your wafer with some new pattern on it. Do it again and again and again with different masks and you can mass produce your fantastically complex patterns. You've got to get the details right though. Not enough energy applied to your photoresist? you get scum on the bottom of your developed areas and your pattern doesn't turn out. Misalign the mask? Your vias are shifted and your jumps, well they don't. Leave it in the developer too long? Your holes get too big. On and on. We'll start looking into those complications with a more detailed look at the magical world of photoresist. Join us next week for "The Futility of Photoresistance" or "The Blue Wavelength Blues".
This is part seven of my ongoing series on building a computer, the way your frontier forefathers did it. You may find previous parts here: 1 (silicon) 2 (crystallography) 3 (doping) 4 (diodes and transistors), 5 (fundamental chemistry) 6 (simple transistor circuits) or all of them under the tag How to Build a Computer. This week's post has been brought to you by Wisconsin Mining & Manufacture. Providing comfort and luxury for so little cost that even a housewife can live like a queen. Wisconsin Mining & Manufacturing: Your pals for the atomic age!