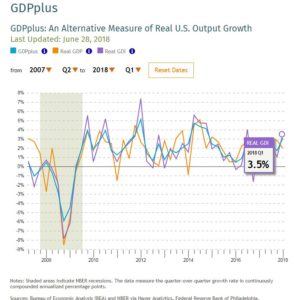 The US economy keeps generating gobs of jobs, but we're still waiting for a pickup in economic growth. Real GDP growth was up just 2.3 percent last year and 2 percent in the first three months of this year.
Now as I have been writing, the economy likely accelerated in the second quarter to around 4 percent annualized — if not higher. Of course, the goal is not a sporadic quarter of stronger growth here and there thanks to fiscal stimulus, but rather a sustained upturn in the economy's growth potential and performance. A Three Percent Economy rather than a Two Percent Economy.
But maybe we are already there. There is some reason to think official stats are underestimating productivity growth — especially in the digital economy — and thus overall economic growth. Blame iPhones!
Then there's the observation from economist Jason Furman in The Wall Street Journal that a more comprehensive way of gauging economic growth is by looking at gross domestic product and gross domestic income. Furman:
Last month the Bureau of Economic Analysis revised its estimate for the first quarter of 2018; the BEA now says gross domestic product grew 2%, annualized, down from the previous figure of 2.2%. This dramatically understates the economy's actual performance. A better measure, factoring in statistics on incomes, shows growth steaming along at a much stronger 2.8%. … Ultimately, GDI should be identical to GDP, since all money spent is money earned. But in practice the published estimates differ because the data are subject to different errors and reflect different guesses. Research shows that a simple average of GDP and GDI is a nearly optimal way to combine the two sets of information. For the first quarter it averages to 2.8% growth. That is the best predictor of what the government will eventually estimate for GDP after several years of revisions.
Furman also suggests taking a look at the Philly Fed's GDPplus number, which is a statistically tweaked version of the GDP-GDI combo. For the first quarter, it put growth at 3.1 percent. A Three Percent Economy? Done, apparently.
Published in Domestic Policy