It's becoming a frightening phenomenon for those who care about the future of journalism: opinion journalists are being censured for having unpopular opinions. Recently The Atlantic fired former National Review columnist Kevin Williamson immediately after hiring him. Williamson was the victim of a social media mob to have him ousted. He wrote about the experience for the Wall Street Journal, explaining how the Twitter mob led to the Atlantic's decision to succumb to the calls for his head.
The Atlantic wasn't as couragous as the New York Times, who have faced countless calls for the firing one of their opinion editors, Bari Weiss. Since her hiring, there have been calls for her firing. After every semi-controversial tweet or piece, the calls return. She even faced an internal revolt of her colleagues who feigned outrage over a tweet of Weiss' applauding immigrants. Yes, you read that right.
Now on the chopping block: Business Insider columnist Daniella Greenbaum, in another instance where her colleagues are leading the mob. In a now deleted tweet, one of these colleagues explains why a recent column (still available here) of Greenbaum's was pulled off the website: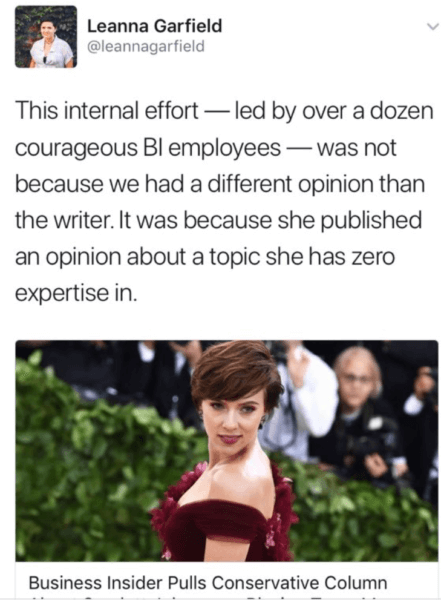 The link is from the Daily Beast, who explain,
In the piece, she criticized the backlash to the decision to cast Johansson as a trans man in the upcoming movie, Rub and Tug.

"The job of an actor is to represent someone else," Greenbaum wrote. "Johansson's identity off the screen is irrelevant to the identities she plays on the screen. That's what she's paid for. And if she does her job, she'll make everyone forget about the controversy in the first place."

Several Business Insider staff told The Daily Beast that some employees were offended by the column.

The publication took down the piece on Friday, and appended an editor's note to the page on Tuesday saying that "Business Insider removed the column because, upon further review, we decided it did not meet our editorial standards."

The decision also prompted the publication to alter its own internal editorial policies.
From a purely managerial standpoint, this is a terrible move on the part of Business Insider. A group of offended employees are now determining what posts can stay on the website after they've been published. Other opinion editors like Weiss and my husband, the op-ed editor at the New York Post, rightly pointed out how troubling the move was from a journalistic standpoint:
Let me get this straight. @DGreenbaum says ScarJo should be able to play a trans man. @businessinsider pulls her piece because some staffers complain about her entirely anodyne view. What happens when a columnist writes something controversial?https://t.co/06aOiMvREj

— Bari Weiss (@bariweiss) July 10, 2018
Business Insider looks sooooo bad here. Internal revolts in every opinion section that hires a conservative is expected at this point. But management should stop catering to these garbage babies https://t.co/glpD3J7CWd

— Seth Mandel (@SethAMandel) July 10, 2018
And that Business Insider writer who tweeted about those courageous colleagues who got the piece pulled? She claims it's because Greenbaum had no expertise in the subject matter of her column. I'll leave you with this:
Since she's concerned about the author's lack of expertise, I guess she shouldn't write about agriculture. pic.twitter.com/vHPTdwNyqn

— Adam Blaylock (@adampblaylock) July 10, 2018