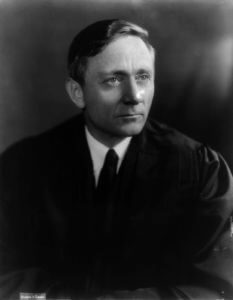 I think President Trump has made a fine appointment to the Supreme Court, and I wish Mr. Kavanaugh the best of luck in confirmation and career. However, I started to think about how mercurial some of those black-robed people who sit on SCOTUS have proven to be once they have received their lifetime appointments, and the country is stuck with them.
For example, "Wild Bill" Douglas, who, as well as being a chairman of the SEC, was considered one of the top law professors at Yale. He was nominated by FDR to replace Louis Brandeis, and he is famous for believing in individual rights, though he supported these with shady reasoning that relied on the magical "penumbras" from which he could derive "privacy" as a Constitutional guarantee.
He is also remembered for submitting judicial opinions written in as little as twenty minutes, lying repeatedly about his personal history to the point of making up a bout with polio as a youngster, having a tumultuous love life that was rife with spousal abuse and led to his record for most divorces obtained by a sitting justice, and losing a wee bit of his mind in the end.
Personally, I think the fact that one horse threw him from its back, breaking fourteen of Douglas's ribs in Yakima, Washington, in 1949 and then another horse kicked him so hard he had to go to the hospital again in 1950 might say something about him.
Perhaps these episodes show he could be personally reckless, or maybe they illustrate even animals didn't like him.
To be fair, the trees were probably pleased by the man, as he wrote a dissent saying inanimate objects like them should have legal standing to sue in American courts, but none of them can speak, so I cannot get their opinions.
There were two attempts to remove Douglas from SCOTUS, which went nowhere despite his flagrant politicking, slipshod judicial reasoning, and a moral compass so broken his children did not even bother to tell him when their mother died.
He is, actually, the longest serving justice in US history. He was on the Supreme Court from 1939 to 1975.
May we not have another of his caliber, though you can visit the judge where he rests beside greater men with lesser rank in Arlington National Cemetery anytime you'd like.