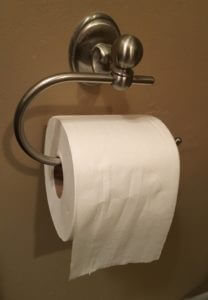 Seattle – Fresh off their victory over plastic straws, the Seattle City Council is now looking to wipe away another environmental hazard: Single-use bath tissue, or as it is known colloquially, toilet paper. Each year Americans go through billions of rolls of toilet paper and little to none of that ever gets recycled. Some climate-deniers even resort to two-ply bath tissue just to show us how little they care for our planet. By banning toilet paper the City Council expects to save thousands of greenhouse gas eating trees. The ban is expected to be a boom to the environment with very little downside for consumers.
As you might imagine, Big Toilet Paper doesn't like this proposal. Their lobbyists are trying to play into people's fears by using code words like "sanitation" and "dysentery." Admittedly, health concerns are not completely without merit but the bill before the City Council does point out that, "toilet paper was only invented in 1857 yet people were pooping for centuries before that." One important historical fact is that in 1857, climate change was not a major concern… coincidence?
Ultimately the city would like to see all public toilets retro-fitted with a small hose that could be used to clean and high powered blowers for drying. While that change will take time and money, there are other, simpler options that could be made immediately.
One alternative is reusable wipes. Fruit-Of-The-Loom, who also makes underwear, supports the law and believes that they could quickly bring to market 4" by 8" cotton strips that could be washed and reused. For convenience when away from home there is talk of developing a Wipe Wallet that would have an outer pocket for clean wipes and a sealed inner pocket for the used ones. It should be pointed out that washing is also bad for the environment so perhaps just a light rinse with an organic vegan soap would be best.
Remember, it wasn't all that long ago that reusable handkerchiefs were all the rage and many enlightened parents are now replacing disposable diapers with cloth ones. For the sake of our planet we can make a small change or two. You may not like it, but you should just hold your nose and do what is right.