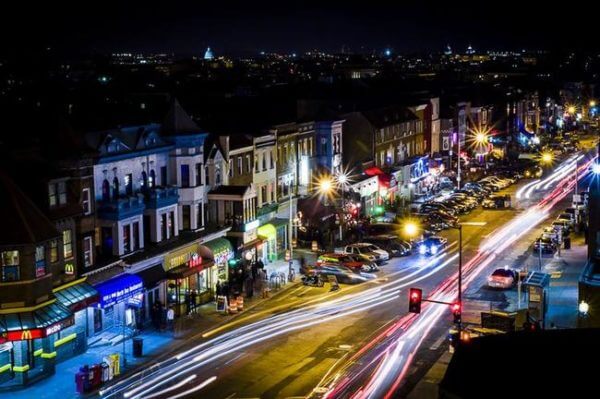 A Federal court recently ruled that the use of a photo some guy found on the Internet was covered by fair use. The newsworthy bit isn't that you can now go grabbing photos willy-nilly, it's that anyone at all got off by claiming fair use on an Internet photo. It makes for a pretty good vehicle for considering what fair use means and what it ought to mean. One quick note before I get into it: this article is really excellent and I scalped most of my links off of them.
Briefly, the facts:
A fellow named Brammer took a photo of the Adams Morgan neighborhood of D.C. (That picture I used with this article. Fair use!)
Violent Hues, a music festival, found Brammer's picture online. They recropped it and used it on their website.
Brammer found his copyrighted picture used without his consent. He sends them a cease-and-desist.
Violent Hues immediately takes down the picture in question.
Brammer sues them for copyright infringement.
Violent Hues claims fair use.
Okay, Brammer is obviously a jerk, but that ought to have no impact on the outcome of the case. The important thing is the question of fair use. What is fair use?
The Law:
[…] [T]he fair use of a copyrighted work, […], for purposes such as criticism, comment, news reporting, teaching (including multiple copies for classroom use), scholarship, or research, is not an infringement of copyright. In determining whether the use made of a work in any particular case is a fair use the factors to be considered shall include—

the purpose and character of the use, including whether such use is of a commercial nature or is for nonprofit educational purposes;
the nature of the copyrighted work;
the amount and substantiality of the portion used in relation to the copyrighted work as a whole; and
the effect of the use upon the potential market for or value of the copyrighted work.

[…]
Does that apply to the photo? Let's take the questions one-by-one:
The Purpose and Character of the Use
To quote from the opinion:
When examining the first factor, the purpose and character of the use, Fourth Circuit precedent provides two related factors for the court to consider: (1) "whether the new work is transformative," and (2) "the extent to which the use serves commercial purpose."
I find that word "transformative" to be difficult. What does it mean in this context? Brammer was making art. Violent Hues was using it to illustrate a website. They had the photo in a "things to do in the area" section. The court rules that the use is transformative because Brammer's purpose in capturing the photo was "promotional and expressive" where the music festival's use was "informational". More difficult words.
Brammer makes art and he wants to sell art. Violent Hues wants to say "while you're visiting you can go look at neat places like this." I think that's how the court is arguing it, it's not spelled out very explicitly. If it's transformative it's because they're transforming it from "look at an output of my creativity" to "look at a neat looking place". I believe that's what the court is arguing. One opinion I read about the case claims they botched that test, but doesn't elaborate on what it ought to mean. I don't understand the word and the implications in this context to judge myself.
Okay, and does it serve a commercial purpose? The court argues that it's not because it's not used to advertise a product or generate revenue. That guy I just linked argued that they're promoting their festival, and that they're including that section in their site to attract festival-goers, and that they presumably intend to get revenue from ticket sales to festival-goers.
In judging the commercial nature of the usage I'm inclined to side with the court. In light of the arguments about Obamacare, one ought to ask if there's any activity that isn't economic at some level. I don't think you can answer that in the negative without inviting a despotic state. While this is obviously not at that level try and find a case of "fair use" that doesn't count as commercial activity when you describe it that way.
The court then goes on to discuss Violent Hues using the photo in good faith. While I'm inclined to believe they used it in good faith, I don't see how that's relevant to the question of fair use. Whether or not the person using the copyrighted work knows it was copyrighted wasn't addressed in the statue, and even if it was then given the nature of copyright law the presumption ought to be that an image is under copyright. Moving along.
The nature of the copyrighted work
It's more likely to be fair use when you're citing non-fiction, less likely when it's a creative product, and more likely if it's a creative product used for historical facts. These all come out of cases sited in the opinion. Fair enough.
The photo is creative; nobody does a time exposure photo to make an exact representation. It's non-fiction in that it's a photograph of a real thing. As argued in the first section the court seems to think that it's being used for it's descriptive purpose: "This is a cool place you can visit" rather than "This is a cool thing. Check out my cool photograph."
I don't like using this reasoning at all on a photograph. To the extent that a photograph is art it's presenting an idealized or stylized depiction of a place. To say that you're using the photo for it's informational content misses the point. The street doesn't have those great streaks of light on it unless you track car lights over time. You use that photo to convey a certain impression about the place, that it's got cool and interesting things going on. That message has to come from the artistic content of the photo. Violent Hues says "This is a cool looking photo, I'll use it on my website", they're only using it because it's cool looking, and it's precisely that artistic content that they're trying to use. If photography is an art form at all then you've got to respect it as art.
The court also argues "The scope of fair use is broadened when a copyrighted work has been previously published.", which Brammer had. If you do a google image search on "Adams Morgan neighborhood at night" then the second picture that comes up is the one I attached at the top of this article. No indication on the site (a real estate company, presumably one who leased the image from Brammer) that the image is copyrighted. I don't see how the previously published bit has any relevance to fair use though.
The amount of the portion used in relation to the whole
To quote from the opinion:
[…] Violent Hues edited the photograph by cropping approximately half of the original photo from the version it used on its website. Violent Hues used no more of the photo than was necessary to convey the photo's factual content and effectuate Violent Hues' informational purpose. […]
This is odd. Cropping a photo is different than taking a quote out of an article. It reframes the subject of the photo. It doesn't really change the nature of the work. Violent Hues cropped the photo presumably to give it a wider aspect ratio. They're still using the photo, they're just fitting it into a longer rectangular box. But since the law was written with text in mind the fact that they cropped it works like quoting. Stupid, but a correct reading of the law.
The effect of the use upon the potential market
The court found no evidence that Violet Hues' use of the photo affected Brammer's sales. Fair enough; it's not like they were selling prints of it. But going back to that guy again:
This misses the point. The point as expressed by numerous other courts is: if everyone were able to do what the defendants did, would this adversely affect the market? In the case of BWP Media USA, Inc v. Gossip Cop Media Inc., also involving the unlicensed copying of photographs, the District Court for the Southern District of New York held:

"[A]llowing Defendant to copy Plaintiff's images directly from third-party licensees and to frame that copying as 'news reporting,' when Defendant's articles provide no comment on the licensees' use of the respective photographs — and thus, on the facts of this case, add no additional meaning or expression to those photographs — would effectively allow Plaintiff to license its images only once; after an initial licensee published the photo, third parties could then copy it with impunity."
If the standard then is "what if everybody did it?" then yeah, it'd affect the potential market. Brammar sold three prints and licensed the photo three times. If everybody did it he would have licensed the photo once and simple math tells you that his market would be smaller. Should that be the standard though? Notwithstanding the cited opinion, the clear text of the statue indicates that it's talking about a single use. They're not slapping the picture on T-shirts and selling 'em. Insofar as it's possible they're quoting the image.
Based on those four tests the court found the use of the photo covered under fair use. I'm figuring there's a good chance that it'll be reversed upon appeal. But to use the Internet's most common disclaimer, I am not a lawyer. A thorough consideration of the case in question does provide an excellent springboard into this question:
What Should Fair Use Look Like for Photographs?
Perhaps it would be better to ask if there exists such a thing as a way to quote a photograph and be covered under fair use. Is there any sort of photograph that isn't artistic in nature? Supposing Mr. Brammar had taken that photo without leaving the shutter open, and it's as factual an image of that street as he can make. Legally speaking it's still a work of art. He still chose to aim the camera at that exact angle. If you crop it it's still his depiction of that street. I really don't think that whether you leave the photo cropped or uncropped ought to matter.
Should there be fair use for photographs? If cropping it doesn't matter then any time you quote a photo like that you're quoting the whole of an artistic work and thus are copying it. Should there ever be a case where that's permissible?
If there is it ought to be what Violent Hues was doing. Is it really possible to quote an artistic work for informational purposes? If I were citing a novel from 1948 to discuss their perception of issues at the time, sure. If I were trying to give a depiction of daily life from 1948 I might use a picture taken in 1948. If I want to show you what the Adams Morgan neighborhood looks like I'll use a picture of the Adams Morgan neighborhood. If every photo is artistic then it follows that any photo is artistic and using a snazzy-looking one like Mr. Brammar's is just as justifiable as taking a Google Maps picture.
On the other hand, what happens if they can't use anyone's photograph? Then they could have gone out and photographed the area themselves. I mean they're right there. It's more trouble when you think of that hypothetical photo from 1948; completing my time machine will put me to some expense.
What about non-commercial use? See that nifty avatar I have? I didn't draw the original faceless hat-tipper, although I did add the goatee. Because I could conceivably be expecting to monetize my Ricochet posts (is the Federalist still hiring?) then is that little guy not covered by fair use? I've already said it, but I'd prefer to have commercial activity narrowly defined. Selling the picture yeah. Using the picture incidentally to a commercial operation should qualify for fair use.
I don't think there's a way to get around test three of fair use. I mean, there's cropping more than half the photo which legally seems to be correct, but again that's stupid and the law shouldn't allow that. If you nixed that option then I don't see any way to get through point three. You miss point three, you fail the test, you can't use photographs under fair use. That would apply regardless of artistic or informational or non-commercial use.
But to revolve back to the opening question, we're not discussing what the law actually says anymore, we're discussing what it ought to say. What should fair use on photographs look like?