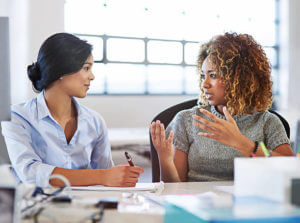 One day I had a discussion with a man who (I thought) was a good friend. He was an ardent Leftist, and our discussion of politics and racism took a strange turn. When I pointed out that Jews had been discriminated against for centuries (and we're both Jewish), he was outraged; he said that the Jewish experience couldn't be compared to the tragedy of slavery. When I asked him, why not, he couldn't answer me.
In another discussion, he was describing black people as victims and said we needed to acknowledge that fact. When I asked him how it benefited blacks if we acknowledged and treated them as victims, once again he couldn't answer. We never discussed discrimination again.
Although some black people rely on the history of slavery in this country as a way to criticize and discount those who are not black, they actually entrap themselves and separate themselves from the rest of us. I wanted to take a look at their arguments and explore another way to look at racism and discrimination. My hope is to point out that all of us, blacks and whites, have a great deal in common.
First, it's helpful to clarify racism and discrimination. Racism is a subset of discrimination:
The belief that one's own culture and race is far superior to others, and treating members of other races as inferior is called racism. The most famous form of racism the world ever saw resulted in the holocaust or killings of hundreds of thousands of Jews by Nazis during the Second World War in Germany. If one looks in the dictionary, it defines racism as a belief that the abilities and characteristics of other races are inferior to one's own.
Although technically Judaism is not a race, it has historically been treated as one. I suspect that many people would not consider treatment of Jews as racist, nor would they consider Jews as victims of institutional racism in these times.
Discrimination is a broader term that includes racism:
Treatment of people based upon their gender, race, community, color of skin, facial features, height, or even their voice is referred to as discrimination. For example, stereotyping all people of Hispanic origin and having a biased attitude towards them is a classic example of discrimination based on racial affinities. The word discrimination was mostly used in the American Civil war for the practice of prejudicial treatment of blacks by whites.
Besides racism and discrimination, it's also helpful to look at the leftist explanation of our society perpetuating racism and discrimination. One explanation is that blacks can't be racist because they don't have the means to establish or institutionalize racism. There are two weaknesses (at least) to this argument: (1) that racism is still "institutionalized" in this country; and (2) that one needs the ability to institutionalize racism to be a racist.
Although all of us detest the existence of racism in the past, it's unclear what institutions exist to perpetuate it. Also, I don't understand the "rationale" that one can only be a racist if one has the ability to create institutional norms of racism. That is not to say that racism and discrimination do not exist in this country; they do exist and they likely always will. But it is tragic that some in the black community rely on a myth of racism to show, in effect, that they are incapable of being racists:
Minority 'racism' stems from personal experiences and daily interactions with racist white people. It was not a liberal education or soft schooling that taught blacks and other minorities about racism—it was our interactions with institutional and personal racism.

We are at a large disadvantage, and when we choose to voice our opposition to the injustices our people face, we are deemed racist or 'professional victims.' The only way someone could become a 'professional victim' is if they are continuously put into a position where they are mistreated. We are victims because America has made us so—not out of personal choice.
So many in black America choose to wear the victim's mantle and don't realize they have trapped themselves in their stories of hurt and unfairness.
To help combat this entrapment and mindset, I suggest we reframe the meaning of discrimination. Blacks are not the only ones who experience it: all of us have experienced discrimination. It isn't pleasant and it's often unfair, but discrimination is a part of everyday life; it is something everyone can relate to. We can either trap ourselves in that reality, or we can rise above it.
I've known discrimination. I've been called a dirty Jew. I'm quite sure that I lost work as a consultant because the manager didn't want to work with a woman; I was told by a casual friend that I should sue for discrimination. I asked her, why would I want to force someone to work with me who didn't want to work with me? She didn't have an answer.
Discrimination occurs in a multitude of ways: you are judged by your name, appearance, background, experience (or lack thereof); your accent, physical size or clothing; your facial features, presence (or lack of presence). The ways to discriminate are endless.
So, if I had the opportunity, I imagine having a conversation with a black person who might be open to a discussion regarding this post and the following premise:
Everyone — no matter what race, creed, color or religion — discriminates towards others and is subject to discrimination. Sometimes it's legitimate, sometimes it's not. Sometimes it seems fair, sometimes it's not. You have the choice of how you practice discrimination towards others and how you react to being discriminated against. You can be thoughtful when you use discrimination in your decisions, or you can be foolish; you can respond as a victim when someone is blatantly discriminatory toward you, or you can be direct and resilient in your response. That choice does not rest with others or the outside world.
It rests with you.
One last point. Many of you will say that most black people won't want to have this discussion, that they will discount it and attack it. That is possible, maybe even likely. But if we speak the truth, consistently, empathically and sincerely, we may begin to make a dent in the debilitating narrative of discrimination, and the dishonest rhetoric of the Left. Then we can all appreciate the challenges of the human condition, together.